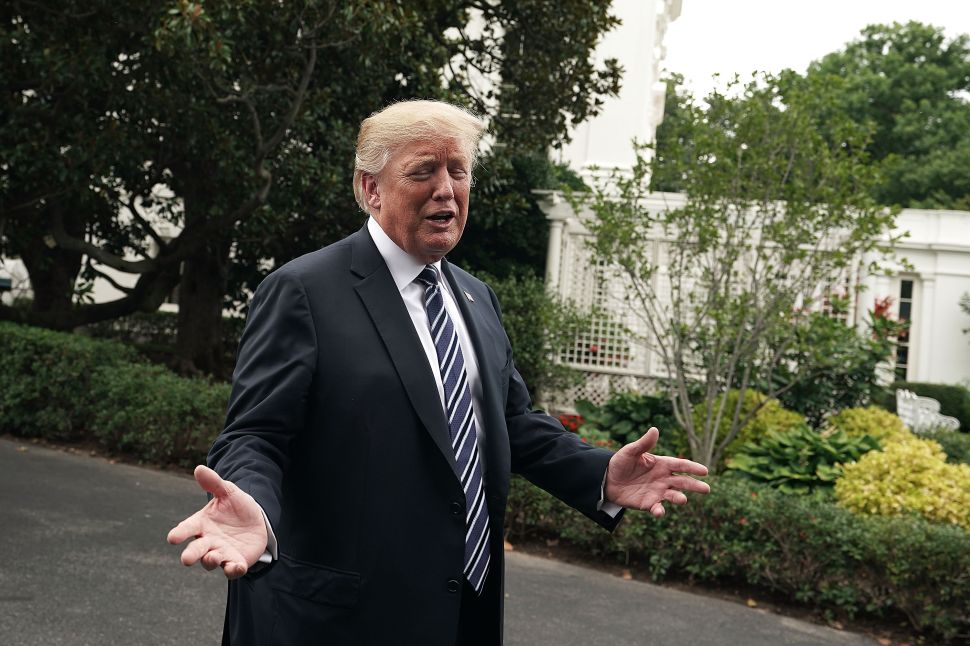 When you start a trade war, sometimes you have to act quickly to help the casualties.
But now that President Donald Trump has proposed awarding $12 billion to appease farmers hurt when he imposed tariffs on China, New Jersey Gov. Phil Murphy has been left scratching his head.
That's because it's about the same amount of money that the federal government had once committed to spending on what some say is the most critical infrastructure project in the nation. That's the plan for the Gateway Tunnel, a proposal Trump has adamantly opposed.
"Believe me, we've noted the irony," Murphy said Wednesday, according to a report in NJ.com.
The farmer bailout might be politically expedient. Trump's tariffs are hurting people in the heart of his political base.
But supporters of the Gateway project, which includes building a new train tunnel under the Hudson River, say failure to fund the project could lead to a situation where existing tunnels under the Hudson must be closed for repair with no replacement, leading to an economic crisis that could impact the nation.
Trump, who campaigned on a promise to restore the United States' crumbling infrastructure, has expressed opposition to the Gateway plan. Federal transportation officials have complained that previous agreements called for too much federal funding and not enough of a commitment from states.
Some critics claim Trump is using Gateway funding as a way to get back at Democratic Senate Minority Leader Chuck Schumer, who is from New York and is a frequent critic of the president.
Murphy, who explained between 12 and 20 percent of the nation's gross domestic product runs between Washington, D.C. and Boston, said he was confident the project will eventually be completed.
"The new tunnel will get built—that's not the question," Murphy said, according to a report in NJ.com. "The question is will it be built because we've planned it and we did it the right way, or because we had a disaster and we had no other choice."
Quote of the Day: "You told me we're going to fix it. We're going to look at how we're spending money. We're going to look at taxation. Nothing's happened. Nothing. All I've got is a tax increase." — Fox Business host Stuart Varney, lambasting Senate President Steve Sweeney for failing to deliver on promises to address New Jersey's tax burden.
Trump sends billions to farmers but opposes our Gateway tunnel? Gov. Murphy takes notice
President Donald Trump's plan to send $12 billion in emergency relief to American farmers who've been slammed by his administration's trade disputes with China and other countries has Gov. Phil Murphy scratching his head.
NJ.com Read more
Booker Leads NJ Opposition to Census Citizenship Question
U.S. Sen. Cory Booker is leading the call for New Jerseyans to speak out against the proposed addition of a citizenship question to the 2020 U.S. census, calling it a politically motivated attempt at reducing the state's clout and federal aid.
NJSpotlight Read more
Menendez and Pompeo really go at each other over Trump meeting with Putin
U.S. Sen. Robert Menendez, the top Democrat on the Senate Foreign Relations Committee, went toe-to-toe with Secretary of State Mike Pompeo as he grilled him over President Donald Trump's closed-door meeting with Russian President Vladimir Putin earlier this month.
NJ.com Read more
Christie's shadow still hangs over New Jersey GOP
Chris Christie is still sucking up all the oxygen in New Jersey's Republican Party.
During Christie's eight years as governor, Republicans would often say privately that he was using the party to promote his own presidential prospects while refusing to spread resources won by his national stardom to help the party build a bench.
Politico Read more
Murphy Emphatically Says He's Not Running for Prez
Governor Phil Murphy won't run for President in 2020, he told reporters this morning.
InsiderNJ Read more
NJ Will Help Entrepreneurs Pay Their Rent
Gov. Phil Murphy is pressing ahead with a plan to spur innovation and help already established high-tech firms in the Garden State.
NJ101.5 Read more
N.J. Republican wants to shut down illegal 'pirate' radio stations
The U.S. House wants to crack down on unauthorized radio broadcasts from "pirate" stations.
NJ.com Read more
Affordable Housing Solution? Build More in South Jersey
Is less-densely-populated South Jersey the answer to the state's affordable housing crunch?
That was one possible solution (offered by a Central Jersey official) put forward Wednesday when state lawmakers heard from advocates, municipal officials and the public about what should be done.
NJ101.5 Read more
Rutgers-New Brunswick chancellor resigns after 'clash' with university
After just one year at the helm of Rutgers University's flagship campus, Chancellor Debasish Dutta has resigned over a "clash" with the university's leadership structure.
Asbury Park Press Read more
New Jersey's Beach Smoking Ban – Why Include Vaping?
Next summer you'll need to not only keep your tobacco cigarettes off the beach but also electronic cigarettes.
NJ101.5 Read more
Curley sex harassment case: Judge tosses suit, but holds Monmouth County in contempt
A federal judge found Monmouth County and four of its freeholders in contempt for improperly revealing portions of an investigative report about embattled Freeholder John Curley and lewd comments he allegedly made about female and gay county employees.
Asbury Park Press Read more
Pedestrian Safety Campaign Starts on LBI
The North Jersey Transportation Planning Authority has kicked off a summer effort on Long Beach Island centered on pedestrian safety.
NJ101.5 Read more
Palisades Park Council rejects racist sentiments after anti-Korean social media post
The Borough Council denounced hate groups, bigotry and violence Tuesday by approving a resolution that rejected racism in response to two recent social media posts that targeted ethnic Koreans running for borough offices.
The Record Read more
Fox Business TV host claims he is a 'prisoner' of high-tax N.J.
An admittedly "fired up" Fox Business host and longtime Garden State resident Stuart Varney on Wednesday called himself a "prisoner" of high-tax New Jersey.
NJ.com Read more
NJ pounds UnitedHealthcare with $2.5M fine, biggest in 9 years
New Jersey regulators fined UnitedHealthcare $2.5 million for using a provider of hemophilia services that wasn't approved by the state, officials for the Department of Banking and Insurance said.
Asbury Park Press Read more
John Kerry will be keynote speaker for Morristown Festival of Books in October
Former Secretary of State John Kerry will be the keynote speaker at the fifth-annual Morristown Festival of Books on Oct. 12.
Daily Record Read more
Delbarton says 30 sex abuse victims have come forward over three decades
Thirteen monks from St. Mary's Abbey, which runs the Delbarton School in Morris Township, have been accused of sexually abusing 30 people over the past three decades, according to a letter to alumni and other members of the school community.
The Record Read more
Mahwah mayor files 12-page challenge to recall petitions
Mayor William Laforet has filed a 12-page objection to "numerous irregularities" in the recall petitions filed against him with the borough clerk June 27.
The Record Read more
Toms River Regional avoids 'draconian' budget cuts, at least for now
By using surplus funds and maintenance monies to make up for a state aid cut, Toms River Regional School District will be able to avoid slashing staff, raising taxes or cutting programs this year, Superintendent David M. Healy said Tuesday.
Asbury Park Press Read more
Ex-BOE member has to pay officer he assaulted $131K. Now, he calls the cop a 'racist pig'
A police officer who sued claiming he was permanently injured when three local officials assaulted him during a youth basketball game will receive $131,000, an arbitrator has ruled.
NJ.com Read more
North Jersey police chief retiring with $260K payout for unused time
Outgoing police Chief Drew Sisk will receive more than $260,000 from the city over the next five years for unused sick time and other compensation.
NJ.com Read more