It's sticky midsummer and the country is slouching towards hell and all you want is air-conditioned escapism. Sorry, Ivo van Hove is in town to rub our collective schnoz in the tears, beer and blood of a degenerate German family eagerly peddling its soul to fascist thugs. Greed, sex addiction, blackmail and craven excuses for Nazis…nope, no relevance to see here!
Based on Luchino Visconti's celebrated 1969 film, The Damned is the latest screen-to-stage multimedia spectacle created by van Hove and his designer-partner Jan Versweyveld. In past years, the Amsterdam-based duo has built shows around teleplays by John Cassavetes, Ingmar Bergman and Paddy Chayefsky. The Damned, created in collaboration with the legendary Comédie-Française acting troupe, premiered at Avignon in 2016. Set between 1933 and '34, the story is a tragic, lurid chronicle of the Essenbeck dynasty, owners of a steelworks empire that's suddenly up for grabs when patriarch Joachim von Essenbeck (Didier Sandre) is murdered the night the Reichstag burns.
Joachim's second son, dim-witted S.A. officer Konstantin (Denis Podalydès) expects to take over, but so does Friedrich (Guillaume Gallienne), employee and lover of Konstantin's heartless sister, Sophie (Elsa Lepoivre). Then there's Martin (Christophe Montenez), Sophie's neurotic, pedophile son, whom the mother encourages to perform at family functions in drag. As for less horrible people in the tale, there's the upstanding Herbert (Loïc Corbery), the firm's vice-president and his wife, Elisabeth (Adeline d'Hermy), both appalled by the rise of Hitler and his brownshirts. Coolly manipulating various players from the sidelines is Aschenbach (Eric Génovèse), a cousin of the family and reptilian S.S. officer. He wants the Essenbeck industrial resources to get the Third Reich ready for war.
Reviewing the film in 1970, The New Yorker's Pauline Kael was characteristically dismissive of its historical dimension. "It's really a story about a good boy who loves his wicked mother," Kael wrote, "and how she emasculates him and makes him decadent—the basic mother-son romance of homoerotic literature, dressed up in Nazi drag." Little in this adaptation does much to complicate this estimation, since neither the screenplay nor van Hove's chic, mediated staging deepen our understanding of why Martin is so maladjusted. He's an androgynous, child-molesting madman in a deeply corrupt family. Also, it turns out, a model Nazi. Opting for shock tactics and allegory, the piece never really grapples with a messier truth: most Nazis were perfectly banal, bourgeois types. Still, for a European and American political culture flirting with the authoritarian right, this howl of horror has its virtues.
The ripe plot, a series of showdowns, betrayals and sexual outrages, has a flavor of soap opera—albeit one that includes an extended all-male orgy with Nazi officers, buck naked, water-sliding the length of Versweyveld's hellfire-orange floor. That bratwurst party ends with a gory mass shooting, both on the giant LED video screen that dominates the set and before us, live, as the naked and drenched Podalydès gets a bucket of red stuff splashed in his face.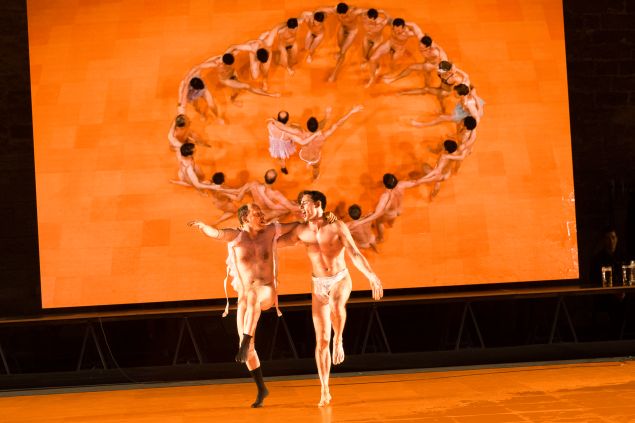 The director punctuates scenes with fourth-wall-breaking death rituals: Actors assemble on stage and stare down the audience, as each newly murdered character is led to his or her coffin on the right. Cremated remains are sifted into a mass urn. On the left side of the set is a line of backstage makeup tables, to emphasize the performative aspects of the family and their rapidly changing society. Throughout, camera operators roam the stage, capturing video that's projected onto the screen, sometimes superimposed over archival footage. As usual, the design is impeccable, and you leave with images seared into memory: the gleaming silver of the dining table swept to the floor; Martin tarring and feathering Sophie's naked body (in the movie, he sleeps with her); the blood-smeared Konstantin in closeup, shuffling dumbly to his grave.

For van Hove fans, the high-tech aesthetics, exposed flesh and bodily fluids will be familiar stuff, even if the scale and intensity is impressive. But those who are not already connoisseurs of European regietheater ("director's theater") may find it all a bit pretentious, with on-the-nose symbolic gestures (Martin smears the ashes over his body and fires a machine-gun at the audience) and deadpan delivery broken up by hysterical screaming. To me, respect and faint exasperation are perfectly sane dual responses to this polished global brand.
Because let's face it: Van Hove is the IKEA of experimental directors. He began in the north and radiated outward. Like a Flysta shelf unit, his productions are sleekly minimalist and solidly functional. And like the Swedish furniture giant, he has spawned imitators all over the globe: Robert Icke (1984) in the UK; Benedict Andrews (A Streetcar Named Desire at St. Ann's Warehouse) from Australia; and here in New York, Sam Gold (last year's confrontational Glass Menagerie). Some can't get enough of him; others flee in terror. The work is always worth a gander, but the limitations of his patented dramaturgical sandblasting was exemplified in his revivals of Arthur Miller in 2015 and '16. A View from the Bridge was lucid, thrilling and revelatory, but The Crucible was hokey, gimmicky and incoherent. Next year he gives us his West Side Story on Broadway. Maybe he still has the power to shock; that clacking sound you hear are pearls being clutched from Amsterdam to Times Square.