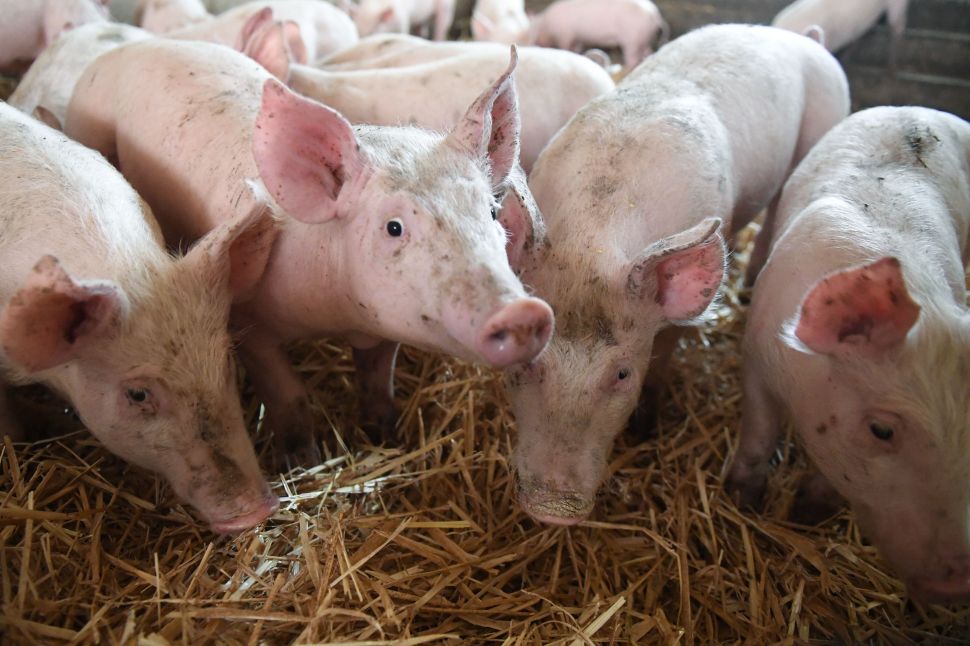 Every country has a staple meat in its diet. For Americans, it's beef; for the Chinese, it's pork.
In China, no part of the pig goes to waste. (In ancient times, even the absolutely inedible part, the bladder, would be inflated into a toy ball, which is believed to be the earliest version of soccer.) In fact, many of the country's most popular dishes are made of pig feet, pig ears and other parts that no one eats in the U.S.
Every year, nine out of 10 American pigs' parts go to China. The Chinese also happily pay a much higher price than buyers in other parts of the world, who normally process the animal products into food for pets and livestock.
But this profitable business has shrunk significantly in recent months as China's tariffs on U.S. pork has soared.
According to statistics from the U.S. Meat Export Federation (USMEF), pork exports to China in May dropped by a steep 31 percent from a year ago, due to a 25 percent tariff Beijing imposed on U.S. pork on April 2. The tariff has also caused total pork exports from January through May to fall 18 percent compared to a year ago. Pork was the only type of animal product affected by the April tariff hike.
In contrast, beef exports to China rose by 20 percent over the same five-month period.
"It is unfortunate that U.S. pork is caught in the crosshairs of a dispute that has nothing to do with [the] pork trade,"  Dan Halstrom, CEO of USMEF, said in a recent report.
And the future isn't looking bright. Pork exporters are facing an even bigger challenge with China's second round of 25 percent tariffs which kicked in on July 6. Now, U.S. pork will be charged a total of 63 percent duty when entering China.
U.S. beef, which is already sold for a higher price in China than beef from other countries, will be affected by the most recent tariff hike as well, facing a 37 percent import duty. (For reference, Australia beef is only charged 7.2 percent thanks to the China-Australia Free Trade Agreement.)
"USMEF is focusing on the factors we can control by partnering with U.S. packers and exporters to make every effort to defend our market share and protect our business in Mexico and China. USMEF also consistently stresses the importance of diversifying our export markets and expanding U.S. pork's footprint into emerging markets, and those efforts are more critical than ever," Halstrom wrote.
In the meantime, China has no shortage of pork feet supply. Aside from the U.S., China imports pork byproducts from Canada, Brazil and many countries in Europe. Just this year, China opened a new import channel from Sweden.