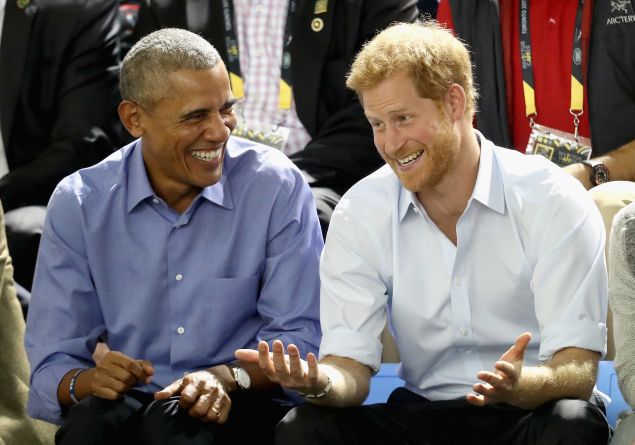 The time has come for one of history's greatest bromances to reunite. No, not Joe Biden and Barack Obama, even though those memes still give life to the world. We're talking about Prince Harry and Obama, as long as the former president isn't too disgruntled over his lack of invitation to the Duke and Duchess of Sussex's wedding.
Prince Harry and Meghan Markle are planning an official tour to the United States, according to Us Weekly. The redheaded prince and former blogger are expected to stop in New York, Washington D.C. and California. Though they haven't finalized details for locations and venues, the royals may also pop by the Obama Foundation in Chicago, where all of our bromance dreams will be realized.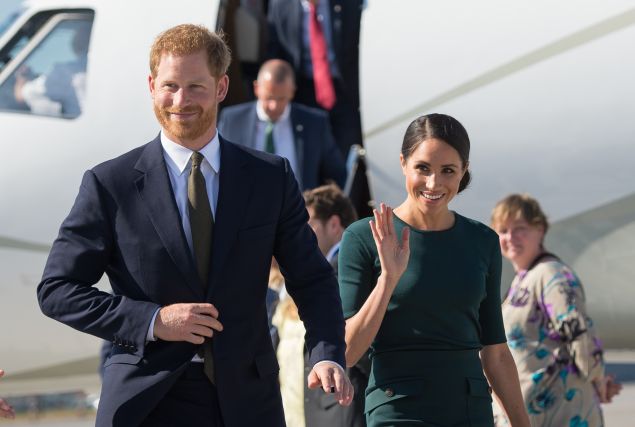 Sadly, for those eagerly awaiting new snaps of the prince and America's favorite golfer-in-chief having a laugh together, the visit is likely in the works for spring, but we're holding out hope that the Duke and Duchess of Sussex will head to the States for an unofficial visit sooner rather than later. Indeed, the erstwhile gifting suite enthusiast is likely to make her way over to her home country on a solo jaunt by the end of summer, but we think Prince Harry should definitely join her, and say hi to his old pal Obama.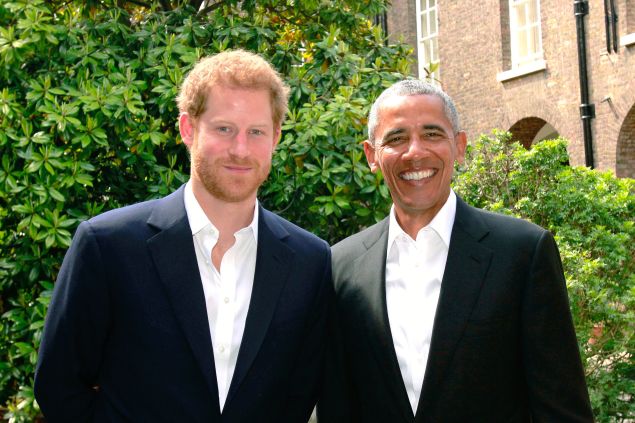 The two have stayed in touch, as the royal hosted the Obamas at Kensington Palace in May 2017. They reunited at the Invictus Games in Toronto in September, when the prince interviewed Obama—we wonder if he introduced Markle then, back when she was still happily promoting avocados. Two months later, Prince Harry spoke on a panel at the Obama Foundation's first annual summit in November, so he could be heading back for that event.
Barack and Michelle Obama are usually in Martha's Vineyard for at least part of August, so they could always invite the Duke and Duchess of Sussex for a weekend trip. Prince Harry and Markle should reciprocate with an invite to their new Cotswolds getaway, where the foursome could meet up with David and Victoria Beckham, who have a place nearby.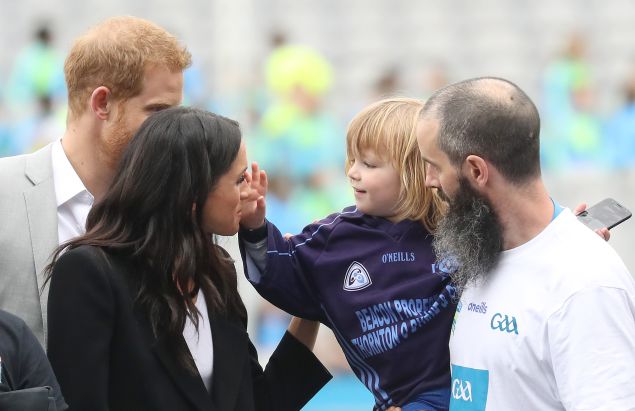 Prince Harry and Markle recently went to Ireland on their first official international tour together, so hopefully we get some photo-worthy moments on the trip stateside like when a three-year-old in Dublin couldn't help but reach out to touch the former Suits actress' hair, which was not in a messy bun. Just saying, maybe that's why the toddler was so determined.
It's not clear if the newlyweds will meet with President Donald Trump while in the United States—the Duke and Duchess of Sussex, Duke and Duchess of Cambridge and Prince Charles were all absent from Trump's meeting with Queen Elizabeth, when the monarch may or may not have conveyed a subtle message by donning a brooch the Obamas personally gifted her. Maybe Markle will snub him by refusing to present him with a dream journal.