Now that everyone's favorite Deal or No Deal briefcase girl is officially a royal, she's going to need to up her gifting game. Meghan Markle infamously gave her future sister-in-law, the Duchess of Cambridge, a dream journal the first time she met, which felt right for the then-lifestyle blogger. But it's a whole other playing field now, as her new husband proved at Prince Louis' christening at the Royal Chapel at St. James's Palace—yes, where the Duke and Duchess of Sussex tied the knot.
Prince Harry is already spoiling his youngest nephew with pricey presents, as he reportedly forked over £8,000 on a special book for the littlest Cambridge. It's a first edition of the childhood classic Winnie-The-Pooh, and the redheaded prince landed on the idea because his "happiest childhood memories" were "being read a bedtime story by his mother," Princess Diana, per The Sun.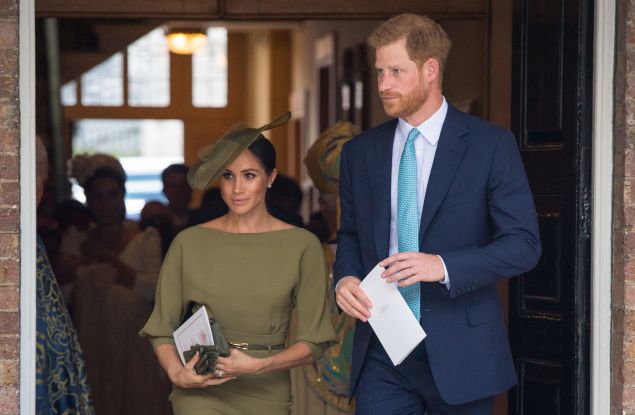 Apparently, this is just the first of many books the Duke of Sussex plans on purchasing for Prince George, Princess Charlotte and Prince Louis, as he wants to start a mini-library for them.
Prince Harry bought the A.A Milne classic at the rare book store Peter Harrington, in the Kensington area of London—he originally wanted to buy the £24,000 Through the Looking Glass, but changed his mind. Well, he can always go back and snag it to add to the impending book collection. We wonder how aunt Pippa Middleton's gifts fared in comparison…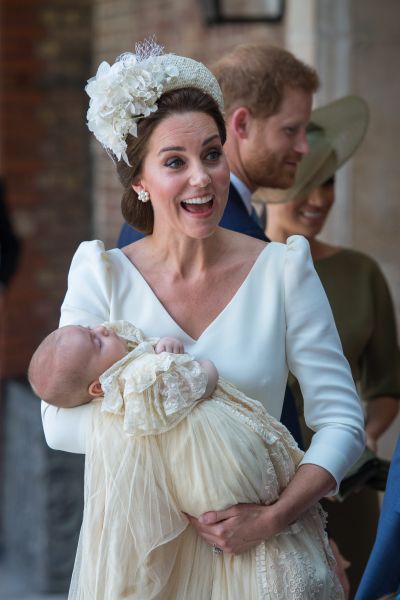 To Markle's credit, we're assuming this book was from both the Duke and Duchess of Sussex, and her taste has evolved a bit from her gifting suite past. She and Prince Harry did, however, head to Dublin today, shortly after attending the 100th Anniversary of the RAF events at Buckingham Palace, so maybe they're going to pick out a little something else to give to all of Kate Middleton and Prince William's kids.
No matter what Markle gives them, it'll likely a better treat than the post-ceremony snacks. After leaving the Royal Chapel, guests headed to a private tea at Clarence House to dine on christening cake, which is actually from the Duke and Duchess of Cambridge's wedding cake. And yes, those nuptials did, in fact, take place in 2011, but apparently it's a British royal tradition to eat the top tier at each christening.
Honestly, this sounds medium unhealthy, but to each their own. Also, we assume this means that Prince Harry and Markle's non-traditional lemon elderflower cake will be reused when they have kids, so here's hoping their children aren't too upset that their parents opted out of the classic fruit cake.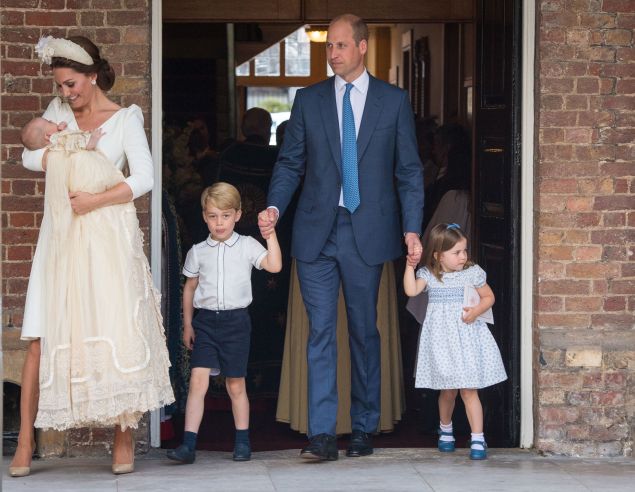 Aside from all the fancy gifts and objectively mediocre desserts, we still think Princess Charlotte stole the show. On her way to the reception party with her family, she told the slew of photographers something along the lines of "you're not coming," in a royal equivalent of "you can't sit with us." She even had a sassy wave at the end—perhaps her new headband hairstyle is giving her extra confidence, as she recovers from the minor tumble she took at Trooping the Colour this year.