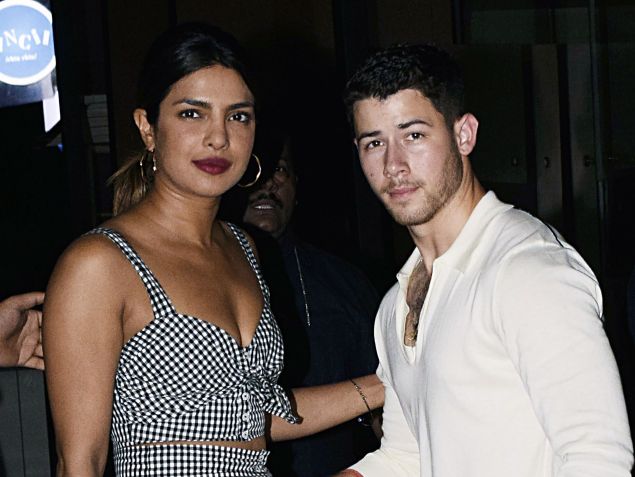 In the bizarre two months since new duchess Meghan Markle's pal Priyanka Chopra and Nick Jonas, who somehow dated Kate Hudson, made their relationship semi-public, the two have jetted around to locales including India, Brazil and also New Jersey.
Even for a summer that has already brought us Pete Davidson and Ariana Grande, this might be the most unexpected relationship yet, because Justin Bieber and Hailey Baldwin's very stable engagement is now nearly normal.
Anyway, Chopra and the 25-year-old Jonas are currently living their best lives in London, where they went on a double date with Jonas' brother, Joe, and his fiancée Sansa Stark/Sophie Turner, who managed to wear more than just a red blazer for the evening. They also invited the older JoBro, whose name we recently discovered is Kevin.
It's not the first time the rather eclectic crew has hung out together, as over July 4 weekend the Jonases, Turner and Chopra took a cue from Leonardo DiCaprio and went on a CitiBike excursion in New York City, despite the soul crushing heat wave.
But back to the five-person evening in London. The three Jonases, Chopra and Turner began the night at 34 Restaurant in Mayfair, where they started celebrations for Chopra's 36th birthday on July 18. They stayed in the area later in the night, and headed to the casino at the Ritz Club, located on the bottom floor of the über fancy Ritz Hotel, though it's not clear if they're staying in one of the luxe rooms.
Prince Harry and Chopra's longtime friend Markle didn't tag along, perhaps because the former Suits actress had a busy weekend at Wimbledon, and also because we understand that Prince Harry probably didn't want to hang out with a JoBro. Maybe next time.
https://www.instagram.com/p/BlVLn_Znc6F/?hl=en&taken-by=queensophieturner
The Jonas Brothers have been between Paris and London the past few days; Joe performed with his band, DNCE, at BST Hyde Park last weekend, before he went with Nick, Kevin and Sophie Turner to Paris to see Beyoncé and Jay-Z's "On the Run II" tour.
Chopra didn't attend, but the focus was really on Michelle Obama, sans the former president, who was dancing away in the front while Sasha and Malia hung out a bit further away from the stage.