When talking about a revolution, no one disputes that there's power in numbers. Yet there's no quippy adage to underscore the importance of sticking with a political cause long after the initial spark of rebellion has been dimmed by the drudgery of everyday responsibilities. In New York City this summer, however, two separate exhibitions at Kravets Wehby Gallery and Leslie-Lohman Museum of Gay and Lesbian Art devoted to long-running artist collectives are proving that while playing the long game for social change might not always be easy, it gets results.
Started in 1968, the African Commune of Bad Relevant Artists (AfriCOBRA) is perhaps the oldest continuous artist collective in the U.S. and it's the subject of Kravets Wehby's latest exhibition, "AfriCOBRA: Now," a group show of work by founding, current and former collective members running through August 17 at the gallery's Chelsea space. Born out of the Black Power Movement, Chicago-based artists Jeff Donaldson, Wadsworth Jarrell, Jae Jarrell, Barbara Jones-Hogu and Gerald Williams founded AfricCOBRA to promote and support black artists who were then often excluded from showing in galleries and museums with their white peers.
According to Kravets Wehby co-owner Marc Wehby, in the beginning, AfriCOBRA's message was simple: "positivity for the people." And while the collective maintains this motto, its significance has become more complex as artists have continued to join over the last five decades.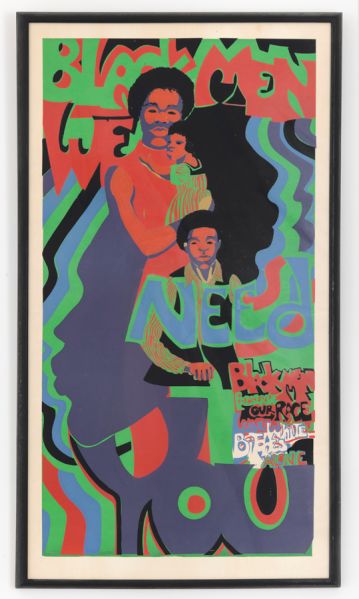 "AfriCOBRA's body of work speaks to what was accomplished in the 1960s during the civil rights movement, and also the changes that still need to happen in America today," Wehby told Observer, explaining that even though the collective was a response to a specific historical moment, the artists' works were "not some stale artifact sitting on a shelf of the Natural History Museum." Instead, they represent a living, breathing organization that continues to pursue its aim of getting more work by black artists into traditional art spaces.
"The collective offered black artists a sense of worth when nobody would look at our work," said AfriCOBRA member Kevin Cole, adding that despite the fact the group is comprised of artists from all over the country working in very different ways, from figuration to abstraction and painting to installation, they shared the experience of systematic rejection. "We were told to tone down our use of color, or if we showed something political, we'd get comments like 'don't bring that black shit in here.'"
Many of the collective's members are now realizing the fruits of their fifty years of labor to get more black artists into art institutions. "The thing about this historical moment now is we're starting to see an international perspective weigh in on what AfriCOBRA accomplished back then," Wehby said, pointing to countless museum acquisitions of the founding members' works and the success of major museum shows dedicated to their cause, such as the critically acclaimed "Soul of a Nation: Art in the Age of Black Power" exhibition that debuted last year at London's Tate Modern and is slated to open at the Brooklyn Museum in September.
Indeed, the influence of AfriCOBRA is noted and evident in the work of some of the biggest names in contemporary art like Barack Obama's official portraitist Kehinde Wiley and Kerry James Marshall, currently the highest paid living African American artist who recently smashed records at Sotheby's contemporary sale in May.
The group's importance wasn't lost on artist Renée Stout, who just joined just last year. "I was a child at the time AfriCOBRA was formed, but I knew of the group, because I've always studied art history," she said. Although she classifies herself as a loner, she accepted the collective's invitation "out of respect for the members, their work, the group's long history and a desire to see it continue through generations."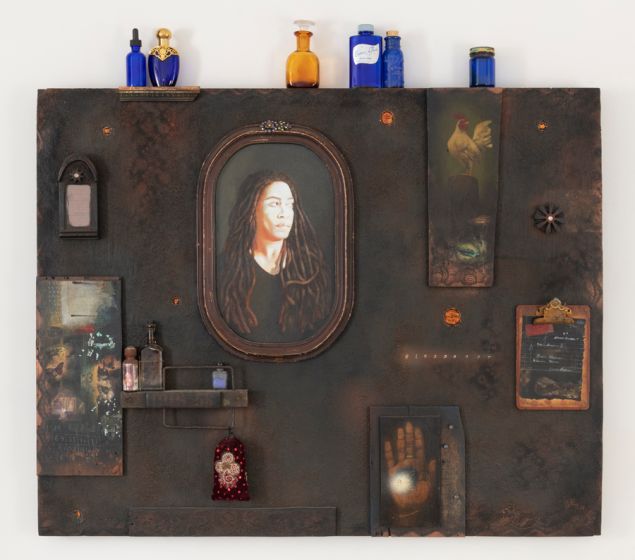 For Fierce Pussy, a LGBTQ artist collective that's been in operation in New York since 1991, a flow of new members has facilitated their longevity and their continued impact. "We've always been very open, people come and go as they need. You simply can't expect everyone to make it to every meeting," three of the founding members explained to Observer over Skype, answering collectively for the group.
Started by members of the famed AIDS/HIV activist ACT UP collective to increase the visibility of lesbians in the queer community, the group recently took over the street-level windows of Leslie-Lohman Museum of Gay and Lesbian Art on the Lower East Side with an installation of many of their original activist posters they once plastered around the city along with new works.
"The streets of New York were like billboards back then," they said. "It was almost like the way people use Instagram and Facebook now—our posters were a way of communicating with our peers. We didn't have cell phones or social media, but we had Xerox machines and wheat paste."
According to Fierce Pussy's founding members, women were largely invisible within the gay, queer dialogue when they started the collective and the homophobia that the AIDS crisis brought up made it difficult to even broach the subject of what it meant to be gay and a woman. "We chose this particular format of expression consciously because wanted to start something that could educate people on both the disease and queer identity," they said. "We were looking for a way to change people's perception of what it meant to be a lesbian."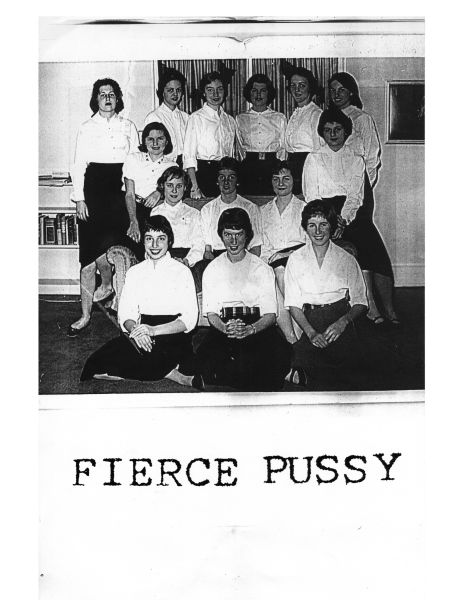 Their now-iconic works featuring their baby pictures with words like "dyke" or "lesbian" emblazoned in a news-like typewriter font beneath them are more billboard-like than ever. Blown up to monumental scale and facing out from the museum's windows onto the street, the exhibition, titled "And So Are You," will remain on view for a year. Where once the group's works would be torn down and the artists routinely reported to the cops, the show proves that dogged, durational determination is the key to generating change.
"We got a plaque the other day emblazoned with the words 'fierce pussy' from the Manhattan borough president, how about the irony in that," they laughed. "They were always trying to arrest us before, now they're giving us an award. It's hilarious." And while they are grateful for the recognition of their cultural contributions for the betterment of an underserved and often unduly persecuted demographic, they're quick to note that their work is far from finished.
"It's nice that the people in power want to recognize what we've done this far, but given the political situation we're all in at the moment, we're more interested how are they going to protect LGBTQ people, immigrants and other minorities," Fierce Pussy said, noting that the artists' collective will keep producing work as long as they need to see the systemic change they want to see. "Recognition doesn't suffice as action."