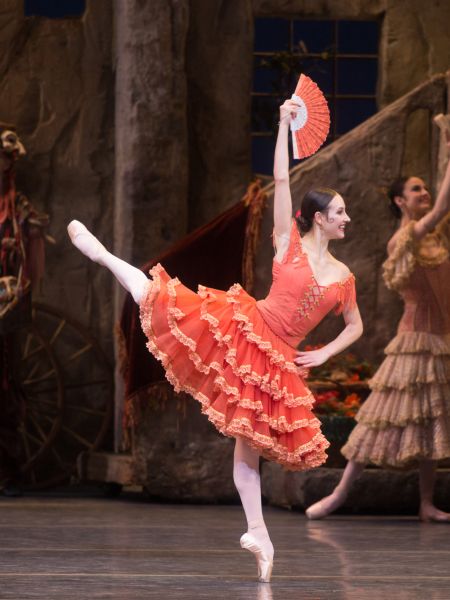 Let's talk about Don Quixote. Not the Cervantes novel, not Balanchine's challenging version of 1965, and not the "original" Petipa version of 1869—who can tell at this point what that was like? Petipa remade it (several times), Alexander Gorsky remade it in 1900, Baryshnikov remade it in 1983, and of course there had been countless versions pre-Petipa by Bournonville, Noverre, Didelot, Filippo Taglioni and who knows who else. But the Don Q we generally see descends from Petipa-Gorsky, since it was Petipa who first employed Ludwig Minkus's sparkling score and staged the first full-evening version. Today's ABT production is "staged" by Kevin McKenzie, the company's artistic director, and Susan Jones, the principal ballet mistress. And hovering over all, no doubt, is Irina Kolpakova, once a particularly brilliant exemplar of Russian classicism who joined ABT more than twenty-five years ago at Baryshnikov's invitation and is still, at eighty-five, showing the company's women how things should be done.
I used to make fun of Don Quixote, with its limited vocabulary—all those swirling skirts and swirling fans and Spanishisms. (Petipa had spent part of his youth in Spain, and loved it.) I still brace myself on the countless occasions when one company or another trundles out the famous Don Quixote Pas de Deux to give its audience a taste of ballet pyrotechnics and show off its stars. But the more I've seen the complete Don Q, the more I've come not only to enjoy it but to respect it. Here is a ballet with a coherent story, a colorful cast of characters, a score that throws off one irresistible tune after another. (Yes, there are some who don't like it, but I can only feel sorry for them.)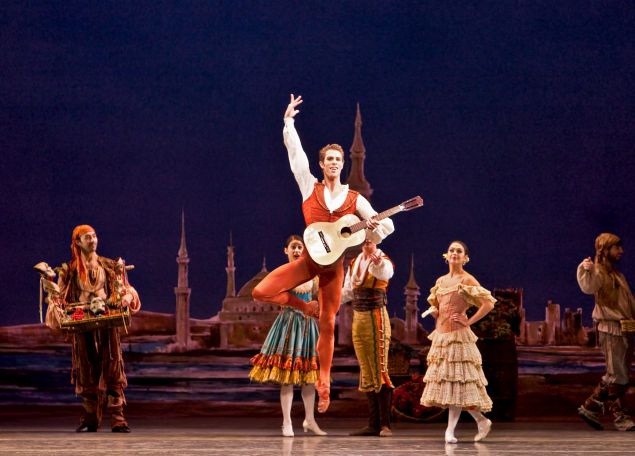 Most important, it's a dance-a-thon. Dancers spill out onto the stage—principals, soloists, demi-soloists, corps. Not just the romantic couple, Kitri and Basilio, and Espada the Matador, and Mercedes the Street Dancer, and the two irrepressible Flower Girls, and the stageful of Gypsies, and the leads in the beautiful vision scene, but the comic characters: Gamache, the rich fop who hopes to marry Kitri, and Kitri's greedy father, and Sancho Panza. And the touching, noble, befuddled Don Quixote himself. And what the program refers to as "Townspeople, Vendors, Children."
Like the wonderful story ballets of Bournonville, Don Quixote presents a fully peopled world, where everybody likes everybody else (Gamache aside) and the panache of the classical dancing is happily tinged by the bright spirit of the entire occasion. What's not to like? There's no deep meaning, there's no real interpretive stretch—Kitri will always be a determined, loving hoyden; Basilio will always be an ardent, flirty, loving (and impecunious) barber; Gypsies will always be Gypsies. Spain will always be Spain. But what a ballet for young dancers to grow on! Because there are so many distinct and challenging dance opportunities, Don Quixote is a perfect training ground. In this regard—and only this regard—it's more useful to a company than a far greater romantic comedy, Ashton's La Fille Mal Gardée, which has no pure dance roles other than Lise and Colas.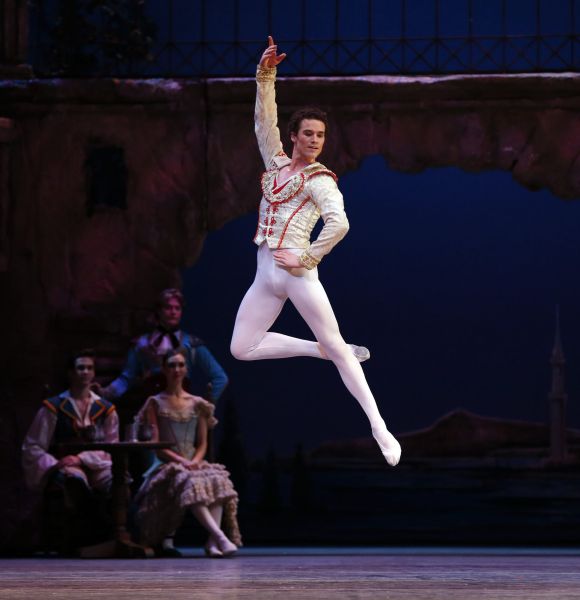 I could happily have seen all six ABT casts, but common sense and self-restraint limited me to two. One was led by Christine Shevchenko, from Ukraine, and recently promoted to principal dancer. She's dark, she's dazzling, and she's a star, taking the stage and holding it—try taking it away from her! Her technique is solid and her charm undeniable, if a little manufactured. She's got Kitri's spunk, and her partner, James Whiteside, is also full of pizzazz. I found her less impressive as Mercedes, in the other cast I saw, but that's an odd role—she's front and center, though with less interesting stuff to do than you would expect. On the other hand, Zhong-Jing Fang, the other Mercedes I saw, was blazing—no surprise to me when the day after this performance, she was made a company soloist. She's clearly heading for Kitri.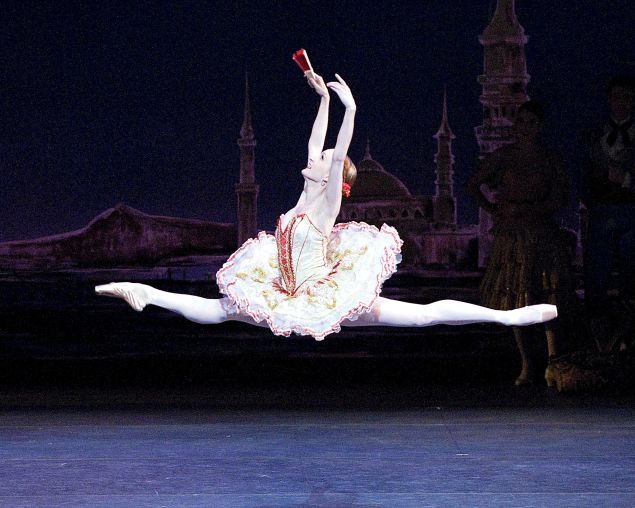 And then came Gillian Murphy, the company's senior—and still finest—ballerina. She's been a principal for more than fifteen years, dancing just about every role a ballerina can dance, and she seems as powerful and secure as ever. Murphy, with her striking red hair, has a rare combination of virtues: she's rock-solid and she's deeply musical. (The only recent dancer who shared those qualities was Kyra Nichols.) As Kitri, her jumps were exciting (though not as exciting as those of the greatest of all Kitris, Plisetskaya), her balances almost perfect, and most thrilling of all, her fouettés were not only faultless but wildly exciting—and I'm an anti-fouetté kind of guy. She tossed off doubles, triples, never wandered, made her fan part of the fun—it wasn't showing off (although of course it was), it was technique transfigured into art. Kolpakova must have been proud.
Murphy's Basil was a splendid match for her—Cory Stearns has overcome his initial stiffness and become not only a strong, reliable presence but a vital and charming one. The two of them looked very happy dancing together, and the audience, me included, was crazy about them. By the time it was all over, everyone was happy. So Don Q may not have the depth of Sleeping Beauty or Swan Lake or Giselle—it has no depth at all—but it's a great show, set off brilliantly by Santo Loquasto's sets and costumes. It's time to stop looking down on it and gratefully acknowledge its large bounty.