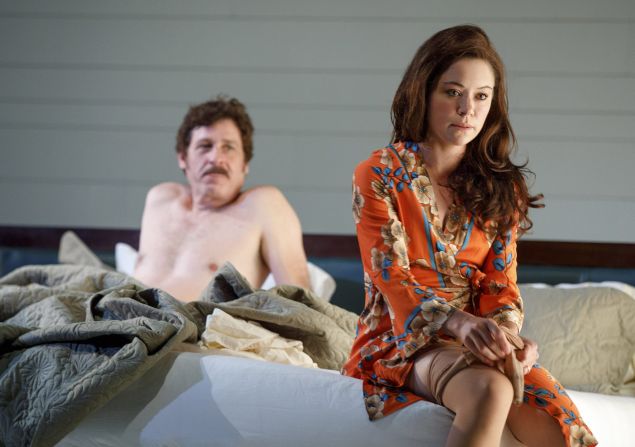 I miss the old Tracy Letts, the mean and crazy Letts, who made us hang out with serial killers, junkies and conspiracy kooks, who stormed Broadway with a pulpy family shocker (August: Osage County) that was having too much ghoulish fun to bother being profound. Letts was—is, I hope—the sort of playwright who knows his O'Neill and Williams, but really suckled at the teat of Shepard, or better, Tarantino and Lynch. Forgive my nostalgic whine, but in the high-concept, low-drama Mary Page Marlowe he's writing like an MFA grad trying to break into Manhattan Theatre Club. Whatever happened to the bad boy of yesteryear?
I know: Letts grew up. So does the title subject of the new piece, which debuted at Chicago's Steppenwolf in 2016. Mary Page Marlowe is a character study as jigsaw puzzle. Take a box of photographs from a stranger, shuffle them, and there's your dramaturgy. Letts even includes on-the-nose stuff such as Mary's explanation why she likes being a tax accountant. She enjoys poring over receipts because it's "like working a puzzle and putting the pieces in place—and sometimes it all comes together. All the numbers add up." Yeah, we get it.
When we meet Mary, she's 40 (played with seething misery by the marvelous Susan Pourfar), on the brink of divorce and a move to Kentucky—news that she breaks to her kids at a diner. Her teenage daughter (Kayli Carter) is horrified and the younger son goes unnervingly blank. As the next 90 minutes unfold, we'll learn that Mary (and her kids) has a great deal of unhappiness behind her and coming up around the bend.
The next scene flashes back to Mary's blithesome college days (Emma Geer as coed Mary) with gal pals reading tarot cards. The vignette after that shows her in cozy retirement years with a third husband, with senior-citizen Mary (mellow Blair Brown) learning that she is finally free to leave state lines after an unspecified crime. Wait: A crime? Before we have time to guess, we meet Mary in her twenties (Tatiana Maslany), in therapy but unable to stop cheating on her husband. Ah, so does her philandering lead to the crime? What Letts is doing is technically neat. Hopscotching through decades, he's controlling the flow of information and stoking our rising interest to see the full the woman in full.
At least, that's the theory. In practice, director Lila Neugebauer's overly complicated production and structural limitations steadily diminish our investment in Mary. Here's the précis, which I've helpfully put in chronological order: dad's a boozy WWII vet, mom's a drunk, broken home, marriage, kids, serial adultery, alcoholism, son becomes a junkie, multiple marriages, DUI that nearly kills a person, jail, old age and death (probably cancer). So much joy and tragedy should not make such dull viewing. And yet, when your hero is a passive cipher, it is.
Some of these problems could have been mitigated in the staging. There are 18 actors in this production, most of them appearing a single scene each. Now, I'm sure many are getting quality Candy Crush Saga time in the wings, but it's wasteful and irritating to use so many actors for so little action. Double- and triple-casting could have added coherence and resonance. And when you have performers as excellent as Pourfar, Brown and Maslany, you should give them more than a couple of scenes to prod your little writing exercise along.
The physical production is a sloping, two-tier tiled surface (designed by Laura Jellinek), with furniture gliding on and off, but it doesn't communicate much beyond "ups and downs." A late musical tableau (composed by Bray Poor), gives some sonic relief from the monotony of two-person dialogue, but also suggests the whole project might be better as a song cycle.
Letts is too skilled a writer for individual scenes and passages not to shine in isolation, but the whole leaves you unsatisfied. It's a pity, because Mary Page Marlowe's philosophical undercarriage has potential: No person or force controls our destiny, and we think ourselves integrated, but we play many roles over a lifetime. I suppose you could give Letts credit for an experiment that could never be successful. He's writing a protagonist who's passive and fragmented, a bit player in her own story. "I always thought I was a stronger person," Mary admits through tears, crumbling to the floor. It's a powerful moment in a play peppered with them, but only makes you wish there were more climaxes, more reasons to root for Mary. Suppressing dramatic pleasure to underscore life's chaotic randomness, Letts achieved something, but I'm not entirely sure it was worth it.