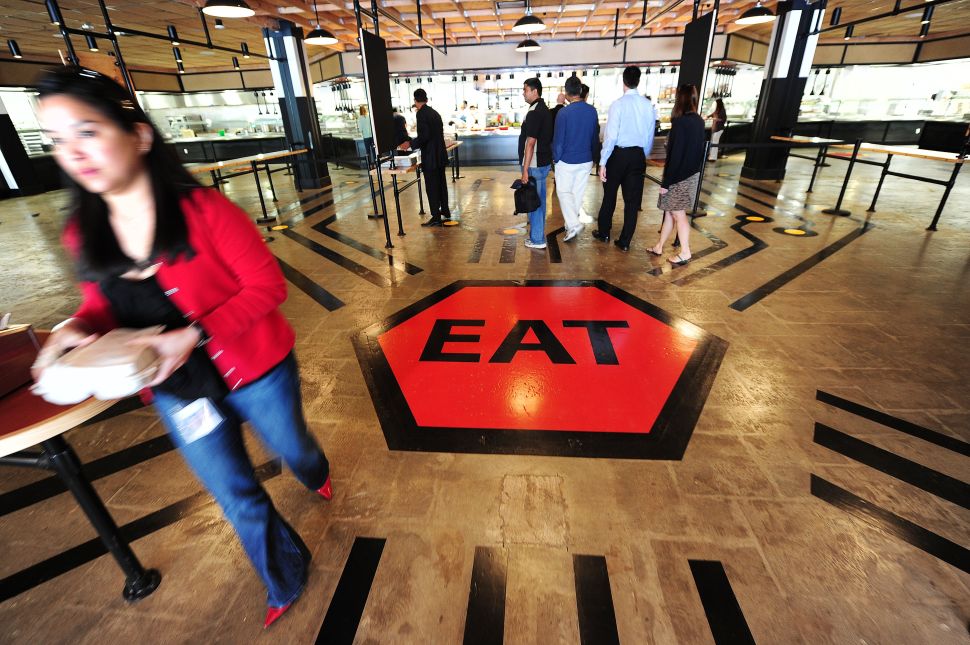 San Francisco's working population is so homogenous that, when tech companies in the area (like Uber and Twitter) provide free lunches to employees, local restaurants are left empty.
That's why the city is considering new legislation to end free lunch, a now standard benefit provided by upstart tech companies in the Bay Area. The bill, introduced on Tuesday by San Francisco Supervisors Ahsha Safaí and Aaron Peskin, seeks to prohibit new companies from opening in-house cafeterias.
"We see thousands of employees in a block radius that don't go out to lunch and don't go out in support of restaurants every day, because they don't have to," Ryan Corridor, owner of Corridor, a restaurant in downtown San Francisco, told CBS.
Corridor sees a surge of lunch customers only every other Friday, when Square, a payment processing company located a five-minute walk away, closes its employee cafeteria.
"You can't compete with free. Free food is a wonderful amenity but doesn't do anything to extend the community around it," Gwyneth Borden, executive director of the Golden Gate Restaurant Association, wrote in an open letter. 
The problem is most serious in San Francisco's Mid-Market area, a neighborhood spanning six blocks along Market Street, where Twitter, Uber and many other tech companies are headquartered. The area was historically abandoned and wasn't revitalized until Twitter signed an office lease in 2011 with a generous tax break offered by the city. A number of other tech companies, as well as upscale restaurants followed, making the neighborhood a literal tech campus. New companies in this area also followed the cultural example set by big players like Google and Twitter by offering employees daily free lunches, limitless snacks and other amenities, leaving local restaurants virtually no customer base to tap from.
Borden noted that many businesses in Mid-Market moved in on a government tax break for their promises to bring economic benefits to the area beyond occupying offices.
"Employees that never leave their offices is of little economic benefit to the city around them if their companies are not purchasing food from local businesses," she said. "Restaurants and other small businesses, unlike global companies that have private cafeterias, are reliant upon generating all their revenue locally so actual foot traffic is crucial to their survival."
The proposed legislation will go through the legislative process in September. If passed, it will only affect new companies, not existing ones, including Google, Twitter and 49 other companies that have their own cafeterias in the city.
"This is also about a cultural shift," Safai, one of the bill's co-sponsor, told the San Francisco Chronicle. "We don't want employees biking or driving into their office, staying there all day long and going home. This is about getting people out of their office, interacting with the community and adding to the vibrancy of the community."