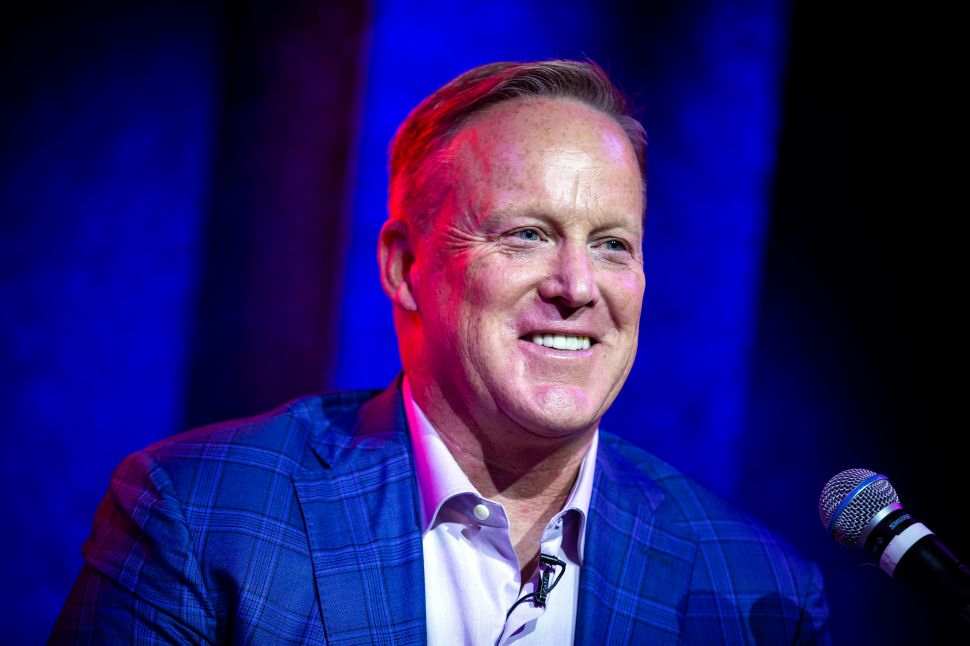 Sean Spicer is still feeling sorry for himself.
The former White House Press Secretary is now promoting his tell-all book The Briefing: Politics, the Press and the President, which is selling extremely poorly so far.
Critics say the book is riddled with errors, which is fitting given its author made up the term "Holocaust centers" and once literally hid in the bushes to avoid reporters' questions.
But Spicer is staying defiant. He recently appeared on BBC Newsnight and unsuccessfully attempted to defend himself against reporter Emily Maitlis' pointed queries.
Much of the interview was focused on Spicer's first week in office, when he lied about the size of President Donald Trump's inauguration crowd. At first, Spicer attempted to give a legitimate answer.
"What I was trying to do, and clearly not well, was change the focus from the number of people attending it to the total audience that watched it," he said.
But then, just like his old boss, Spicer pivoted to blaming the media.
"We had faced a press corps that was constantly undermining our ability," he said.
And when that didn't work, Spicer reverted to "woe is me" tactics.
"If there's a day that I would love a do-over on, it's that one," he said. "Nobody was happy with me that day."
The issues continued with Kellyanne Conway's "alternative facts" comment. Spicer said that response was the best Trump's press team could come up with on a three-day weekend in Washington when nobody was around.
But Maitlis wasn't having it. In a master class on interviewing, she continued to push Spicer to admit his lies.
"It's just not good enough," she said. "Donald Trump made stuff up long before he was a candidate… You have corrupted discourse for the entire world by going along with these lies."
No matter how much Maitlis pounded him, however, Spicer continued to play the victim—even when he described his time leaving the White House.
"There were days that were extremely lonely in that job because I screwed up," he said. "It was exhausting, it was tiring, I knew I was becoming the story too often."
Several times during the interview/interrogation, Maitlis tried to pivot the conversation to Trump's current issues. But Spicer played dumb.
"I'm not sure, I've been on a book tour all day," he said when asked about the Robert Mueller probe.
"I've been rather busy the last couple weeks," he responded when asked about Trump's meeting with Vladimir Putin.
We've all been rather busy, Sean. But one would think a former press secretary (albeit one who became Saturday Night Live fodder) would know what was going on with his old boss.