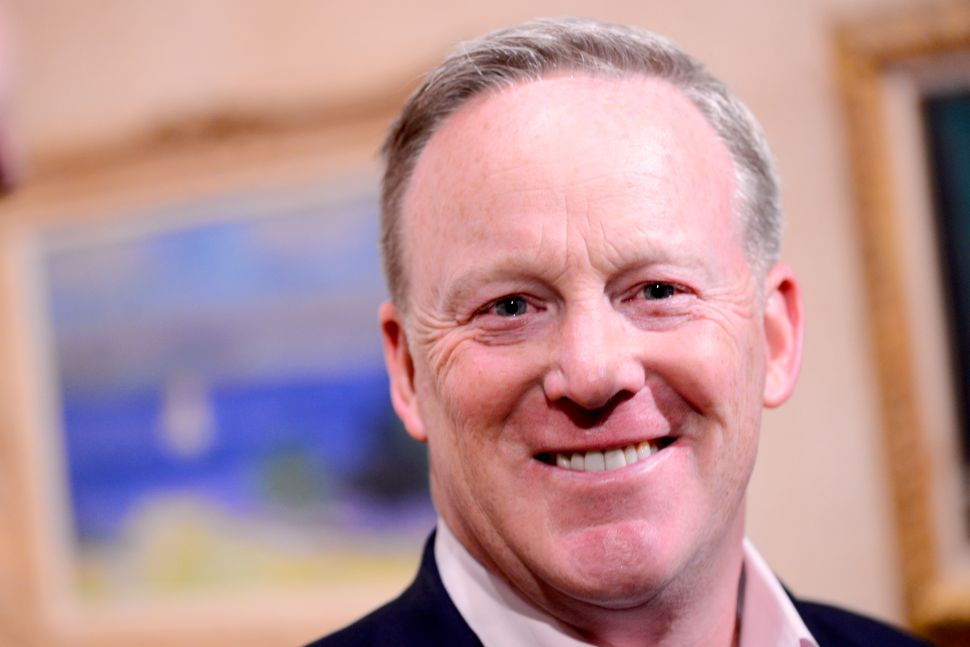 Back in December, former White House Press Secretary Sean Spicer appeared on Sean Hannity's show to announce that he was writing a book about his time in Trump's White House to "set the record straight." But now that his book is about to come out, it doesn't appear as if all that many people actually care about his record.
Per TheWrap, as of this writing, pre-order sales of The Briefing on Amazon (AMZN) have it ranked just 1,047 on the site's sales charts.
Ouch.
The soft pre-sales look even worse when compared to the muscle of Fox News' Jeanine Pirro and Gregg Jarrett, whose books rank No. 1 and No. 9 respectively. Spicer recently completed a significant promotional tour to spread awareness of his book, including a D.C. launch party that reportedly cost $1,000 for all-access tickets.
CNN's Brian Stelter took aim at the former Trump staffer following the book's less-than-ideal figures.
"I think there's a simple explanation for this: Spicer, despite all his TV hits hyping the book, is not Trumpy 'enough.' He only served as press secretary for six months," Stelter said. "Pirro and Jarrett, on the other hand, are absolute Trump diehards. And they're plugged in right to the base via Fox's prime time shows."
Spicer has attempted to put his time in the White House in the rear view mirror by making fun of his reputation as a liar, a tactic that culminated in his highly-criticized appearance at the Emmys last year.
Stelter himself questioned the appearance: "Are the Emmys lending Spicer a hand? Are they normalizing his usual dishonest behavior from the podium? That's what a lot of liberals say. It was inappropriate for Stephen Colbert to be laughing with Sean Spicer."
"I had a mixed reaction," George Stephanopoulos said on Good Morning America at the time. "Listen, anybody can make fun of themselves—that's a good thing—but this is a pretty serious problem. Jon Karl said in the White House briefing room every single day, where Sean and other representatives of the administration simply didn't tell the truth."
The Briefing will officially hit book stores Tuesday, July 24.