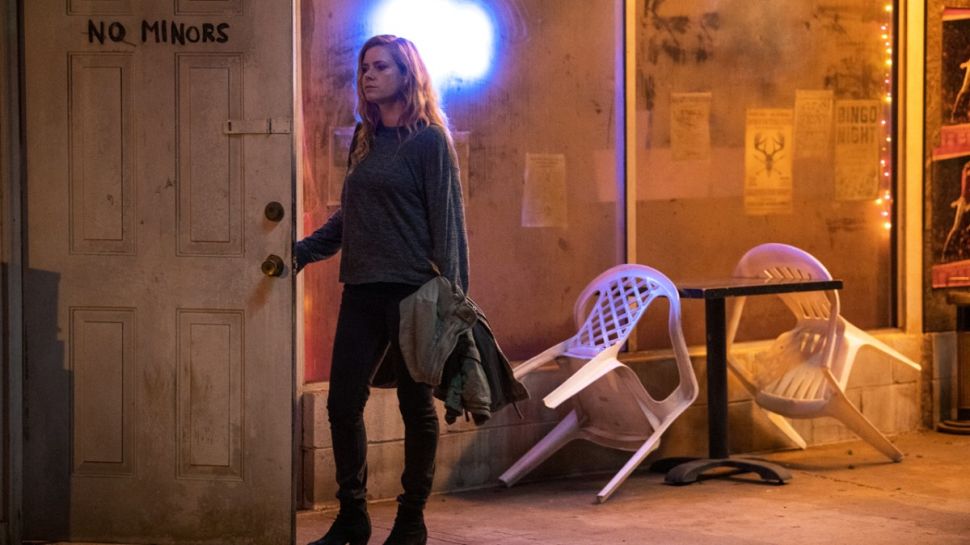 *Warning: Spoilers for the premiere of HBO's Sharp Objects*
Are you sufficiently unsettled? Because that's the feeling HBO's Sharp Objects wants to convey. Based on Gillian Flynn's psychological murder-mystery novel of the same name and directed by Jean-Marc Vallée (Big Little Lies), the Amy Adams-led limited series debuted tonight with its eerie premiere episode "Vanish," effectively setting the stage for the season to come.
So what have viewers gotten themselves in for?
Sharp Objects Recap
As we learned in "Vanish," Adams plays troubled reporter Camille Parker who returns to her small town home of Wind Gap, Missouri, at the behest of her editor following the murder and disappearance of two young girls.
From the jump, we're meant to wonder why Camille is, for lack of a better term, such a mess. Why is she a withdrawn alcoholic? Why the self-loathing (she describes herself as "trash from old money" to her editor)? This is a character who is clearly haunted by something, and if Adams' barely tethered performance early on isn't enough to key you in on that, than all of the tilted flashbacks are.
Showrunner Marti Noxon (UnReal), locked into an uneasy alliance with Vallée, intercuts our main story with memories from Camille's past—memories that seem to be bleeding into her present the closer she gets to the heart of home. As we volley between timelines and are met with snippets of character history, it becomes clear that neither showrunner nor director want the viewer to completely find their center. This is intentional disorientation and it's up to us, the audience, to find our own bearings.
Sharp Objects is not going to hold our hand or make sure we're comfortable. That's a good thing.
That's not to say that the series is a puzzle in the vein of Westworld. As the story unfurls, we begin to find our consistency and piece together immediate answers.
Camille's mother, Adora Crellin (played well by the always wonderful Patricia Clarkson), is an overbearing, image-obsessed tyrant with a smile. She puts Camille down repetitively, dismisses her responsibilities as a reporter and doesn't seem to respect her has an adult. She's more concerned with how Camille's presence reflects back on her in the eyes of Wind Gap, warning her not to "embarrass" her once again. In flashbacks, we see Camille and her younger sister—who we later find out died in childhood, striking a massive blow to a young Camille—forced to sneak around their mother's prying eyes.
There's something noticeably off about the well-to-do Adora.
Slowly, we start to see what may be the surface of Camille's issues.
The trouble is compounded when the missing girl turns up dead in town, leading Camille, who was present when the body was found, to give a statement to police and run across Detective Richard Willis (Chris Messina). Willis is outside help from Kansas City whose investigation doesn't seem to be headed anywhere concrete, though he shares with Camille an affinity for the bottle. Adams and Messina have immediate chemistry, and there are strong frenemy vibes emanating from their interactions.
Equally as interesting is the relationship between Camille and her half-sister Amma, a chameleonic young girl who presents one face to her mother and another to her friends. But how close Camille lets anyone get is the big question; she's a woman with something to hide both emotionally and physically.
From the start, Sharp Objects makes it a point to showcase the hot weather of Wind Gap fraying on the town's nerves, yet Camille is covered in a long sleeve shirt and jeans. It isn't until the episode's closing moments that we discover her entire body is covered with cuts and words etched into her skin, including the eponymous title "Vanish."
And now we know where the series gets its haunting title.
Sharp Objects Review
Sharp Objects seems to be an entertaining southern gothic exploit, with the depressed small town of Wind Gap echoing the vibe of the vast flatlands of True Detective's Louisiana setting in season one. Vallée has traded Monterey for Missouri but kept the same sense that something isn't quite right. The more off-kilter it goes, the more interesting it becomes.
Every conversation has a sinister undertone, making it seem as if everyone is a suspect. At the start of this investigation, it's impossible to trust anyone, but given the unreliability of our protagonist, perhaps she's the character to be most wary of… Or perhaps her paranoia and struggles are meant to be transferred to the audience.
Much of the premiere's dialogue crackles with deeper meaning, innuendo and mystery, and Adams controls it all from the get-go. It's indicative of HBO's current elite status in the television industry.
We've spent years traversing the era of the troubled male anti-hero, a trope HBO helped create with Tony Soprano 20 years ago and have arrived at a time when female characters are finally being empowered to take up the mantle. Sharp Objects, Big Little Lies, Westworld, Insecure—the premium cable channel's most celebrated recent hits are all powered by complex female characters. Camille, Dolores, Maeve, Issa and Madeline have all arrived across different series to carry on the tradition of Tony, Don and Walter.
The paradigm of television entertainment is changing, and you can see the developments in storytelling take root in Sharp Objects. "It's never real until it is," Camille tells Willis, though she could have just as easily been talking directly to audiences.
But my one worry is how psychologically motivated Sharp Objects is—anyone who read the book can tell you that it's largely an internal story that matches with the murder investigation. On the page, there's ample room for such an analytical and intelligent individual debriefing. On screen, it's harder to translate.
Should the adaptation take the same route as the novel, it's possible we're left with a fascinating character study where almost nothing happens as the majority of the season creeps along slowly. That could make for quality TV, but HBO can't expect its entire subscriber base to be on board with that kind of series.
For now, Sharp Objects is here to lay claim to summer's empty months as the new gripping drama of the season.