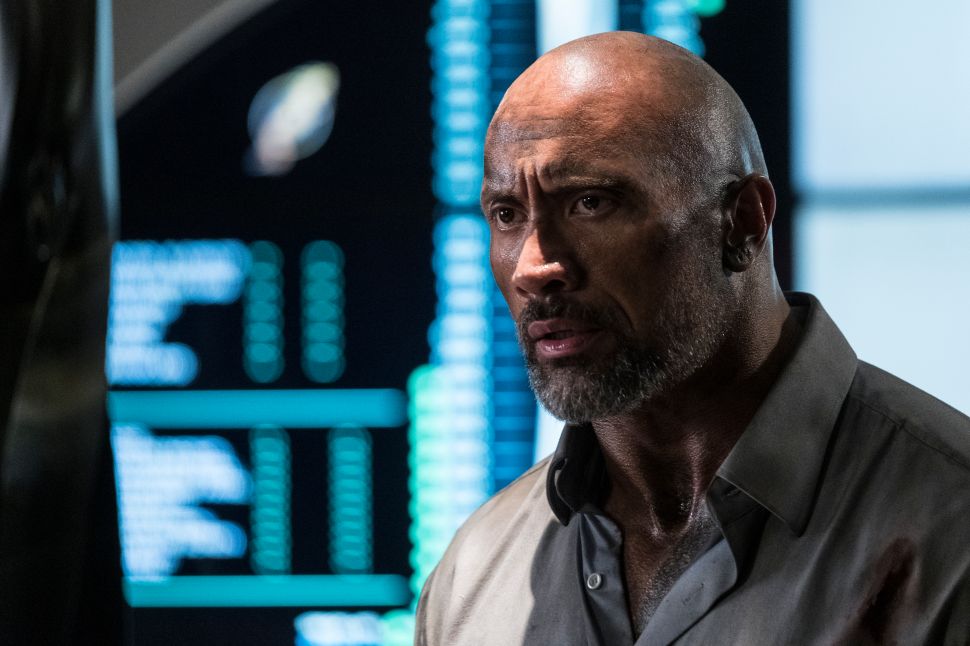 Dwayne "The Rock" Johnson is a full blown movie star—maybe the last of his kind in the old sense of the term—but not even his global name recognition could build Skyscraper up into a winner. The $120 million-budgeted film flopped in its opening this past weekend, earning just $25.5 million in North America and $40.5 million overseas for a global take of $66 million. That's just not going to cut it for either the production studios involved or for Johnson's well-earned reputation as an international movie star who consistently delivers box office hits.
But it's not exactly a Hitchcockian surprise that Skyscraper didn't connect as the film's less than ideal performance fits with the current trends of the movie industry.
Skyscraper is an original action movie concept that isn't connected to any pre-existing property. Johnson has pushed such ideas to profitability before, but original concepts are the riskiest of bets in today's blockbuster wars. As much as the film-going community complains about Hollywood's recycling of ideas, the truth is that movie studios are simply responding to consumer habits. Ticket sales have been declining every year since 2002 as audiences increasingly only turn out for established and familiar titles.
Skyscraper was marketed as a Die Hard homage by both Johnson and the film's promotional campaign. But Die Hard has endured as a franchise because the 1988 original shares the title of Greatest Action Film Ever with Terminator 2: Judgment Day (don't @ me). Original concepts can and have worked, but they need to be executed properly and near flawlessly to breakout big today.  Skyscraper didn't exactly excite critics or audiences in the same way as Die Hard and T2, scoring a lowly 51 percent on Rotten Tomatoes as of this writing.
Johnson's Rampage didn't fare much better (52 percent on Rotten Tomatoes) and failed to crack $100 million domestic, but it earned an impressive $327 million overseas, including a healthy $156 million in China. Special-effects driven blockbusters tend to generate a lot of traction in the Middle Kingdom, which has become an area of redemption for under-performing pictures. While Skyscraper certainly employs special effects for its numerous action-set pieces, they aren't in the same vein of giant monsters doing battle across an entire city. Put another way, they may not be as a commercially appealing worldwide. There's a reason beyond cultural reverence that 2016's Warcraft took off in China while Star Wars: The Last Jedi did not.
China is on pace to overtake the U.S. as the most important box office region in the world. Thanks to the involvement of Legendary Pictures, which is owned by Chinese conglomerate Wanda Group, Skyscraper scored a rare Chinese release date during the country's annual summer blackout of Hollywood imports. The film will need to do well there to avoid becoming a worldwide bust.
Once upon a time, the names above the marquee were enough to attract audiences. But with the rise of inexpensive and convenient home entertainment and the boom in television quality over the last 20 years, audiences aren't as inclined to pop into theaters. When they are, it's for concepts they already know; brands like Marvel and Star Wars still sit atop the mountain. The reason why the film community gets so excited when an original concept such as Get Out or A Quiet Place hit it big is because it happens so infrequently these days. International audiences are also keen on specific types of blockbusters—with everyone capable of impressive CGI these days, tentpoles need to craft the right kind of fantasy Hollywood action in order to impress across the globe.
At the end of the day, if you make a good movie, ticket buyers should theoretically show up. That isn't always the case, unfortunately, but delivering a quality final product should be the first goal of any studio. But the reality of today's marketplace demands certain fine-tuning to give a movie the best shot at box office success. Hollywood isn't as willing to take expensive risks on original concepts and buzz geared towards overseas audiences can't be understated.
At no point did Skyscraper's marketing campaign really generate the same type of buzz as Johnson's recent smash hit Jumanji: Welcome to the Jungle did. He and his camp can learn from Skyscraper's underwhelming numbers thus far as they say quite a bit about the direction of the industry.