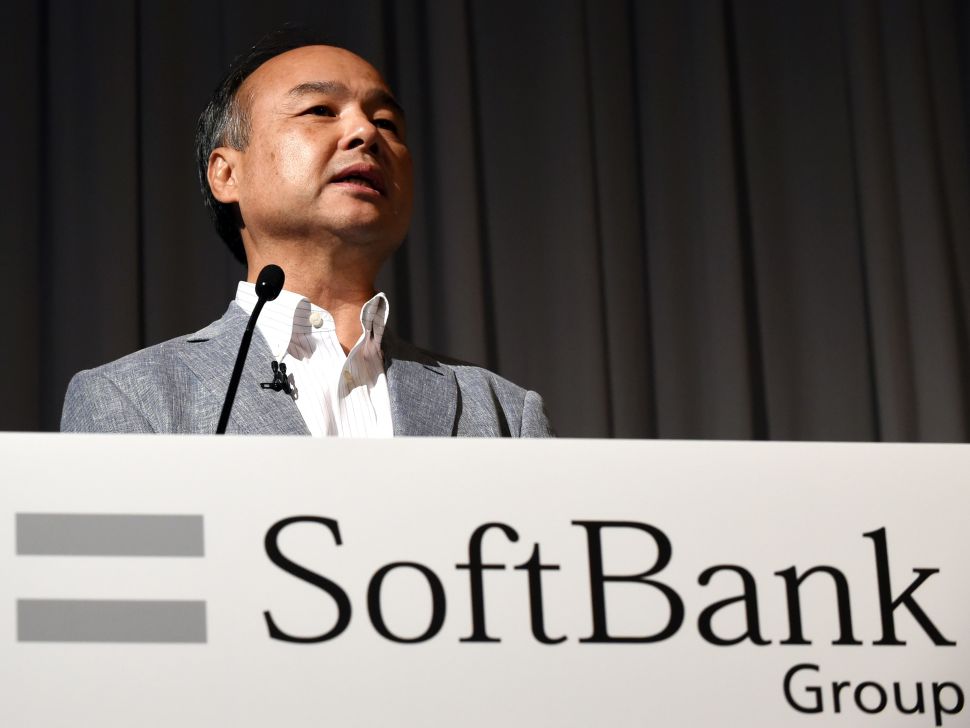 It's not news that SoftBank wants to swallow Silicon Valley. For the past two years, the Japanese telecom giant has been the most aggressive venture capitalist in the U.S. (and startup hubs abroad). With its virtually bottomless cash pool, the $100 billion Vision Fund, SoftBank is a power stakeholder in many of today's most well-known companies—Uber, Slack and WeWork, just to name a few. And, when it comes to new investment targets, SoftBank doesn't write checks smaller than $100 million.
The problem is, few of these companies have yet to make a profit. Uber, for example, despite a sky-high valuation at $62 billion, was unprofitable for years. (The ride-hailing company reported its first profit in the first quarter of this year.) Most other companies are in much earlier stages.
Is SoftBank worried at all? After all, a startup's valuation is just a bunch of hot air until it finds an exit, either through a buyout or an IPO.
The short answer is—not yet. In quantifiable terms, SoftBank is willing to wait as long as 300 years.
That's not a joke. SoftBank's founder and CEO Masayoshi Son has repeatedly brought up this grand vision during his public speeches. It has also become SoftBank's guiding principle when selecting startups.
"We may delay profitability, but we are always keen to understand what the unit economics are," explained Jeffrey Housenbold, a managing partner at SoftBank, at the Fortune Brainstorm Tech Conference in Aspen, Colo., on Tuesday. "We have a phrase that says, 'Nail it, then scale it.' So we're not just allowing them to spend money without an end goal."
"Our playbook has been to take meaningful minority stakes and bring both capital, counsel and connections to our entrepreneurs and introduce them to their sister companies inside of the broader SoftBank ecosystem," he added.
That strategy has been most vividly played out in the ride-hailing space, where SoftBank has an ownership in all of the sector's power players.
Since 2016, Uber has spun off most of its international operations to local competitors. It sold Uber China to Didi Chuxing in 2016 and its southeast Asia operation to Singapore's Grab. Both companies are partially owned by SoftBank. So, compared to Uber's success as a single company, SoftBank is more concerned with the success of its entire ride-hailing portfolio.
"If you invest in the size and the franchise is much bigger, and you understand the unit economics and the path to profitability, you can delay the near term to have a much bigger outcome," Housenbold said.
"We're investing in late-stage assets. These are proven teams with proven operators," said Lydia Jett, SoftBank's internet consumer sector investor, at the Tuesday panel. "How do we help them expand products and expand geographies? It does lead to a world where we can put more capital to work in ways we don't think are irresponsible because of the big opportunities ahead of us."