The south of France is known for its endless sunshine and general joie-de-vivre disposition, yet I found myself there on its first dreary day in over a month. The heavy, tempestuous clouds seemed appropriate, though, since I was there on a somber errand—to visit a grave.
You won't find a body in this tomb, however; instead, it's filled with secrets of those who make the pilgrimage to see it. Buried in the Provençal woods surrounding the grape-laden grounds of Château La Coste, it's the latest work by French conceptual artist Sophie Calle. Dead End, as it's coyly called, is the newest addition to the vineyard-slash-art-center's extensive permanent outdoor art collection, which already boasts several other site-specific works by big-name artists like Jenny Holzer, Tracy Emin, and Andy Goldsworthy.
To celebrate—if that's the right word—the occasion, the artist has also taken over both of the château's indoor exhibition spaces through August 15, where works addressing the loss of the artist's loved ones created over the last 30 years of her career prep visitors for their encounter with Dead End. In the old wine storehouse, works range from her series of black-and-white photographs of strangers' gravestones displayed on the floor like actual graves, which hasn't been shown in over 20 years, to a collection of photographs and texts that explore her devastation of losing her mother, her cat and her father within the span of a few years.
"I suppose it's a bit heavy for a summer exhibition," said Daniel Kennedy, who oversees the center's art and architecture programming. "It's very poetic, though. Sophie doesn't see it as grim or morbid, and that's something she tries to bring to the fore in all of her work. Death is part of life, you know."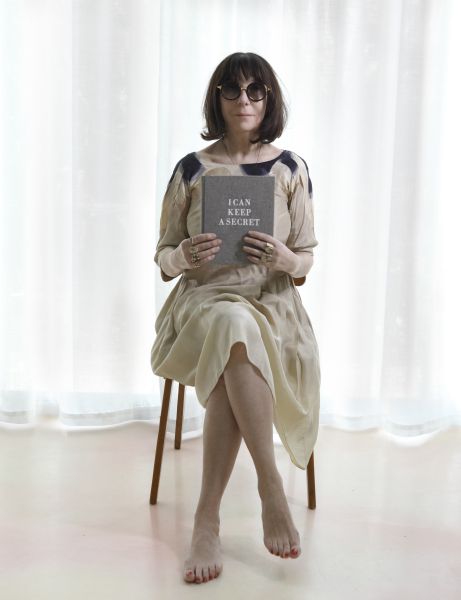 This undeniable tenant is exemplified in the second half of the exhibition at La Coste's Renzo Piano-designed pavilion, which appropriately is also interred, having been built directly into the hillside. There, the entirety of Calle's landmark work commissioned by Paris's Centre Pompidou in 2004, Douleur Exquise, is presented. An extensive mashup of love letters and break-up journal entries stitched into silk, the series took her 20 years to complete after her lover left her waiting for him in India in 1984, offering her nothing but a telegram to let her know he'd met someone else.
Divided into two parts, avant la douleur (before pain) and après la douleur (after pain), the series takes a lot of time to get through and is intensely intimate, leaving you a bit exhausted by the end of it. But ultimately it underscores the sense of resurrection that comes after surviving an emotional pain so devastating that it feels like it might have actually killed you.
"There's always an element of the autobiographical to Sophie's work, and in this piece it was about her healing process," Kennedy explained, adding that in the course of making Douleur Exquise, the artist began asking others, "When have you suffered most?" Kennedy continued, "Dead End is kind of like that, where she's asking people to open up and let some their pain go."
Calle installed similar works to Dead End in a cemetery in Geneva in 2016 and at Brooklyn's Green-Wood Cemetery in spring 2017. There she erected an obelisk bearing the words"Here Lies the Secrets of Visitors to Green-Wood Cemetery" where graveyard goers can write their deepest, darkest secrets down and slip them in through a slit in the stone. The participatory project will span the next quarter century; after 25 years, the secrets surrendered to the sepulchre will be burned. The timeline was inspired by a practice common in the artist's native France, where the purchase of an eternal grave only guarantees the buyer 25 years in the ground before their real estate of final resting can be flipped.
Calle's crypt at Château La Coste has more of a finality to it given that it's a permanent installation on a private estate—there's no need to ever empty the contents of the tomb. Dead End, then, makes even more literal the meaning behind the adage,"take it to your grave," that inspired the artist to make these works. "It's meant to be personal, cathartic even," Kennedy said of the work, noting that the artist hand-picked its precise location. Indeed, there are far fewer places as beautiful as La Coste's verdant vineyards on the slopes of the Pyrenees Mountains that I'd like to lay some of my baggage to rest.
In the unseasonal drizzle, I embarked upon the two-hour walking sculpture trail around the winery in search of the grave. With the help of a map, I found it at the top of the Roman wall Ai Weiwei rebuilt there last year, adjacent to a plot of Grenache grapevines. Calle's work was marked with a simple wooden arrow tacked to a tree labeled "Dead End." Before reaching the marble vault at the end of the short pathway, a metal box with paper and pencils in it invited me to write my secret and put it in the tomb. I obeyed, folding up my piece of paper and pushing it through the slot. It was too light to even make a sound as it dropped into the vault, but I did feel at least a little bit lighter.