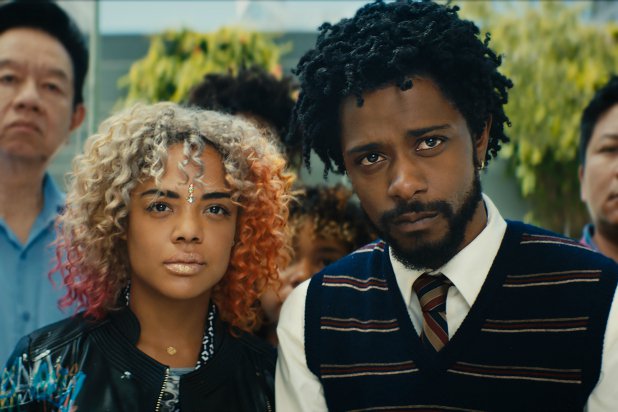 I've already said that Sorry to Bother You is the best film of 2018 so far, but now it's looking like rapper Boots Riley's directorial debut could also be the comedy genre's savior at the box office. You see, straight comedies have been failing financially pretty regularly since 2016's Ghostbusters reboot cost Sony more than $70 million. Since then, studios have seen a steady string of ha-ha flops including Will Ferrell and Amy Poehler's The House, Dwayne Johnson's Baywatch, Amy Schumer's Snatched, Scarlett Johansson's Rough Night and Charlize Theron's Gringo. That's a lot of star power falling short of expectations.
Yet Sorry to Bother You leads Tessa Thompson and Lakeith Stanfield are powering the film to spectacular limited release numbers on the back of universal critical praise. Opening in just 16 theaters over the weekend, Sorry to Bother You earned north of $717,000 for a stellar per screen average of $44,831, the fourth-highest among this year's indies. That's good for a spot in the nationwide top-20 before it expands everywhere next weekend.
Of the three independent films to out-gross Sorry to Bother You over their limited openings this year, only Wes Anderson's Isle of Dogs appeared in more theaters. That picture scored $1.62 million in 27 locations during its first frame back in March, good for an average of $60,011. It ended its run with nearly $63 million worldwide off a small budget.
This electric opening lays the groundwork for Annapurna Pictures to land its first financial success since launching its distribution division with last summer's Detroit and ahead of handling James Bond's domestic release next year. But how far can Sorry to Bother You really go?
It's hard to make a firm estimate given how small of a sample size we have to go on. But as we've seen with recent successes such as Straight Outta Compton, Get Out and Black Panther, American audiences are hungry for culturally relevant material from people of color. The film could prove to be attractive counter-programming to blockbuster holdovers such as Jurassic World: Fallen Kingdom and Ant-Man and the Wasp, not to mention the family-friendly Hotel Transylvania 3: Summer Vacation and Dwayne Johnson's Skyscraper, both opening this weekend as well.
There may be a lot of competition, but Sorry to Bother You has been generating massive amounts of hype since it debuted to universal acclaim at Sundance. Since then, it has only continued to gain steam and currently holds a 94 percent on Rotten Tomatoes. The film is fiercely original, uproariously hilarious and deliriously creative.
Do yourself a favor and go see this movie this weekend. You just might be helping to revive the comedy genre at the box office.