Conveying meaning through your clothes can be as subtle as the kind of collar worn to work or as brash as a slogan spelled out across a T-shirt. In Sorry to Bother You—out in theaters July 6—both types of sartorial statements are on display. Observer talked to costume designer Deirdra Govan about crafting the style for Boots Riley's directorial debut, which is set in an alternate version of present-day Oakland.
Sorry to Bother You follows telemarketer Cassius Green (Lakeith Stanfield) as he searches for financial success in a shady industry, which he finds through the technique of channeling his "white voice" to make calls. Cassius' initial triumph in this seedy world is starkly at odds with the principles of his artistic girlfriend, Detroit (Tessa Thompson). It's a story that explores capitalism, the obstacles to success for African-Americans, and the power of unions, all told through an absurdist lens yet somehow still grounded in reality.
The script called for a number of specific costume details that had to be fabricated. For Detroit, it is her striking (literal) statement earrings. "Her whole look had to be in equal balance with those earrings, otherwise it would just look odd and out-of-place, or like she was trying too hard," said Govan. "With all these characters that was the intention, to make it seamless, not 'oh that is contrived,'" she said. Below, Govan shares the most challenging costume she worked on, her favorite statement pieces, and where you can find some of the unusual styles shown off in Sorry to Bother You.
Detroit's Earrings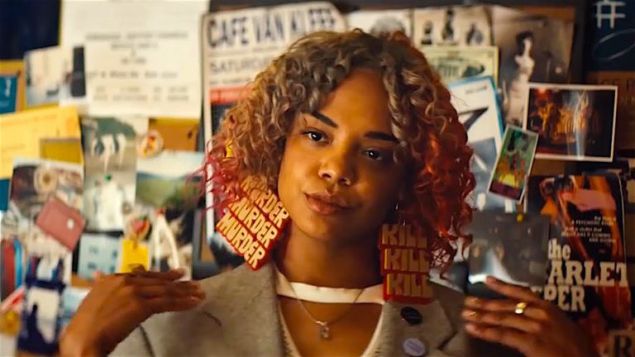 "Detroit has a reverence, an artistic style, a complete ability to be an individual who is able to say something politically without making it contrite. And there's something tongue-in-cheek about it. It's not literally 'murder, murder, kill.' It's 'take no prisoners, my style is my own. I'm making my own way. I'm not selling out.'
The font is customized, and we worked with one of Booth's many artistic friends, a graphic designer, the children's book illustrator J. Otto Seibold. I love the irreverent style of the typeface, the angular irregularity of not following the rules, because that is really what Sorry to Bother You at its core is."
Statement Tees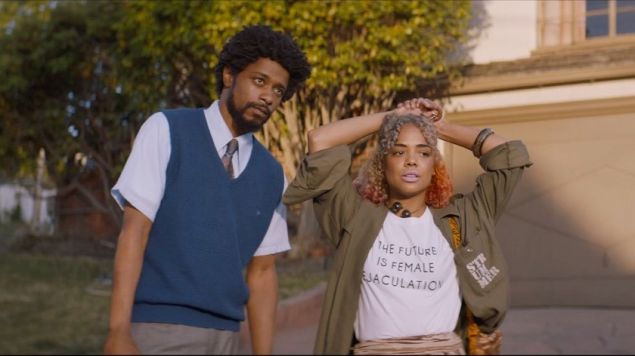 "We knew that we wanted to go with graphic T-shirts because we wanted to make sure there was a sense of irreverence—the script has that tone. It is a shock and awe moment with Detroit's "The Future is Female Ejaculation" T-shirt…really it was a political message about what's going on in our current time.
Otherwild is a boutique here in New York. They have a lot of irreverent shirts [Detroit also wears the venus tit T-shirt], that are very cool, very kitschy, very 'wow that's a play on words.' That is their hallmark. It just fit the character of Detroit."
'F You' Underwear

"This was probably one of the most stressful costumes for several reasons. One, it came together very fast. In the script when Detroit disrobes her trench coat and prepares to present her performance art, she is supposed to be naked. Tessa and I had a conversation about this, we were very clear we didn't want to have nudity just for nudity's sake.
A gloved hand almost, in my head, meant silencing a woman's voice. Hands all over her body, hands where they should not be. [But] if you notice in the lower region it is the middle finger, so it's an 'F you, you can't touch this,' so to speak. It had a very interesting quality to me because it was so strong. It was very much 'my body is my own and I control who touches where.'"
The Army Print Shirt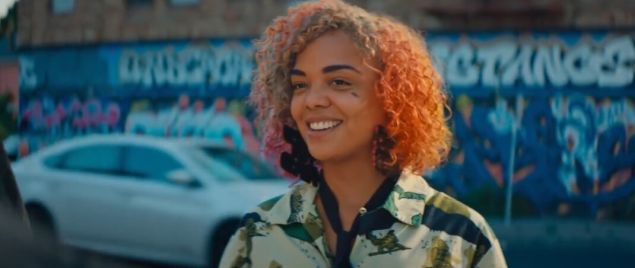 "This shirt is a throwback to punk, Patti Smith, women empowerment and again [has a sense of] irreverence. It's just being out on the street like, 'I'm ready, let's do this. Bring it.' It was a vintage find."
Sweater Vests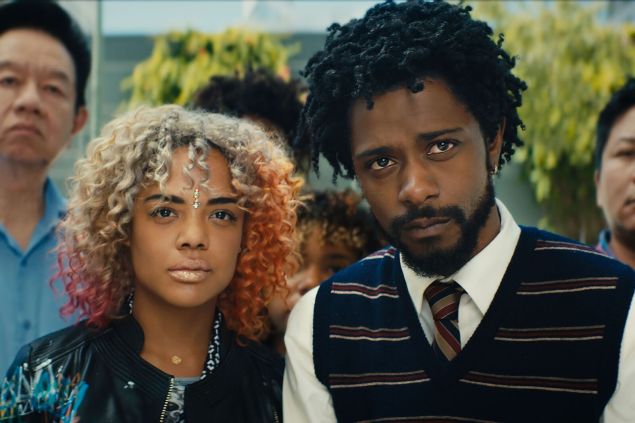 "There is this line in the script that Detroit refers to: 'Why are you with Cassius?' She's with Cassius because he is not contrived. He still has pieces that he wore probably in high school. He is still wearing his old hand-me-downs. [This] could have been a sweater vest he might have got from J.C. Penney or Sears, or that his mom might have bought him. That speaks to his innocence at that time."
Power Caller Dressing
"When Cash becomes a Power Caller he transitions to the green plaid suit. You see that when he is in the elevator. He's knocked it out of the park; he is going in the elevator now, he's going up, and this is when you start to see the full transition. He is in a suit, but the first suit you see him in is his own interpretation of what he needs to look like to be powerful; 'I have the suit, I have the tie.' But it is plaid. It's from the '70s or '80s and you're doing a double take. But he still has it together.
The whole deal with Diana (Kate Berlant) is that she is completely over sexed, and she objectifies Cassius; she has a thing for Cassius. Her blouse is from the '80s. There's another dress she has from the '90s, but she is still trying to sex it up. She is caught in the bowels of telemarketing."
Technicolor Style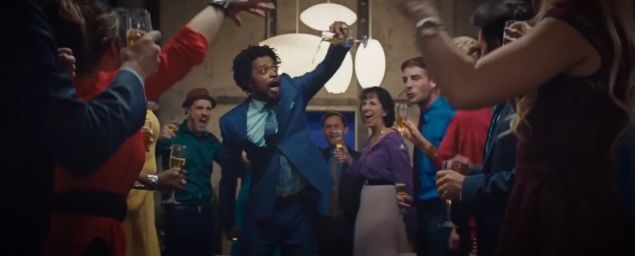 "Then when he goes to Power Caller world, it's a Technicolor world. It's full on high-intensity. So the power caller word is vibrant, it's rich, it's over-the-top, it's ostentatious, it's in your face. His color palette needed to reiterate that."
Patterned Button-Downs
"Salvador's shirts are his call out—his patterned shirts with these off-center prints. They're a little bit of hipster, but wacky in a way. He wears suspenders, he has patterned ties, he wears wingtip Oxfords and colored socks. His manner of speaking…he's looking at you with a side-eye, going 'Are you serious?' His shirts say what he sometimes necessarily does not."
Utilitarian Casual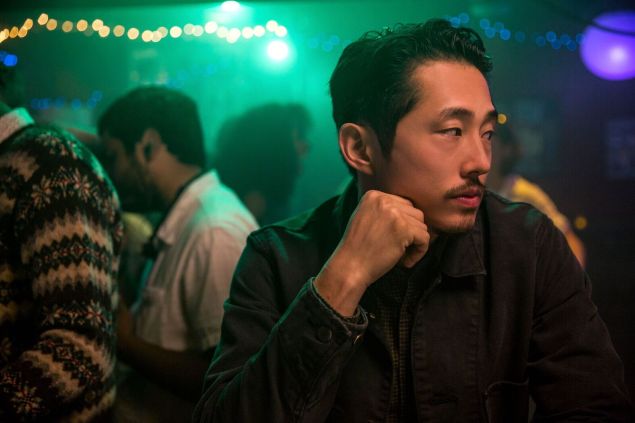 "I found this incredible boutique called Welcome Stranger that really supported me, providing some great pieces for Steven Yeun, because he had a utilitarian sensibility about him. He's an undercover pro-union striker guy in a fight-the-power situation. He needed to have somewhat of a military stance without being too 'I'm going to be wearing army fatigues.'
His look needed to go incognito; the crew neck T-shirts, the utilitarian jacket…very clean lines. The color palette is blues, greens, blacks and grays. It's very simple, very unfussy, because he doesn't have time for that. It is a uniform he puts on every day. He'll wear that same jacket."
Wallpaper Prints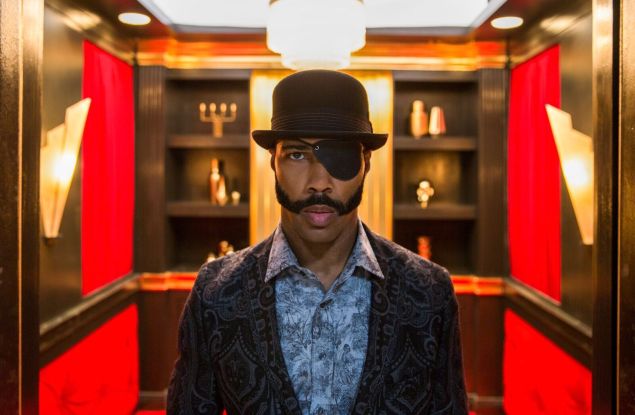 "The bowler hat was something I came to because I love surrealism and I wanted to make Mr. Blank's look in that same way. He is the seducer, he is the one who brings people in with the golden apple, promising them riches on the other side. Meanwhile, they're about to sell their souls and they don't even know it. He has to be the first point of entry to the point of no return, so he has to look good. He needed to be very well tailored—within an inch of his life. Just slick.
The shirt is from Etro. It's an old Victorian wallpaper print. This wallpaper I think was in my grandmother's bathroom. I loved it because it had a unique detail."
Caftans Because You Can
"If you could take Steve Jobs and put him in a linen caftan, that's what Steve Lift is. He is the Svengali. He is the one who is at the top; he's the objectifier. He's like, 'I'm going to take from this culture, I'm going to take from that culture, I can do that because I am Steve Lift. I still have my equestrian jacket on because I am still entitled and I can do this. I'm going to walk around with a riding crop and riding boots, but I am going to borrow this Greek sarong linen because I can. I'm going to wear a caftan because I can.'"