A lot of people love spiked seltzer. But not many people love it like Greg Dunaway.
The 32-year-old creative director from Scottsdale, Arizona first tasted the crisp beverage about four years ago. And he was immediately hooked.
"I would rather be punched in the head than drink a sugary alcoholic drink that gives a hangover, but spiked seltzer over ice is the perfect substitute," Dunaway told Observer.
He's especially partial to White Claw, the hard sparkling water meant for consumers who "live their best life." And Dunaway has arguably gone overboard in his love for the brand.
In 2016, he started a fake "Claw Lifestyle" Instagram campaign as a satire of native advertising. The faux-sponsored content featured cans of White Claw juxtaposed with flowers or religious imagery.
"It was a joke because we caught shit from some of our friends who thought we were drinking wine coolers," Dunaway said. "I hoped the official White Claw feeds would pick it up, but I guess they weren't amused."
"White Claw fans are the best," Sanjiv Gajiwala, the company's vice president of marketing, told Observer in an email. "We are excited to add @gregdunaway to our list of superfans."
But it's not just White Claw: many brands have made spiked seltzer a king of the cooler at summer barbecues.
The drink has been around since 2014, but this year it's truly become a party staple. In fact, according to TheStreet this beverage will be responsible for about $500 million in U.S. drink sales in 2018.
That means spiked seltzer is outselling other niche alcohols like hard cider, which grossed only $470 million last year.
One of the main reasons is that it's a healthy, light alternative to beer. The carbonated sparkling water is made with fermented sugar rather than malted barley, and it's only about five percent alcohol by volume.
The seven spiked seltzers on the market are also all gluten-free, and none of them have more than 140 calories or more than five grams of sugar.
Because of these benefits, the tasty treat appeals to many health-conscious consumers.
"It's an alcoholic La Croix," Michelle Hardin, a 24-year-old event marketing coordinator from Iuka, Mississippi told Observer. "It's not heavy like hard liquor."
Other consumers use spiked seltzer to supplement their intake of different alcohols.
"My friends say, 'When we can't drink any more beer tonight, let's pick up some spiked seltzer,'"  Leila Kekhia, a 32-year-old Chicago marketing manager, added.
Many brands focus on the fact that consumers don't have to sacrifice taste for health. For example, Truly Spiked & Sparkling focuses its marketing on healthy fruit flavors like wildberry and pomegranate.
Casey O'Neill first felt the thirst for alcoholic sparkling water at a post-workout happy hour in 2016, when her friends complained about the lack of healthy alcoholic options. Luckily, she works at Boston Beer Company (Truly's parent), so she was able to develop a product that fit her workout crew's needs.
"A lightbulb went off in my head about hard sparkling drinks," O'Neill told Observer. "There's a rising culture of people wanting to work hard, play hard and live a well-balanced lifestyle. The whole notion of being healthy is changing to a mindset where you don't have to deprive yourself or feel guilty. Truly fits into a wellness routine, but you can also take cans to the beach."
Gajirwala agreed—he said White Claw filled a need in the drink landscape.
"Consumers have been gravitating towards better-for-you products for years, and alcoholic beverage hadn't responded," he said. "We saw an opportunity to reach these consumers that were looking to have fun and still make smart choices about what they consume."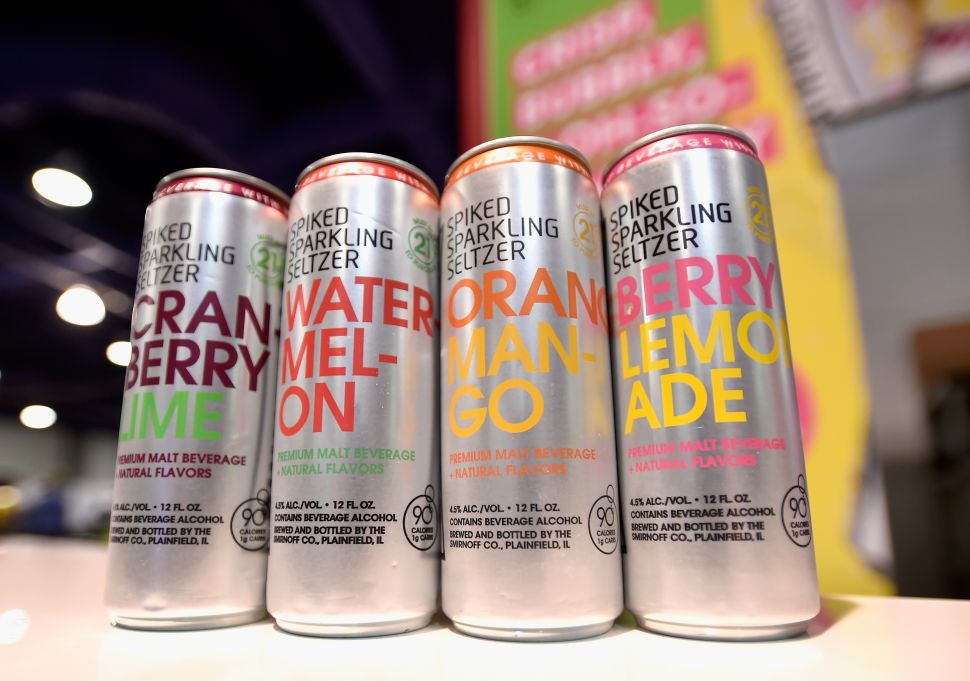 Indeed, Kekhia first drank spiked seltzer during a summer weekend in Nashville a couple of years ago. She was an early fan of the healthy-yet-tipsy beverage.
"If I know where it's sourced from, where it's made, what goes into it and that it's 100 calories, that ticks all the boxes for me," Kekhia said.
Established alcohol brands are trying to tick those boxes as well. Smirnoff sells a Spiked Sparkling Seltzer which comes in six varieties. It has 90 calories, one carb and no added sugar.
Svedka is the latest spirit to embrace the spiked seltzer craze. The vodka now owned by Constellation Brands introduced a Spiked Premium Seltzer last month, which is available in 10 states across the Northeast and features exotic flavors like Strawberry Elderflower.
"We wanted a taste profile from the botanical space," Mallika Monteiro, vice president of beer innovation at Constellation, told Observer.
"We saw an opportunity here," Matt Escalante, senior director of brand marketing for Constellation, added. "We have the same low calories and natural flavors as other spiked seltzers, but what makes us different is the sophisticated flavor."
Svedka's marketing campaign is focusing only on female consumers because "they drive the purchase of the product," Escalante said.
But other brands market to both sexes—White Claw has partnered with Under Armour and ESPN to further its appeal.
Consumers also consider it a unisex beverage. Hardin's fiancé drinks it, and Kekhia has also introduced it to men in her social circle.
"The guys think it's a girly drink at first, but I've successfully converted some of them," Kekhia said.
Dunaway is one of Kekhia's converts. His wife is friends with her, and he first fell in love with the beverage when she brought it to a party.
"It's a vodka soda in a can without a hangover," he said. "You get that kick of alcohol without a brutal hangover or 1,000 calories."
Dunaway said the fact that spiked seltzer was a healthy alternative to beer made it worth consuming, "women's drink" or not.
And while his campaign to become a spiked seltzer influencer may have failed, he can still sum up its appeal very simply.
"It goes over well with everybody because it doesn't taste like crap," Dunaway said.