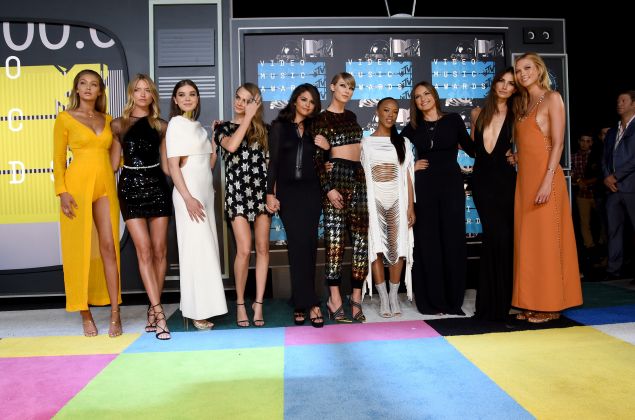 It has been a while since Taylor Swift gathered her squad for their usual get togethers, which we imagine start Swift banging down a gavel and calling the meeting of models, musicians and other famous supermodelhumans to order.
After all, July 4 is essentially the official holiday of this crew, but the day came and went, without any of Swift's usual patriotic festivities at her beach house in Newport. There wasn't even a water slide spotting this summer!
Instead, Swift and her British boyfriend Joe Alwyn headed to Turks and Caicos, where she took beach strolls, went snorkeling and donned two striped bikinis in both blue and red, because #America. It's great she got a vacation and all, but we'd still like to know what is happening with the rest of her squad, which once included Karlie Kloss, Lorde, Gigi Hadid, Selena Gomez, Lily Aldridge, Martha Hunt and truly so many Victoria's Secret models that you'd think Leonardo DiCaprio hand-picked the group.
Gomez is still going strong, as she made a surprise guest appearance onstage at one of Swift's concerts on her Reputation tour. And it's safe to say Hadid and Hunt are remaining with the pop singer in the post-Kanye West and Kim Kardashian era, as they embarked on a true girls trip this weekend.
To be honest, it wasn't exactly a large turnout. Hadid, Hunt and Este Haim joined Swift's friends Ashley Avignone and Kennedy Rayé Black, but maybe we'll see Blake Lively and Cara Delevingne in the near future.
The festivities began with a wholesome sleepover at Swift's Tribeca duplex penthouse, where we assume they baked cookies and took photos of her cats. They emerged the morning of Friday the 13 (Swift's favorite number), with Hadid sporting a snake sweatshirt from Swift's merch line.
Next up was a field trip to Swift's childhood home in Reading, Pennsylvania, where the erstwhile country singer grew up before she moved to Nashville and embarked on a career that once included prom queen curls and princess dresses. We're surprised Hadid's boyfriend Zayn Malik, who now owns a farm in rural Pennsylvania, didn't come hang out.
Swift shared a photo of the crew sitting in her old bedroom, and in classic fashion, captioned it with lyrics from one of her own songs, "Never Grow Up." It turns out they weren't just there to reminisce, as they attended Swift's concert at Lincoln Financial Field in Philadelphia.
Hadid acted like a true fan when she was dancing away during "Don't Blame Me," which a fan kindly captured and shared. The model herself uploaded a photo from the night, and wrote a very long caption on her Instagram Stories detailing how proud she is of her friend.
Unfortunately, Hadid and Hunt didn't strut down the stage as they did at the Detroit show of Swift's 1989 tour, but there's alway next time. Besides, it would have been hard to beat the true stars that night—Swift uploaded photos of an actual proposal that occurred during a meet and greet.