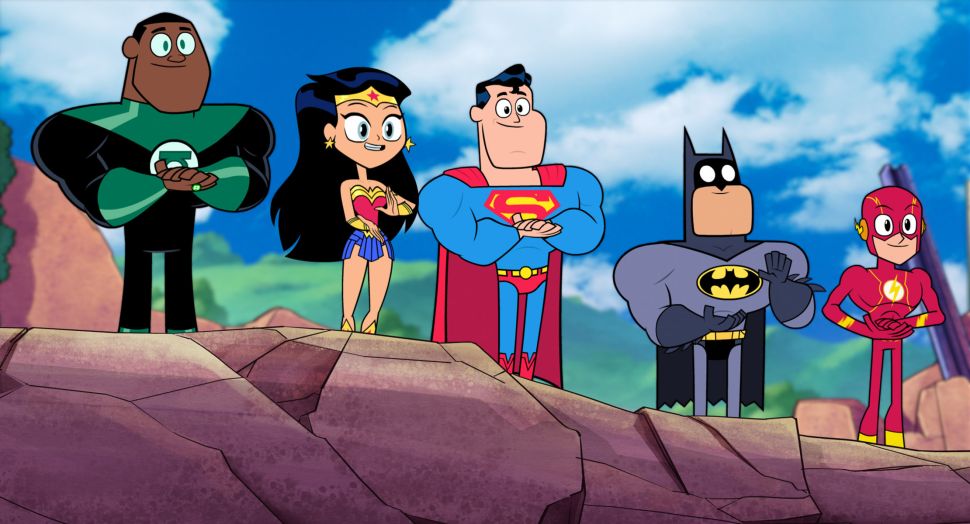 There's a great scene in the first season of HBO's Silicon Valley in which tech entrepreneur Richard Hendricks and his company Pied Piper run into trouble, leading to a necessary change in business model. "Pivot," his strung out right hand man hilariously repeats as they scramble to put together a new approach. The scene is played for big laughs, but it speaks to the necessity of change when something isn't working.
After the last five years, Warner Bros.' DC Films is in need of a pivot. Its DC Extended Universe (DCEU) has failed to live up to internal and external expectations with divisive entries and underwhelming box office totals that have damaged the brand. Coming off November's massively disappointing Justice League, meant to bring together the most iconic superheroes in comic book history and catapult the DCEU forward, fan interest hit an all-time low. But thanks to a hierarchical shakeup, a window of opportunity and a new slate of films, there's reason to believe DC Films is pivoting for the better. Finally.
In January, Warner Bros. appointed Walter Hamada as the new president of DC Films and although the upcoming animated kids movie Teen Titans Go! To The Movies, written by Aaron Horvath and Michael Jelenic and directed by Horvath and Peter Rida Michail, was announced long before his arrival, the picture very much feels like a fresh start. It very clearly does not take place within the DCEU, but that doesn't stop the film from skewering its polarizing big brother at every turn.
In fact, Teen Titans Go!, based on the TV series, attacks the Hollywood superhero bubble, including Marvel and Fox, and the entertainment industry with gleeful abandon. With its self-aware meta humor the movie is very much a Deadpool for kids—with direct nods to Ryan Reynolds' franchise for good measure.
But most importantly, Teen Titans Go! is unafraid to laugh at Warner Bros. and DC's missteps, which is important to the re-branding effort under this new regime. The movie makes jokes at the expense of 2011's laughable Green Lantern, WB's earlier tendency to foolishly announce a slew of release dates years in advance (the majority of which were never filled), and even Batman v Superman's meme-generating Martha twist. There is clear commentary here on how the entertainment industry has gone too far down the rabbit hole of superhero projects with faux-trailers for an array of solo films about Batman-adjacent gadgets and even Alfred (that last one gets even funnier when you remember that Epix just ordered an entire TV series about Bruce Wayne's butler).
Teen Titans Go! is chock full of references and Easter eggs from obvious winks to deeper cuts that are fun for both knowledgeable and casual superhero fans. There's a running Stan Lee gag that particularly cracked me up.
Overall, Teen Titans Go! To The Movies is a fun parody of sorts that gently skewers our superhero obsessed culture, and while there may be one too many gags thrown in there which can get a bit tiresome after awhile, it's an enjoyable movie for both kids and adults that serves as a nice first entry in this new era of DC Films.
Perhaps not so coincidentally, the movie's story—which follows Robin and the Titans as they desperately try to emerge from underneath the shadows of their more famous and successful counterparts—mirrors that of DC Films as it attempts to right the ship and better compete with Marvel.
And it couldn't have come at a better time.
Marvel doesn't have a single blockbuster left on its schedule in 2018 and is sitting out San Diego Comic Con, leaving the door open for Warner Bros. to steal some momentum away. Teen Titans Go! is a solid palette cleanser before the DCEU revs its engines back up with James Wan's Aquaman, which will debut its first trailer Saturday at SDCC and has been slowly building buzz over the last few months.
There's a general belief (hope?) among the film-going community—and those who saw a bit of footage at CinemaCon early this year—that Aquaman could be a real hit; a Game of Thrones/Lord of the Rings mashup underwater that smooths over some of the lingering hard feelings from Justice League. Shazam!, which will also have a presence at SDCC and arrives in theaters next April, is expected to be lighthearted and humorous.
Looking even further ahead, DC has some enticing options on the schedule.
In 2019, the studio will release the much hyped sequel to Wonder Woman—still the DCEU's only universally embraced hit—and Joker, the disconnected mid-budget crime film starring Joaquin Phoenix that will hopefully be the first in a line of new filmmaker-driven standalones. In other words, an intriguing counter-programming strategy to combat Marvel. All told, it's finally time for DC Films to shine and, on the surface, it appears as if the studio may now have the tools to make it work.
In the past, DC Films has suffered from giving creators too much freedom (Batman v Superman), meddling too much (Suicide Squad) and generally delivering unsatisfactory final products (Justice League). Under Hamada, the hope is that the studio has adjusted its development and filmmaking approach and found a happy medium between commercial viability and quality storytelling. Teen Titans Go! To The Movies may not belong to his administration necessarily, but it comes across as a closing of the door on the past and an optimistic look toward the future. It gives me confidence that the powers that be have learned from their mistakes.
DC Films may have finally pivoted for the better.