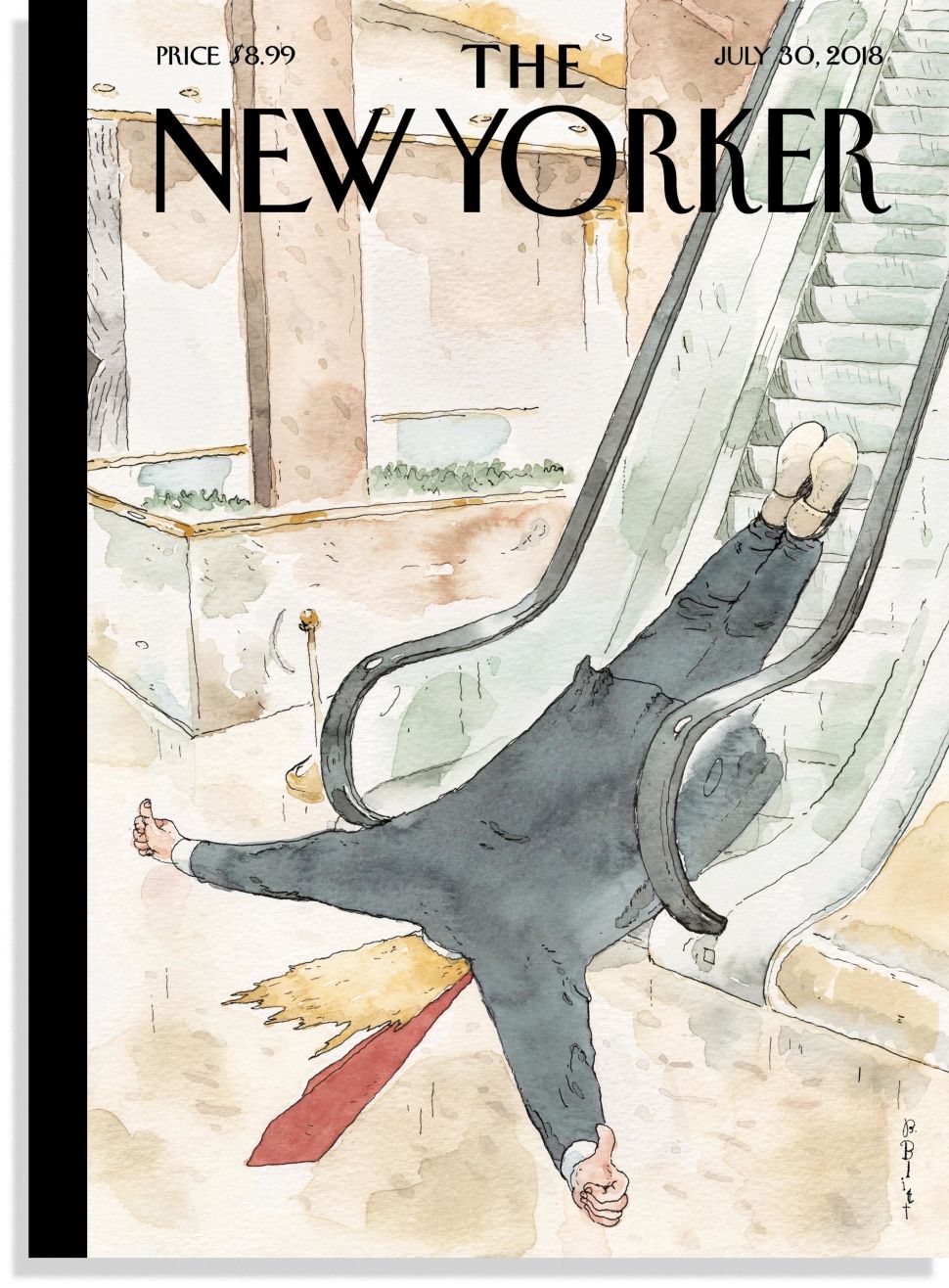 Matt Drudge is at it again. And this time, he's set his sights on The New Yorker.
The creator of the Drudge Report fired up his long-dormant Twitter account this morning to assail the Condé Nast publication's treatment of President Donald Trump.
Drudge has a habit of deleting these hot takes after a while, so who knows how long his latest will last. But from a factual standpoint, his claim doesn't hold up.
Plenty of late night comedians and satirical media outlets have made fun of the president. The New Yorker in particular has featured Trump on its cover dozens of times, as both a New York real estate tycoon and a world leader.
But to suggest the magazine's ribbing of Trump constitutes a death wish is way overblown.
Here's a look at some of The New Yorker's many Trump covers since he announced his candidacy (all drawn by artist Barry Blitt). See for yourself how morbid the magazine actually is.
"Belly Flop," July 27, 2015
Soon after Trump loudly entered the presidential race, Blitt drew this cover as a comment on his characteristic lack of subtlety,
Trump has "all the grace of a bully doing cannonballs and belly flops at the local swimming pool," Blitt wrote. "Trump never fails to provide hours of slack-jawed amazement."
A brutal assessment to be sure, but not a homicidal one.
"Broken Windows," April 10, 2017
Here's another Blitt cover, this time from after Trump entered the White House.
Blitt said he was inspired by the word "duffer"—not the creators of Stranger Things, but the informal term for someone who's bad at playing golf (Trump's favorite game).
Duffer is "the word that comes to mind as I watch President Trump plowing one drive after another through the glass windows of American politics," Blitt wrote.
This brash insult is actually pretty similar to the fires Trump sets on his Twitter account every day. So rather than a death wish, he'd probably see it as an endorsement.
"Modern Times," June 19, 2017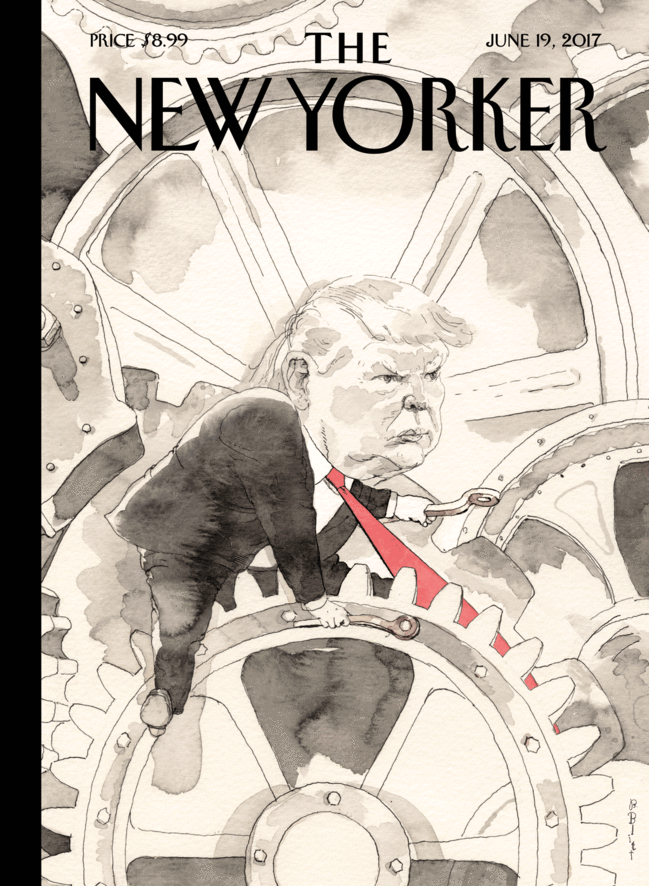 As the title suggests, Blitt was inspired by the classic Charlie Chaplin film Modern Times, in which the Little Tramp gets caught in the gears of a giant machine. But both Chaplin and (Little) Trump survive in the end.
"Charlie Chaplin and Donald Trump both get caught in the grinding gears of modern times," Blitt wrote. "But with Trump it's not so funny."
In a modern twist, the cover was turned into a GIF online.
"Grounded," July 24, 2017
Trump's fractured relationship with his family is the focus of this cover, as he kicks Jared Kushner's butt and twists Donald Trump Jr's ear. And fittingly given Trump's European scandals, Blitt was inspired by a Russian.
"Tolstoy said that 'happy families are all alike, but every unhappy family is unhappy in its own way,'" he wrote. "Somehow this seems to apply to the Trumps."
Now if Trump was kicking Kushner down the stairs of the plane, it would look like he was advocating homicide. But Blitt (as always) restrained those impulses.
"A Christmas Carol," December 18/25, 2017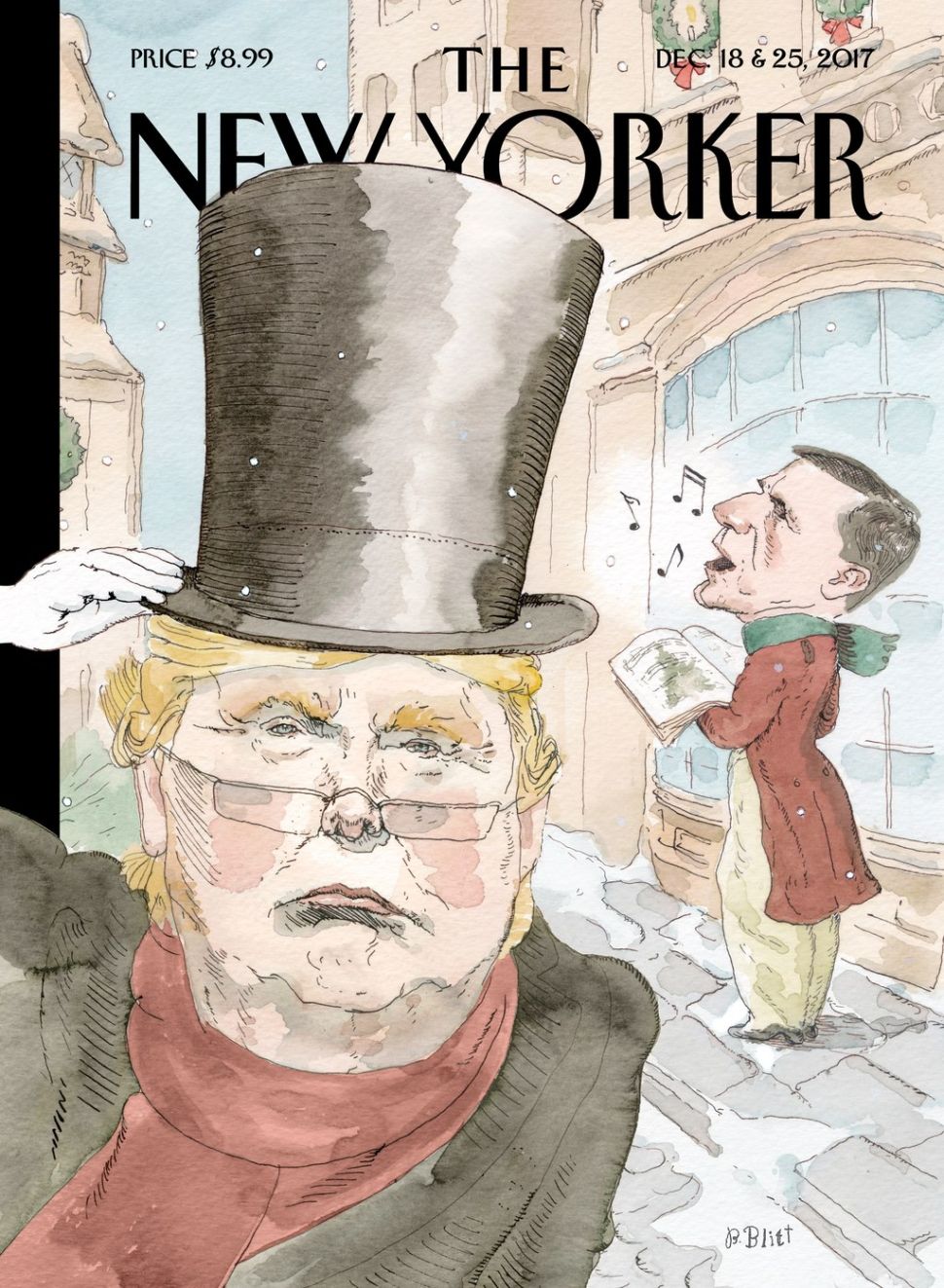 The Trump/Ebenezer Scrooge comparison is pretty obvious, but Blitt adds his own twist by referencing former National Security Adviser Michael Flynn's involvement in the Russia investigation.
"Flynn is singing for all to hear," Blitt wrote. "But something tells me the President is too Scrooge-like to enjoy the caroling."
"Exposed," March 26, 2018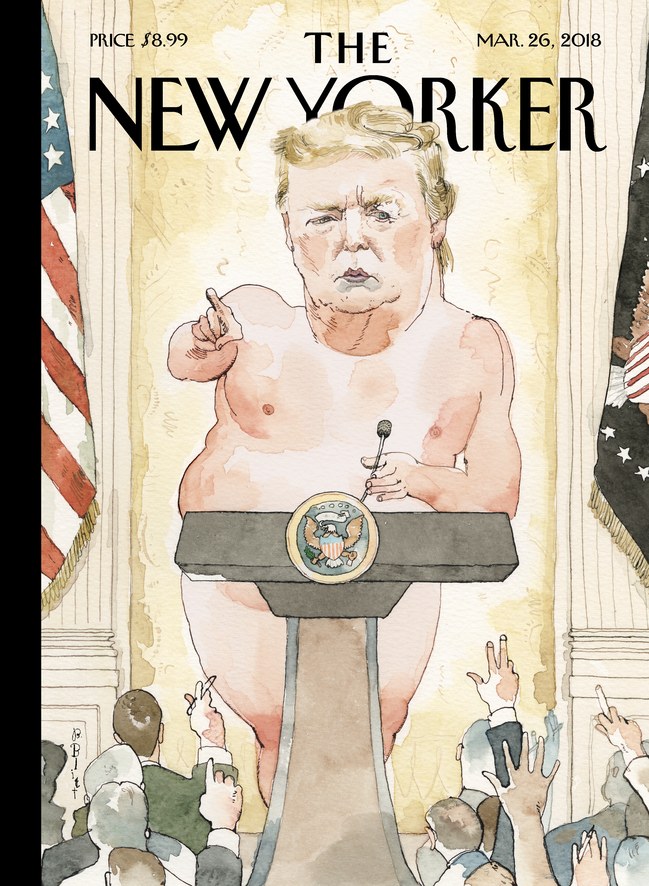 This is arguably Blitt's most physically unflattering portrayal of Trump, accenting the love handles and nipples on his naked body.
But Blitt claimed that rather than mocking Trump, he was actually paying tribute to Bob Dylan.
In the song "It's Alright Ma (I'm Only Bleeding)," the legendary musician sings that "even the President of the United States must sometimes have to stand naked." That was apparently Blitt's only inspiration.
The explanation was probably cold comfort for Trump, who's bragged about his physical fitness.
"Thumbs-Up," July 30, 2018
Let's end this where we started it, with The New Yorker's latest Trump-inspired art.
Blitt told The New Yorker that the escalator image was an easy way to turn Trumpian outrage into physical comedy.
He expanded further on these comments for Observer, clarifying once and for all that he doesn't wish Trump dead.
"The cover in question shows a comic pratfall," Blitt said. "The only harm depicted is political."
So simmer down, Drudge—the "fake news media" isn't going to shoot Trump on Fifth Avenue.