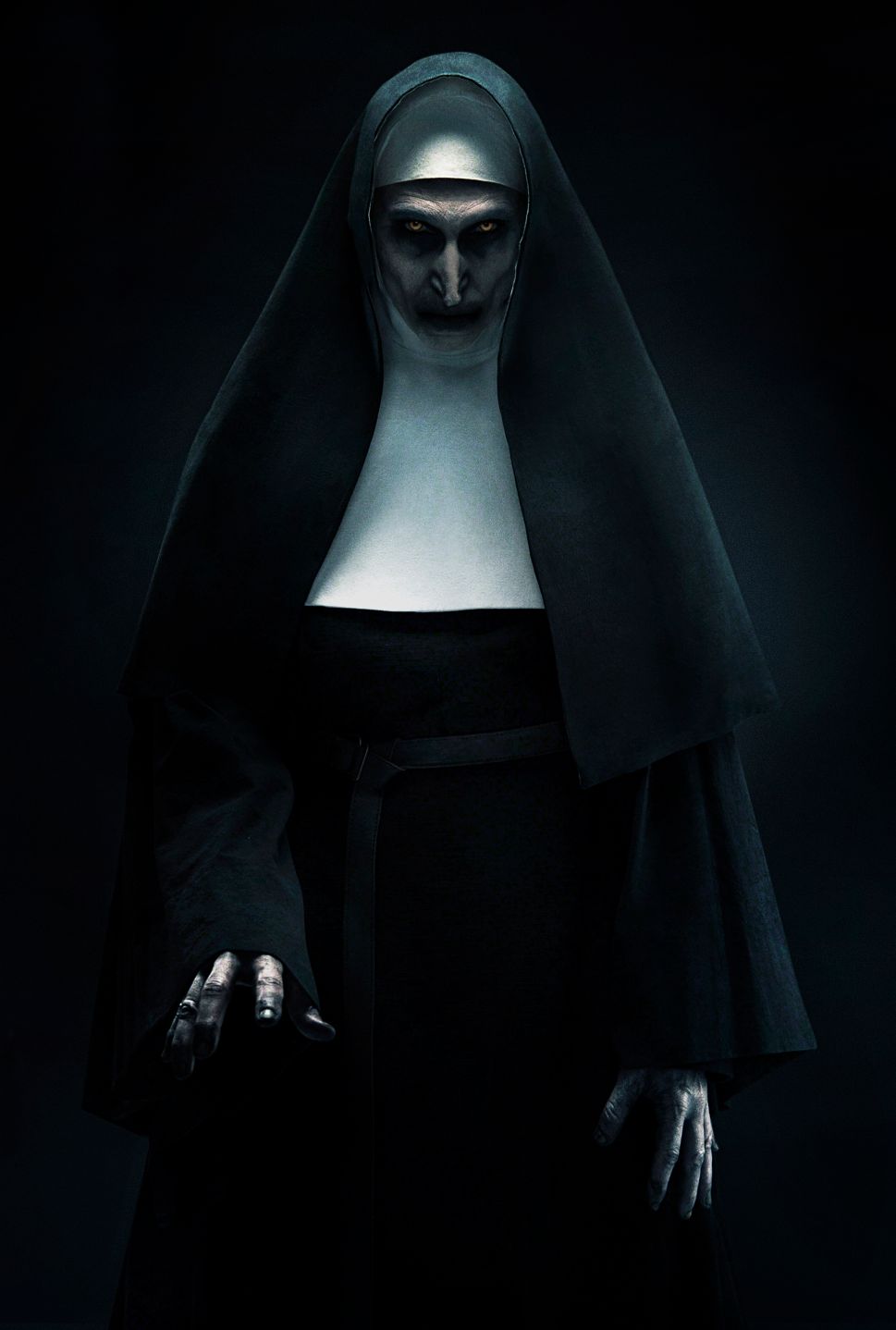 Warner Bros.' The Nun, another spinoff from the successful horror franchise The Conjuring, doesn't arrive in theaters until September. That's a long way away with plenty of time for shifting factors to change the outlook of the movie. But Tuesdays are always slow days in the work week, and we thought it would be fun to take a crack at a box office prediction seven weeks out.
Let's get creative.
As we've seen in recent years, the horror genre has become Hollywood's go-to lane in terms of bang-for-your buck box office dollars. Generally speaking, these films are made on small budgets and end up grossing hefty profits as they connect with audiences and prove to be leggy little features that carry on for weeks and weeks. That especially applies to the four films in this existing series.
The Conjuring ($42 million), The Conjuring 2 ($40 million), Annabelle ($37 million) and Annabelle: Creation ($35 million) all muscled their way to impressive openings. On the whole, the franchise averages nearly $110 million domestically per entry, which is especially impressive when you compare it to their average budget of just $20 million.
The Nun should benefit from its focus on one of the breakout characters from The Conjuring franchise in much the same way that Annabelle and Annabelle: Creation did. Social media buzz has been strong since Warner Bros. released the first teaser trailer for the spinoff back in June. And with Get Out, It and A Quiet Place all earning rave reviews and out-grossing expectations, audiences are hot on the horror genre at the moment.
Let's assume that the film opens between $35 million and $40 million similar to the other movies in the series. Let's also apply the franchise's average domestic multiplier—the multiple of the film's final gross to its debut numbers—of 2.7x as there's little in the way of competition during the month of September outside of The Predator.
That gets us to between $95 million and $108 million domestic. Now, The Conjuring franchise tends to make roughly 65 percent of its worldwide total from overseas grosses. If The Nun performs similarly, we're now looking at between $176 million and $200 million overseas for a global take of anywhere between $271 million and $308 million.
Other recent comparisons that may prove to be good indicators for The Nun are 2016's Lights Out, which grossed $148 million worldwide off a minuscule $4.9 million budget, and Don't Breathe, which earned $157 million off a $9.9 million budget. Neither had the benefit of being a part of an established existing franchise, yet both took off financially.
It's interesting to note that both The Conjuring 2 and Annabelle: Creation earned more globally than their direct predecessors. If The Nun takes off at the box office, we may actually see a more successful sequel, which can be rare. But for now, we assume WB would be pleased with anything close to that range of outcomes.
The Nun is written by Gary Dauberman and directed by Corin Hardy. It stars Demian Bichir, Taissa Farmiga and Jonas Bloquet and will hit theaters on September 7.