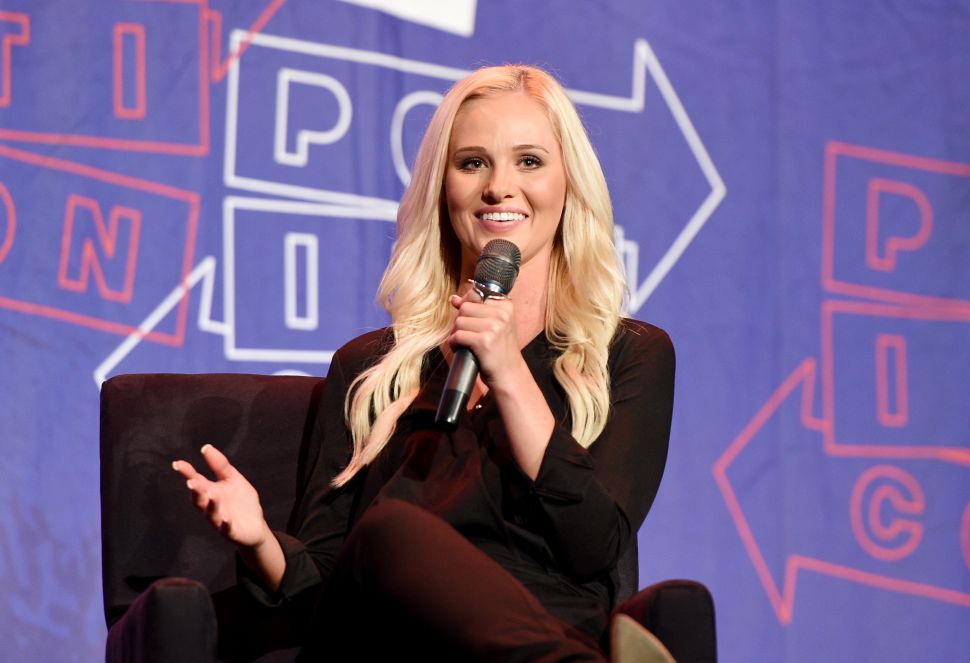 Millennial rabble rouser Tomi Lahren will appear in a graphic pro-life film.
Starring conservative actors Stacey Dash, William Forsythe and Steven Guttenberg, the biopic is named after, and chronicles, the 1973 Court Case, Roe v. Wade. According to the Daily Beast, Lahren has a cameo as "Supreme Court Justice Blackmun's daughter, Sally, a Planned Parenthood volunteer who challenges her father…"
Several crew members involved in the project also told the publication that the film includes "several graphic scenes depicting aborted fetuses" and a brief appearance by the controversial nationalist Milo Yiannopoulos as a British abortion doctor.
Although Lahren is lending her name to a film with a pro-life bent, she has received pushback from conservatives for her own abortion stances. Last year, the pundit appeared on The View to explain why she was pro-choice.
"I am someone that loves the Constitution. I am someone that is for limited government. So I can't sit here and be a hypocrite and say I'm for limited government but I think that the government should decide what women do with their bodies," said Lahren. "Stay out of my guns, and you can stay out of my body as well."
After the segment aired, former Fox News host Glenn Beck terminated the commentator's two-year contract with The Blaze, a conservative media platform which allowed Lahren to build her following. Barred from seeking employment with the outlet's competitors, however, Lahren sued to regain control over her social media handles, claiming the outlet waged a "public smear campaign" intended to "inflate Beck's profile, from what has become a mediocre following, all at [Lahren's] expense," according to Dallas Morning News.
Both parties later settled the lawsuit, and Lahren was recruited by Fox News as a contributor shortly thereafter.
Lahren did not respond to Observer's request for comment on whether her views toward abortion had changed since her appearance on The View.