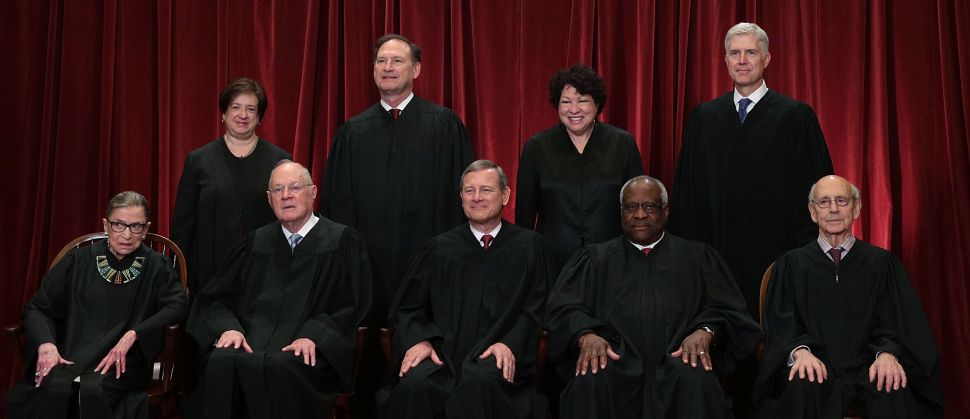 The rush to fill Justice Anthony Kennedy's vacated Supreme Court seat ahead of the midterms has become a frenzied power grab, for both White House officials and lawyers looking to back a racehorse for influence.
President Trump has reportedly narrowed his selection to two top contenders: Judges Brett Kavanaugh and Amy Coney Barrett. Many involved in the selection process, however, are jockeying to quell the former much like the Westerosi elite dispose of their rivals. Sources involved in the selection process told The Daily Caller à la Varys' little birds that "an anti-Kavanaugh whisper campaign has been under way since the news of Kennedy's retirement broke," stemming from his connections to the Bush dynasty.
This coup against Kavanuagh reportedly includes opposition research: The Washington Post's Robert Costa tweeted that sources were circling an excerpt from David Brock's book Blinded by the Right, in which the contender called liberal empress Hillary Clinton "a bitch." Trump, however, repeatedly lead chants of "Lock Her Up!' when facing his presidential opponent during the 2016 election and could see such an insult from over two decades ago as a net-plus.
Barrett, meanwhile, has only served as a federal judge for eight months. Trump, however, has previously thrown his support behind fierce women like U.N. Ambassador Nikki Haley and DHS Secretary Kirstjen Nielsen. Despite a history of calling women "fat pigs," "dogs," "slobs" and "disgusting animals," the president rewards female conquerers, opting for allies in the mold of Daenerys Targaryen—comparisons are already being made between Barrett and veteran Justice Elena Kagan.
To facilitate logistics of the power change, President Trump's assistant Don McGahn will oversee the selection and confirmation, while White House aide Raj Shah will head the comms operation. CNN noted that McGahn's reassignment signals he is safe from ousting and will likely remain at the White House, while Shah may resign shortly after the process is complete.
"Teams of attorneys from the White House Counsel's Office and Department of Justice are working to ensure the president has all the information he needs to choose his nominee," said Sarah Huckabee Sanders on Monday. "The Department of Justice is fully engaged to support the nomination and confirmation efforts."