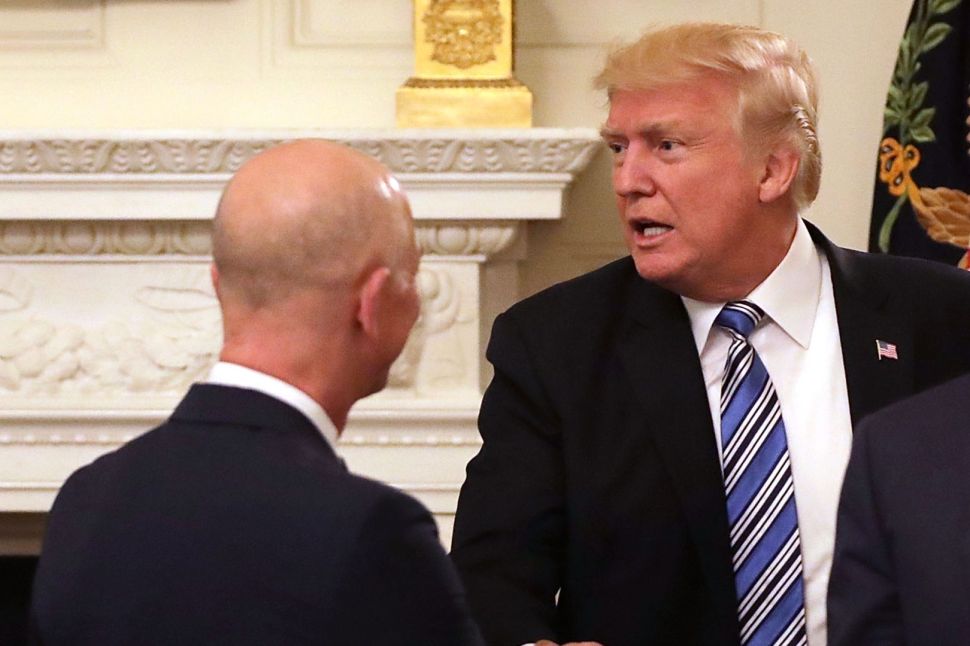 President Donald Trump loves to share his thoughts about important issues on Twitter. And occasionally, he finger-points at specific companies for causing troubles that extend beyond their own industries. This year, so far, Trump has called out at least half a dozen such industry giants across retail, logistics, automobiles and healthcare.
More often than not, the president's angry tweets haven't amounted to anything concrete enough to affect the real businesses. But they have sent some shudders through the stock market, a sign that investors have cared about what Trump had to say.
But how much do they actually care, though?
Reading from the stock movements of every company Trump has slammed, the answer is mixed. While some shares immediately plummeted to a 30-day low after Trump's tweets, others barely moved. Nevertheless, there seems to be one thing for sure: the more Trump pulls this Twitter-slamming tactic, the less investors hear.
Here is every major company that Trump has called out on Twitter over the past four months and how its investors reacted.
Amazon
Deeply concerned about Amazon since before the 2016 election, the president bashed the e-commerce mogul in a series of rapid-fire tweets from March 29 to April 3, alleging that Amazon had not paid enough taxes and should be responsible for the growing loss of the U.S. Postal Service, which delivers a large chunk of Amazon packages. (His facts were questionable, as it turned out.)
Amazon share price took a five percent tumble to a 30-day low on March 29 shortly after Trump's first tweet. But it quickly rebounded to its previous level in the following two days. And when Trump slammed Amazon again on April 3, share price actually jumped, showing that investors were not bothered anymore.
European Auto Giants
It was not Trump's first time to complain that there are too many German cars running around in American cities. But when he turned his discontent of European cars into a 25 percent tariff threat, the market had to listen.
Shares of the "big three" automakers in Europe—BMW, Daimler (parent company of Mercedes-Benz) and Volkswagen—all took a slight hit on June 22, the day Trump threatened to impose new tariffs on European cars.
Earlier that week, Daimler lowered its 2018 profit forecast, citing Trump's trade tension with Europe as a "deciding factor."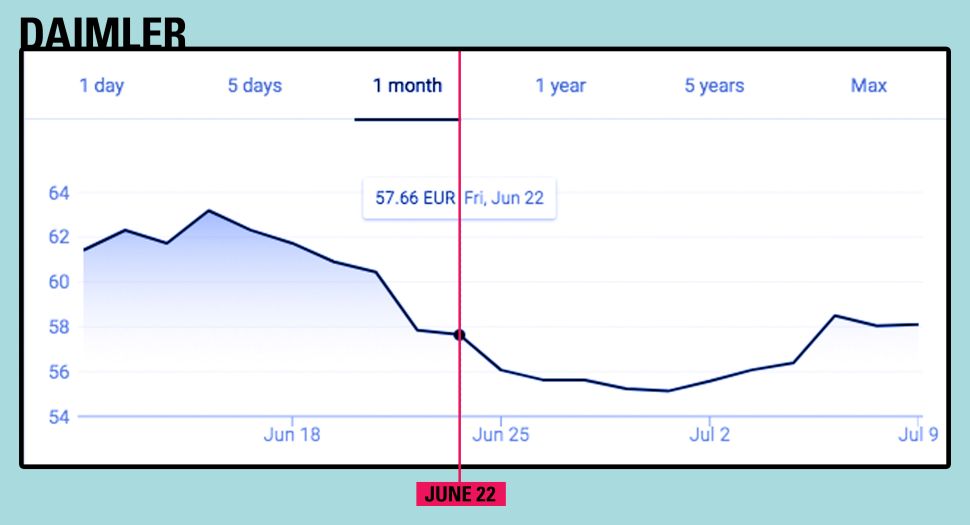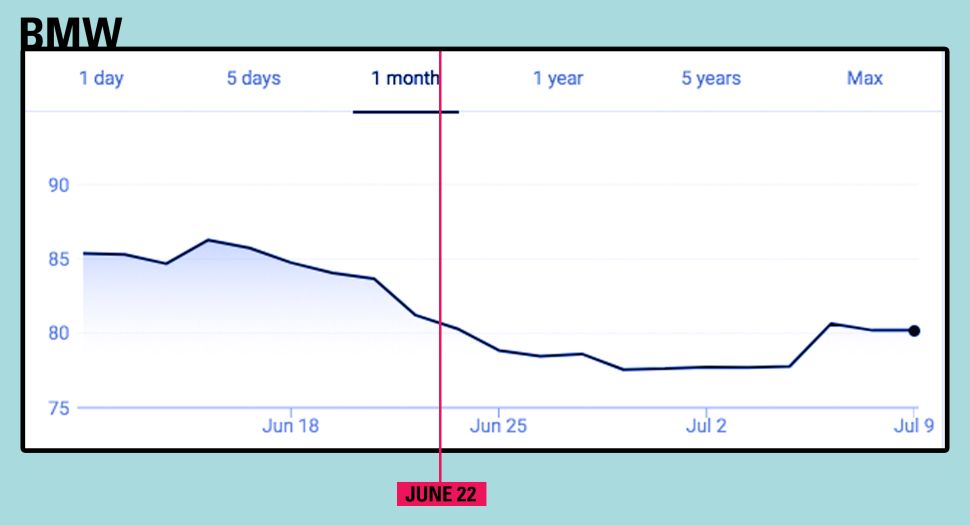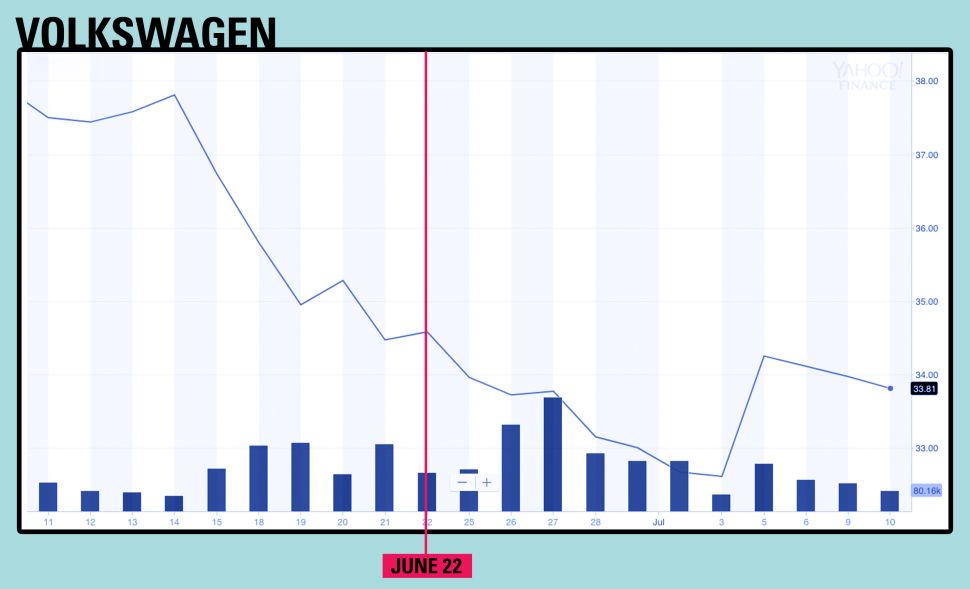 Harley Davidson
In the fallout of Trump's tariff threat on European automobiles, American motorcycle maker Harley Davidson announced that it would move part of its U.S. manufacturing to Europe to avoid the Europe Union's retaliatory tariffs on U.S. automobiles.
On the morning of June 25, Trump warned Harley Davidson that, by moving overseas, "the aura will be gone" and that it "will be taxed like never before."
Harley Davidson's shares opened low that day (largely a reaction to the company's partial relocation announcement on June 24). Trump's angry tweets didn't seem to cause much extra damage, as share price began to climb the next day.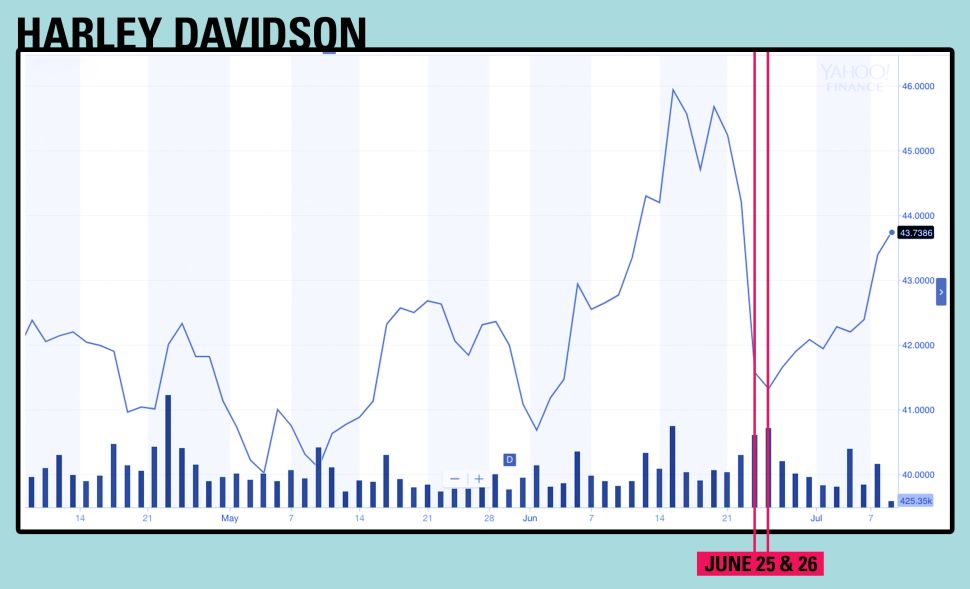 Pfizer
Almost out of the blue, the president took aim at the pharmaceutical industry this week.
In a Monday tweet, he singled out Pfizer, the world's largest pharmaceutical company headquartered in Connecticut. Trump said Pfizer and other pharmaceutical giants "should feel ashamed" for raising the drug price to what it is today.
However, the tweet's impact on Pfizer investors is much smaller than it was on Amazon months ago.
Pfizer shares fell briefly after the tweet before rising in the afternoon and actually ended the day up 0.13 percent. Shares of its peer pharma giants—Novartis, GlaxoSmithKline and Merck—were also hardly affected.