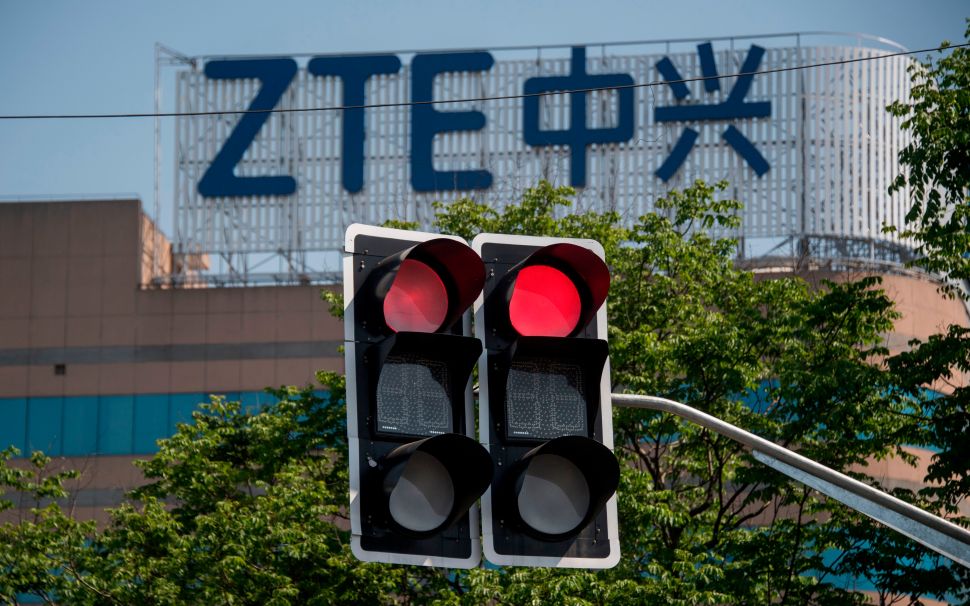 Since last week, the trade tension between the U.S. and China seems to have subsided as President Donald Trump redirected his energy to car tariff disputes with the European Union. But his business with China is far from over. At this point, maybe the president just doesn't want people to pay too much attention anymore because it doesn't look like he's winning the game.
ZTE, China's second largest telecommunication company whose recent fate has been closely tied to the U.S.-China trade talks, is still teetering on the verge of collapse despite President Trump's personal promise to keep it afloat.
But how did one single tech company take center stage within the two countries' trade negotiations over $500 billion of imports and exports in the first place?
To understand the role ZTE plays in international policies, it's important to know that there has been a U.S.-China tech war parallel to the U.S.-China trade war. As Chinese tech giants' global influence rises, so does America's fear over their threat to U.S. national security.
In February, top officials at six U.S. intelligence agencies openly advised U.S. citizens against using smartphones made by Huawei, China's largest smartphone maker which was about to launch a new phone in the U.S. The officials were particularly concerned with Huawei's close relationship with the Chinese government. They feared that using its smartphones would expose American consumer data to Beijing.
The government's pressure directly led to AT&T's last-minute withdrawal from a carrier deal with Huawei. (Huawei's head of consumer business got so angry that his own communication team had to distance him from the company to avoid damaging the corporation's image.)
In that context, ZTE, although lesser known to American consumers, is an even bigger threat in the eyes of U.S. regulators.
ZTE purchases most of its key components, including smartphone chips, from American companies like Qualcomm and Intel. According to previous media reports, about 30 percent of ZTE's components are made in the U.S. In March 2017, the Commerce Department slapped the company with a record $1.2 billion fine after finding out that ZTE had been exporting products containing American components to Iran and North Korea, which violated the U.S. sanctions against these two countries. The Commerce Department also ordered ZTE to punish all employees involved in the export violation.
However, the Department later found that ZTE had not enforced these non-financial terms and made false compliance statements. As a result, in April 2018, the department issued a denial order to ban ZTE from buying U.S. components altogether for seven years.
The denial order's impact on ZTE was devastating. Shortly after it was issued, ZTE suspended all normal operations and even halted its stock trading.
But the story took an unexpected turn when President Trump decided to personally get involved.
On May 14, four days after ZTE halted business, Trump tweeted that he and China's President Xi Jinping were "working together" to give ZTE "a way to get back into business."
The surprising tweet was largely interpreted by media as a tactic to push China into buying more U.S. goods during the trade talks later that month—except it appears that Trump was more likely the one being pushed into this negotiation, rather than the one pushing for it.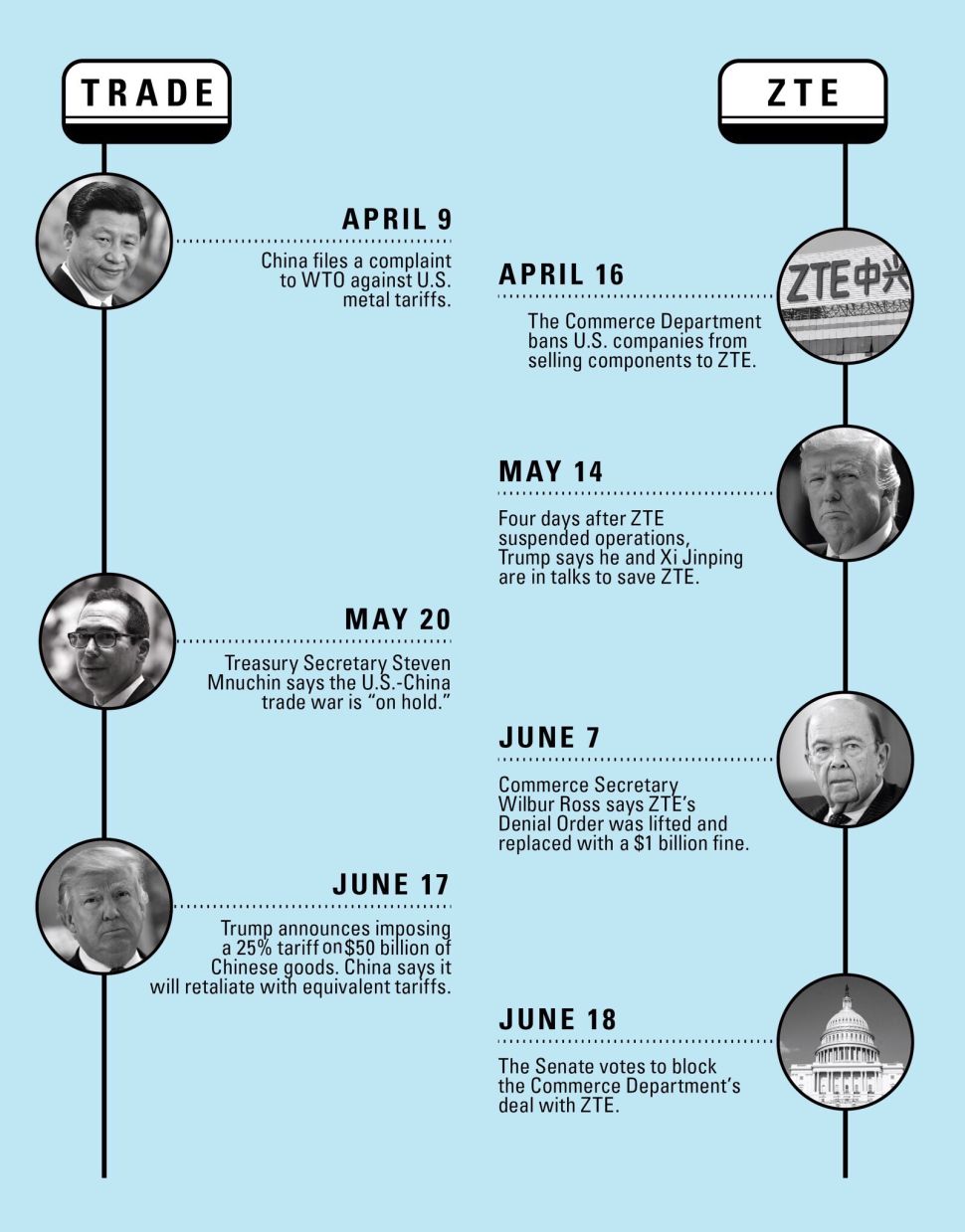 "The only reason President Trump wanted to save ZTE from going out of business is [so] the Chinese government would give him some kind of concession in trade talks in exchange," Matt Gold, an adjunct trade law professor at Fordham University and a former deputy assistant to U.S. trade representatives, told Observer.
But ZTE shouldn't be part of the trade negotiation. As Commerce Secretary Wilbur Ross said in May, to which Gold agreed, the denial order on ZTE is a law enforcement matter independent of trade.
Still, to Trump, the opportunity to leverage ZTE to earn a badge in the trade war was too tempting to resist.
"Trump is not a confident trade negotiator. He constantly puts himself in situations where he's negotiating for something that he has publicly demanded but doesn't have the leverage inside the negotiation room to get what he demanded," Gold explained. "Apparently, he was trying to get something out of the U.S.-China trade negotiation, which is politically face-saving for him, but he could be embarrassed if he comes out with nothing."
"China brought ZTE into the trade talks. But no president other than Donald Trump would have considered doing this, because the enforcement of U.S. national security law is not a negotiable element," Gold continued.
One day after Trump promised to save ZTE on Twitter, White House sources told The Wall Street Journal that the two sides were near a deal. The same week, Treasury Secretary Steven Mnuchin announced that the trade war was "on hold."
China did promise to buy more American goods to reduce the U.S. trade deficit, but it wouldn't specify how much until the pardon on ZTE was final.
Two weeks later, the Commerce Department said the ban on ZTE was lifted and replaced with a $1 billion penalty (separate from the first penalty issued in March 2017).
Unfortunately, that peace didn't last very long.
On June 18, the senate voted to block the Commerce Department's alternative penalty and reinstate the denial order.
Although the $1 billion fine is equivalent to ZTE's entire 2017 profit, Congress apparently doesn't believes that a monetary penalty in any amount would stop ZTE from breaking the rules again. 
In fact, ZTE's export violations can be traced back almost a decade; ZTE began shipping products to Iran in 2010. When the Commerce Department found out around 2013, the company reportedly stopped this conduct and agreed to cooperate with the investigation, while secretly launching a new shipment program to Iran. When U.S. regulators caught it again in 2017, they issued the $1.2 billion fine that led to the ensuing events.
The same week as the June 18 Senate vote against ZTE, Trump announced a 25 percent tariff on $50 billion of Chinese goods. China said it would retaliate with equivalent tariffs. In the meantime, it's trying to reverse the denial order on ZTE one more time.
Currently, ZTE is under a temporary permit to conduct business with U.S. suppliers to fulfill contracts signed before the denial order.