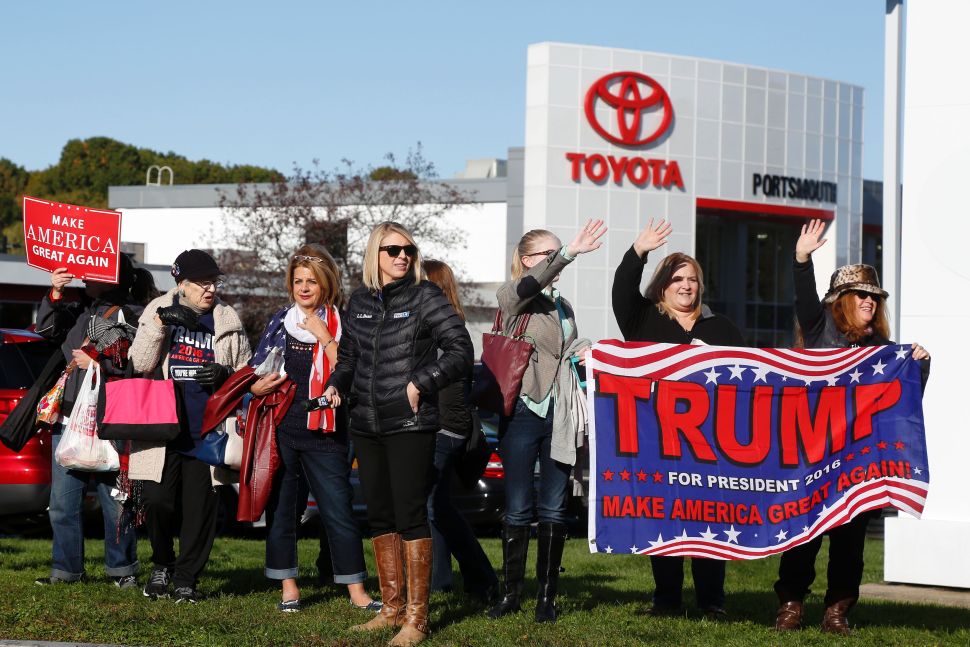 President Donald Trump's threat to impose a 25 percent tariff on all imported cars and auto parts, if materialized, may drive up prices for the most popular cars in the U.S. by $1,400 to $7,000, according to new study by the Peterson Institute for International Economics, a Washington, D.C.-based think tank.
The Peterson analysis calculated the new tariffs' impact on the 15 top-selling cars in the U.S. last year in three categories: compact cars, compact SUVs and crossovers, and luxury SUVs and crossovers. On top of their current retail prices, researchers added a 20 percent or 25 percent tax based on the percentage of foreign components each model uses. In addition, they took into account a one percent cost increase (between $150 and $300) due to Trump's aluminum and steel tariffs.
For example, a Chevy Cruze, made with 55 percent foreign parts, will be $1,462 more expensive than its current retail price of $16,381, if General Motors passes two-thirds of the tariff increase to buyers. In a worse scenario, if buyers are to bear 100 percent of the tariff impact, the car will be $2,140 more expensive.
Price for a Ford Escape, made with 40 percent foreign components, will be $1,571 higher, if buyers absorb two-thirds of the tariff hike, and $2,274 higher if that number is 100 percent.
The study calculates these two scenarios for each of the models studied.
The most affected will be luxury cars, because they use the highest percentage of foreign components. The study shows that, on average, compact cars use 51 percent of foreign content; compact SUVs and crossovers use 56 percent; and luxury SUVs and crossovers use 84 percent.
Mercedes-Benz GLC-Class, for example, is 100 percent foreign-made. If the tariffs were completely passed on to consumers, its price would rise from $36,846 to $45,400.
The automobile industry has a highly globalized supply chain. Even cars with the highest percentage of American-made parts typically source 25 percent to 35 percent of their parts from abroad, The New York Times recently reported.
"All the cars in the U.S. market have some foreign components," Jeremie Cohen-Setton, a research fellow at Peterson, wrote in a research note. 
Since the auto tariffs' announcement last month, members from various branches of the auto industry have been lobbying for a reversal. Last week, 45 individuals representing automakers and industry groups testified before the Commerce Department as part of the department's investigation to determine whether auto imports are a "national security" concern—a key reason Trump slapped on the new tariffs.