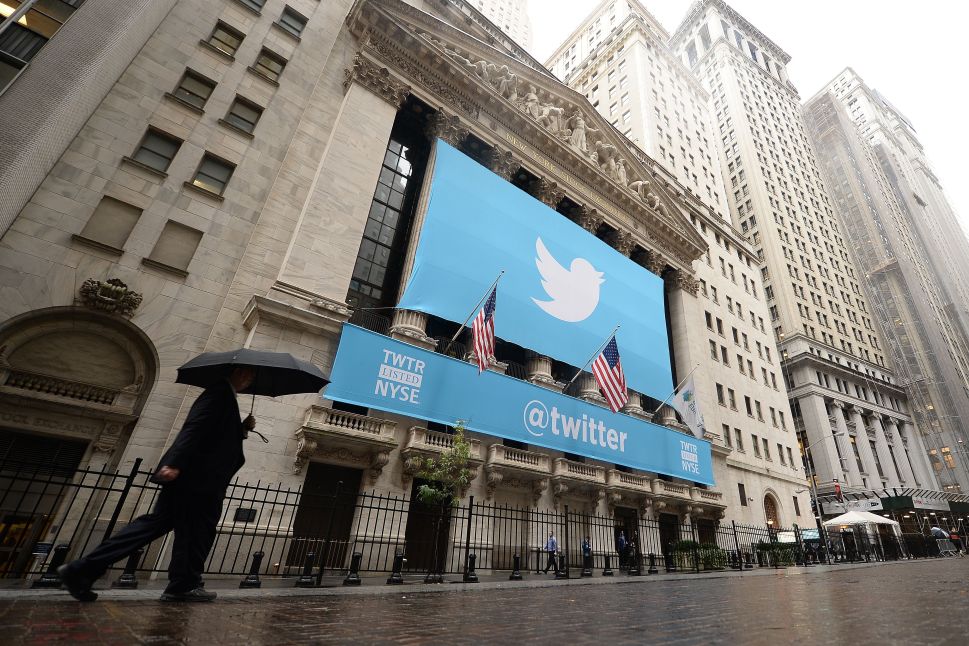 It has been a tough week for public tech companies. After Facebook set a new record for a single-day stock plunge on Wall Street on Thursday, Twitter saw a similarly dramatic stock crash Friday morning, after releasing its second-quarter earnings, losing 20 percent, or $6 billion, of its market value.
In slightly better news than Facebook, Twitter actually beat Wall Street's expectations on both revenue and earnings-per-share measures. (Second-quarter revenue topped its forecast by $2 million at $710.5 million, and adjusted earnings-per-share came to $0.17, $0.01 above analysts' consensus.)
What worried investors was Twitter's declining monthly user count, which came out one million lower in the second quarter than the previous period to 355 million.
In an investor call on Friday, Twitter's chief financial officer Ned Segal said the monthly user decline was due to the company's effort to clean up fake accounts on the platform at a rate of several million per day. The European Union's General Data Protection Regulation (GDPR), which went into effect on May 25, also contributed to the slowing new user sign-ups in the second quarter, he said.
Not all investors agreed to the sell-off based on monthly user decline. Rich Greenfield, an analyst at BTIG, tweeted this morning that daily active user count is a more reliable indicator of Twitter's revenue potential than monthly active user count, citing a research note BTIG published last year.
However, Twitter stopped disclosing the number of daily users in June last year, only year-over-year percentage changes. In the second quarter, Twitter's daily active user count rose by 11 percent from a year ago. The disclosure change drew a lot of criticism at the time. Some said Twitter was withholding "the last piece of the puzzle" when investors wanted to put together a full picture.
In addition to monthly user decline, Twitter's earnings release coincided President Donald Trump's open criticism (on Twitter, of course) of the platform's "shadow banning" practice. Trump alleged that Twitter had been making content posted by prominent Republicans undiscoverable by users other than themselves.
Twitter denied the accusation in a company blog post on Thursday, assuring that, although Twitter ranks search results, users can always find content of those they follow and that Twitter doesn't shadow ban tweets based on political viewpoints or ideology.
"[A company's health] is one of those things like security or privacy, where companies have to evolve and companies have to stay 10 steps ahead as you learn the dynamics of the network and get better and better. We have made some meaningful progress… but there's still a lot ahead," CEO Jack Dorsey said on the earnings call.