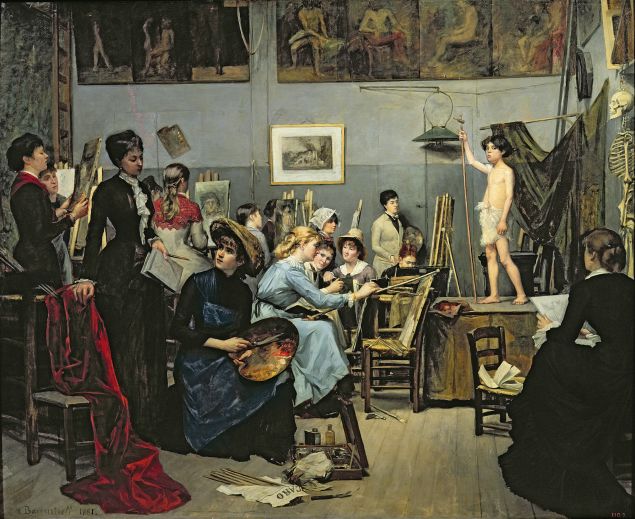 In 19th century Paris, the cards were stacked against women making art, and certainly against making a living making art. An exhibition at the Clark Institute in Williamstown Massachusetts shows them painting against the odds.
"Women Artists in Paris, 1850-1900," which runs through September 3, is well worth the visit.
Women came to study art in Paris, if they had the means, because there were fewer barriers to studying and painting there than elsewhere in Europe. They were banned from the École des Beaux Arts until 1897, but there were separate, albeit clearly unequal, schools for them.
One such place was the private Academie Julian, which began accepting women in 1880. In one of the show's largest and most entertaining paintings, In the Studio (1881), the Ukrainian-born Marie Bashkirtseff depicts a roomful of female students. They're just painting, chatting and looking around. On a raised platform stands a bemused and fearful boy model, wearing only a loincloth that looks borrowed from a young John the Baptist.
It's a rare chance to see this picture from the collection of the Dniepropetrovsk State Art Museum in Ukraine. "Who knew?" is a question that comes up a lot when visiting this show.
A nearly-nude boy painted by women brings us to another theme in the show's historical tour through the second half of the 19th century. The idea of women in Paris painting nudes was, as the French would say, scandaleux. They painted landscapes, women and children.
There were alternatives. Rosa Bonheur (1822-99) painted animals. She made no secret of her personal life as an open lesbian who proudly wore pants, which required permission from the police. Her enormous 8-by-16-foot The Horse Fair (1852-55) at the Met is larger than Washington Crossing the Delaware (also at the Met) and just as dramatic. "Rosa Bonheur painted animals in a way that made them as grand as history paintings," said Esther Bell, the Clark curator who installed the show in Williamstown.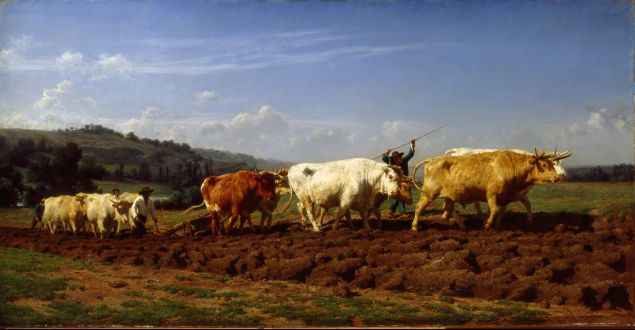 The evidence at the Clark is Plowing in the Nivernais (1849), a 5-by-8-foot celebration of oxen. A leading animalier, or painter of animals, Bonheur also painted lions and dogs. No mere animal lover, she sold those paintings to the owners of large farms and estates who wanted scenes of the livestock and lands that they owned.
Bonheur also took a three-year promotional tour around the United States. Alexander Stewart, a department store magnate, bought the massive Horse Fair in 1866. After Stewart died in 1886, Cornelius Vanderbilt bought it for $53,000, a huge sum at the time, and gave it to the Met. Visitors who walk by it in the galleries every day are not likely to know who painted it. And who among them would guess that massive teams of horses from that era—nothing if not a male subject—were painted by a woman.
In the show, there's a portrait from 1898 of Bonheur by her American companion Anne Klumpke. Bonheur sits at her easel, calm and confident, with the badge of the French Legion of Honor on her lapel. She was the first woman artist to get that award.
Bonheur, Klumpke and Bashkirtseff are among almost 40 artists in the exhibition of some 90 works by French women and women who came from Europe and the United States. Most of the styles tend toward the academic, not the sexiest style for collectors today, but Berthe Morisot's Femme as Sa Toilette (Woman at Her Toilette), from 1875-1880, a view of a woman in white with her back to us, facing a mirror, is an Impressionist masterpiece.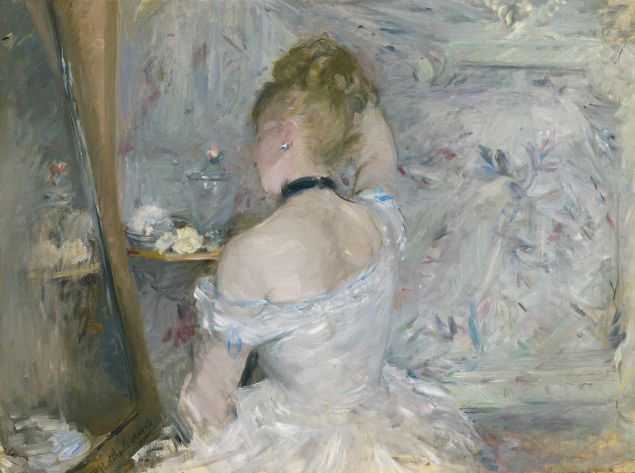 Women from Nordic countries bring a subdued palette to the mix. The same could be said of Paula Modersohn-Becker (1876-1907), who painted in an earthy expressionist style that was refined in Paris in 1899. She is the first modern woman artist known to have painted nude self-portraits.
There's also a wry urban earthiness in Louise Breslau's The Friends, a scene of three sullen women (including the painter) sitting around a table, with a dog—who sits on the table.
An impressive show like this is as much history as it is art, and part of that history is the art's relation to its time and to its market. Rosa Bonheur was successful, but she was as much an exception as a woman painting large animals as she was as a woman selling those paintings. Paula Modersohn-Becker sold three paintings, all in the last year of her life before she died at 31 of complications from childbirth. Marie Bashkirtseff died of pneumonia at 26, leaving voluminous letters and diaries.
As we fast-forward more than a century, museums and the market are catching up with these artists. "It's selective," said Jane Kallir of Galerie St. Etienne in Manhattan, who helped the show with some loans. While exhibitions like "Women Artists in Paris" are showing works of artists who died unknown, the works of many women artists from that time are simply lost, and won't make it into any reconsideration of art history.
Last November, the Museum of Modern Art and the Neue Galerie announced the purchase of Self-Portrait with Two Flowers in Her Raised Left Hand (1907) by Paula Modersohn-Becker, done while the artist was pregnant. It's the earliest painting by a woman in MoMA's collection galleries, and the only painting by this artist in a New York institution. Asked what MoMA and the Neue Galerie might have paid for the picture, one dealer said, "a lot."
And a lot—$2.75 million—was paid last November for Self-Portrait as Saint Catherine by the 17th century Italian artist Artemisia Gentileschi.
"There's definitely a market response to women artists of real distinction," said the dealer Robert Simon.
The women artists on view at the Clark aren't breaking auction records, but they are shattering some preconceptions. In this slow process, the good news is that you don't have to be Cornelius Vanderbilt to afford a work by Rosa Bonheur, whose oil studies of animals sell for less than $10,000.  How long will that last? "It's an opportunity to have works of real quality that are a little more accessible than some of the big male names," said Simon.