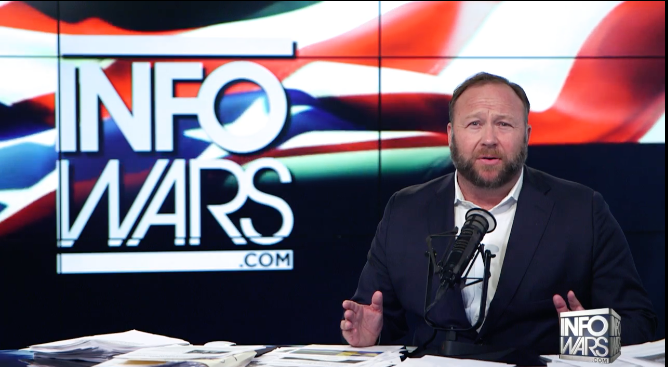 Pornography is flooding Alex Jones' iPhone, and there's simply nothing he can do about it.
After an eagle-eyed Twitter user spotted trans porn in a recently opened window on Jones' phone during a broadcast this week, the InfoWars host took a moment to address the nation and clarify a few things about his sexual viewing habits.
"I probably had porn menus pop up 500 times on my phone," he explained to a concerned female caller on Tuesday. The trans porn claims were "ridiculous" and "insane," explained the nervous-sounding Jones, not because he doesn't look at pornography, but apparently because that wasn't one of the dedicated cell phones he uses for porn consumption.
"There's two types of people: People who look at porn and people who lie about it," continued the InfoWars host. "But I wasn't looking at porn on my phone. I don't take phones on air that I look at porn on."
In July, YouTube issued InfoWars a strike after Jones appeared to threaten a transgender person—violating the platform's community guidelines. And, of course, this month YouTube removed InfoWars altogether, following bans from Facebook and Apple.
As of this writing, this reporter has not experienced a bombardment of pornographic links on his mobile device, casting doubt on Jones' claim that "everybody has had porn pop-up on their phone hundreds of times."