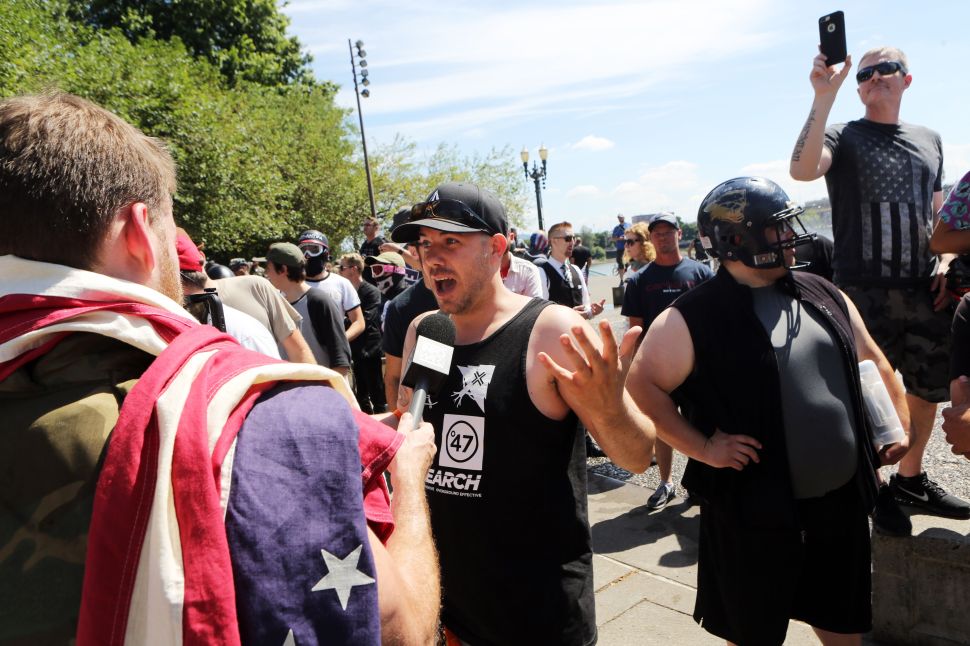 In its latest instance of grappling with politically objectionable content, Facebook announced on Monday via blog post that the platform had "unpublished" four pages affiliated with conspiracy theorist Alex Jones, effectively banning Jones and much of InfoWars from the platform.
Facebook's decision comes in the wake of Apple's removal of five out of six InfoWars podcasts from its library, a crackdown which went into effect on Monday. Also on Monday, YouTube removed the Alex Jones channel, citing violation of community guidelines. Spotify, too, confirmed today that every episode of The Alex Jones Show podcast has been removed, although several other InfoWars podcasts remain available to stream.
"We take reports of hate content seriously and review any podcast episode or song that is flagged by our community," a Spotify spokesperson told Observer on Monday morning. "Due to repeated violations of Spotify's prohibited content policies, The Alex Jones Show has lost access to the Spotify platform."
Jones is currently battling a lawsuit from parents of a child killed in Sandy Hook, who allege that his conspiracy theories about the mass murder have encouraged InfoWars denizens to threaten and harass them; Veronique De La Rosa and Leonard Pozner have had to relocate seven times due to the magnitude of online attacks. The abuse that De La Rosa and Pozner have received is proof that conspiracy theories are incredibly dangerous—even if they aren't explicit threats—because they can inspire people who believe the theories to carry out explicit threats. 
With his devoted fans and booming voice, Jones is the undisputed public face of far-right conspiracy theories. His ideas are everywhere, and his influence has been steadily building for years. In a very real sense, the platform bans are too little too late—cutting off the hydra's head only insures that two more will grow in its place. QAnon supporters are popping up at Trump rallies, and white supremacists are spraying anti-fascist protesters with mace. In other words, online hell is empty and all the devils are here.
Major platforms have been slow to recognize the threat posed by Jones and his ilk.
Facebook said in a statement on Monday it had removed the four Jones-associated pages—the Alex Jones Channel Page, the Alex Jones Page, the InfoWars Page and the InfoWars Nightly News Page—because they had received reports which led them to determine that content from the pages "violates our graphic violence policy… [and uses] dehumanizing language to describe people who are transgender, Muslims and immigrants, which violates our hate speech policies," not because Jones' content was untruthful or promotes conspiracy theories.
This specific adherence to banning only hate speech is reminiscent of Spotify's recent policy flip-flop concerning artists R. Kelly and XXXTenacion, both of whom the music platform temporarily removed from official playlists and recommendation features in the midst of controversy.
Kelly has been accused of sexual abuse by multiple women, and XXXTenacion, a rapper who was fatally shot in June, was facing charges of aggravated and domestic battery against his pregnant girlfriend. Spotify reversed its move to essentially de-promote the two artists after the "vague" decision was criticized and explained their internal thinking in a June 1 statement: "We don't aim to play judge and jury… Spotify does not permit content whose principal purpose is to incite hatred or violence against people because of their race, religion, disability, gender identity, or sexual orientation. As we've done before, we will remove content that violates that standard."
"Spotify has shown a fairly reactionary response to public outcry around controversial figures, so it isn't too shocking to see Alex Jones' podcast removed from its platform," said David Turner, a freelance writer who specializes in music streaming. "Spotify's consistent lack of commitment to such figures on its platform shows the public company is still highly uncomfortable with playing the role of a censor."
The mutable nature of corporate policy makes it difficult to determine exactly who or what is being condemned in the anything-goes Trump era. By only banning content that specifically qualifies as hate speech or language that incites violence, iTunes, Spotify, YouTube and Facebook aren't doing enough to explicitly denounce conspiracy theories and outright falsehoods. As of Monday, it's still possible to access the InfoWars LIVE page on Facebook.