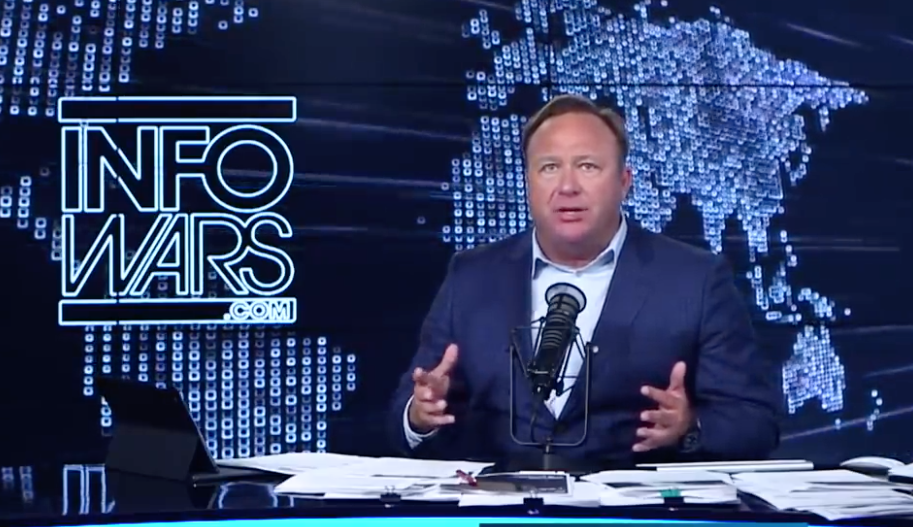 Early last week, a long deserved reckoning arrived for Alex Jones and InfoWars. The peddlers of conspiracy theories both outrageously goofy—chemicals in the water are turning frogs gay!—and woefully abusive and harmful—Sandy Hook was a hoax—was finally removed from almost all of the major tech platforms, including Facebook, Apple, Spotify and YouTube. Naturally, Jones and his followers have seized upon what they're framing as an attempt to silence a right-wing perspective by the liberal media and their partners in the tech world, itself a conspiracy theory about the reason why they can't spread their conspiracy theories anymore. But there has been one redoubt, the seemingly capriciously moderated Hell World known as Twitter. 
As of today, anyway, Jones is still active on Twitter, where he's sowing seeds of doubt about the release of a hypothetical Donald Trump n-word tape. To most reasonable people, his sort of routine is easily dismissed horse shit. But, as we've seen of late with the type of harassment that parents of Sandy Hook victims have undergone from Jones' followers, silly nonsense can have real world consequences, because there will always be people gullible enough to fall for it. 
That's where Shannon Coulter comes in. The founder of #GrabYourWallet, a consumer advocacy group that formed in the wake of the Trump Access Hollywood tape and organized successful boycotts of dozens of companies like Nordstrom, Neiman Marcus, Carnival Cruise and others that carried Trump products, has seen enough of Jones' shtick on Twitter. Her latest effort #blockparty500 hopes to replicate the groundswell of consumer outrage to persuade Twitter to at long last remove Jones and company from the platform by putting pressure on the largest corporations that have a presence on Twitter. 
In just two days since she launched the effort, which utilizes a custom blocking list (which can be found here) to block the accounts of the Fortune 500 companies on Twitter, she says over 50,000 people have signed on. 
She hasn't been particularly surprised at the turnout she said from San Francisco, where she splits her time between running #GrabYourWallet and running a boutique marketing firm. 
"#GrabYourWallet was pretty successful, so I'm happy to see there's still a lot of energy for flexing consumer power for a more equitable world," she said.
She has spoken to a number of parents of Sandy Hook victims in the last week, and says what she heard from them about Jones was the last straw. 
"This action is not in any way shape or form about the alleged conservatism of Alex Jones," she said. But she doesn't see anything wrong with a platform removing habitual liars. 
"It's about the deception of Alex Jones. Defamatory, deceptive content is not protected speech, so any company wanting to dissociate itself from Alex Jones, the act of that would not be censorship. I think Twitter has been treating this as if everybody deserves a voice, but I think in the wake of Russian tampering with the election and deceptive content being outright monetized, I think that's not an ethical position to take at this point," she added.
While she heard from a number of companies in her previous boycott efforts, the point of this one is not to communicate with—or hurt—the companies themselves, but rather to encourage them to take notice of the effort, and to then go to Twitter to flex their power behind the scenes themselves. 
"Twitter executives are really the only ones I want to hear from," she said. While others who've joined on are tweeting at and contacting the companies, she's "deliberately not drawing a lot of attention to the Fortune 500 companies on the list because I have empathy for their position."
Despite it all, she still loves Twitter. She just wants to see it do better. 
"I think that protests, in fact, are most effective when you have an authentic love or attachment to the thing you're protesting. I saw that in action with Nordstrom, the main target of #GrabYourWallet. The reason people protested that retailer most passionately was because they love it and wanted to return to it. I think this action is a good option for people who aren't ready to leave the platform yet but want to show Alex Jones this really bothers them." 
On the other hand, she does seem somewhat surprised that her own account with its nearly 90,000 followers, hasn't been suspended yet. 
"I have a lot of respect for Jack Dorsey for not having shown me the door yet. I can only imagine that speaks to an immense amount of restraint on his part," she said.
As for Jones, she doesn't hold out any sort of hope he might change. Right now, he's in the midst of crowing about an attack on the InfoWars site. 
"It just doesn't seem to have occurred to him to just start acting like a decent human being," she concluded. "It's apparently more profitable to him to be like this."