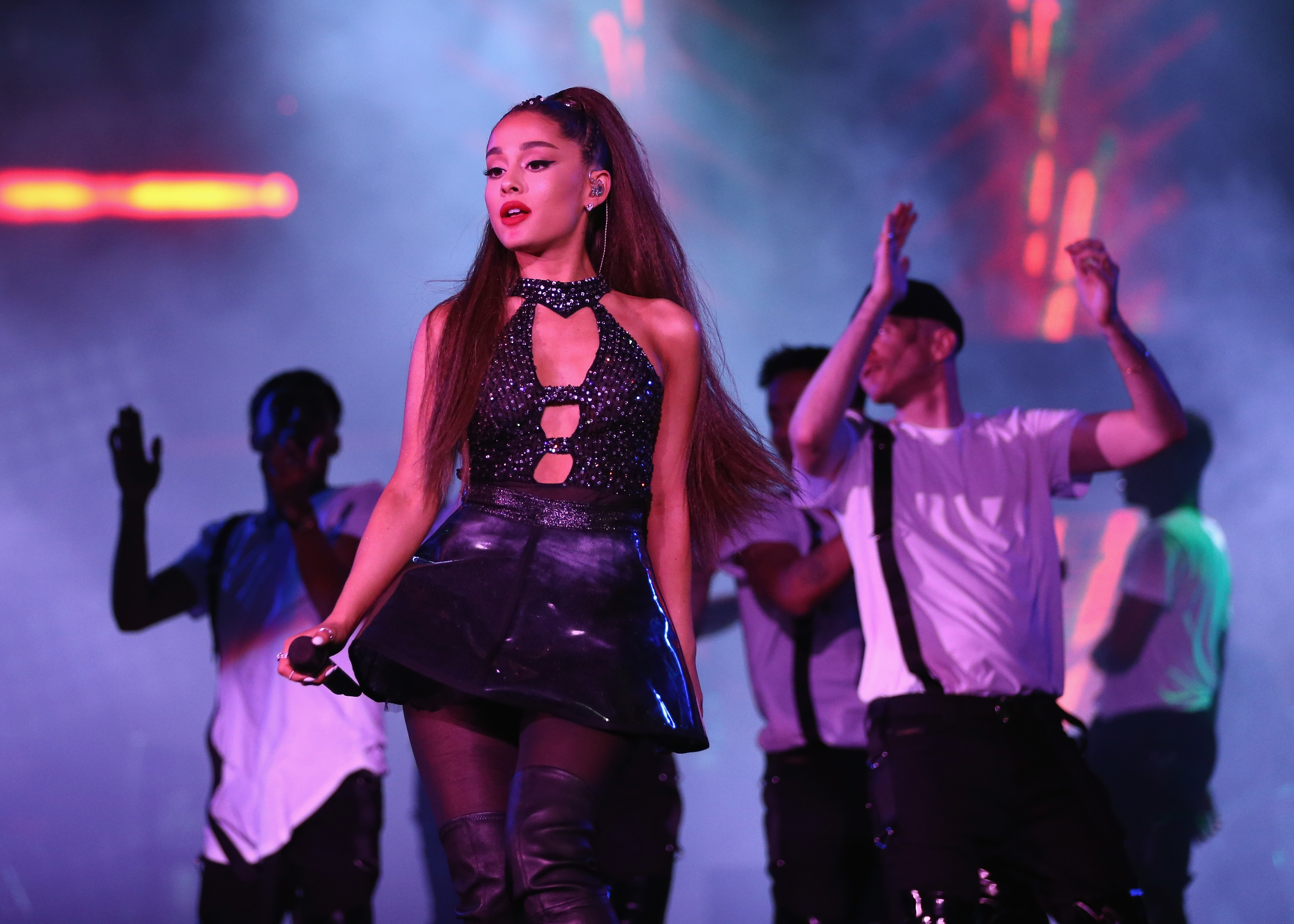 After months of anticipation and the release of three solid singles, Sweetener, the fourth album by pop star Ariana Grande, dropped Friday at midnight. The verdict: It's an adventurous, charming triumph.
Grande is a complicated artist. Any conversation about her, whether conducted in a sterilized record label conference room or in a dive bar, is guaranteed to be punctuated by comments about her Nickelodeon origins, the frequency with which she's covered by TMZ, her eyebrow-raising engagement to comedian Pete Davidson, and the suicide bomber who killed 23 people and injured more than 800 others at one of her concerts in Manchester, England last year. There's a great deal of context to cut through before getting to the record's content. Grande knows this, but rather than look away from the agonies of her recent past, she harnesses them—and through sheer will translates abject horror into something like optimism.
"Blazed," the first song after the angelic intro track, is one of the album's few missteps, a lackluster tribute to getting stoned ripped straight from Rihanna's playbook. From there, though, Grande excavates a unique sound and catapults herself headlong into the future. Brandishing a deconstructed bachata tempo, "R.E.M" meanders into your head and settles there with melodic insistence. Sandwiched between the sultry come-on "God Is a Woman" and chart-topper "No Tears Left to Cry" are "Successful" and "Breathin," two undisputed bangers that tap into Grande's subtler stabs at artistic innovation.
"Successful" features a cheeky organ riff reminiscent of "Walkin' on the Sun," the 1997 debut single by ska-pop group Smash Mouth, revealing just how willing Grande is to get downright goofy in the name of pop progress. In contrast, "Breathin" is vintage Grande, a vocal showcase à la "Honeymoon Avenue." While it leans heavily on a beat that feels like it was lifted straight from Drake's "Hold on, We're Going Home," the chorus, lilting and lovely and repetitive in the best way, is just begging to be screamed by thousands of Arianators in a cavernous arena.
Production-wise, Sweetener is largely split between tracks from funk-happy pioneer Pharrell and go-to hit maker Max Martin (along with his Swede-pop apprentices).  While the album is deliciously cohesive as a whole, this even division indicates that Grande seeks to appease her rabid fans and charge forward towards new horizons in equal measure. Martin's songs ring with absurd scope and dimension; it's as if Grande is belting the lyrics to an empty football stadium. The Pharrell songs are skittery, if a bit more challenging, and often groovy as hell. Hit Boy and Pittsburgh-born Tommy Brown take over for the album's denouement, and they don't disappoint. "Goodnight n Go" borrows its soaring hook from an Imogen Heap song of the same name, while "Better Off" is the  closest she's ever come to channeling Frank Ocean.
Grande is an astoundingly gifted singer in the tradition of Mariah Carey and Aretha Franklin, who passed away this week at the age of 76, and her continual collaborations with Martin are proof of her devotion to guaranteed radio hits that foreground her multi-octave range. But her true objective as an artist seems to be skewing more toward the unknown.
In a 2015 video, the singer experimented with Mi.Mu accessories, which are "wireless, sensor-enabled gloves for creating and performing music through movement and gesture." Heap, one of Grande's core inspirations, helped invent them.
She sweeps her arm through the air, twitching her fingers, and her otherworldly vocals advance and recede like an ocean eroding the beach. Everyone in the room can only watch in awe. They've got the right idea.