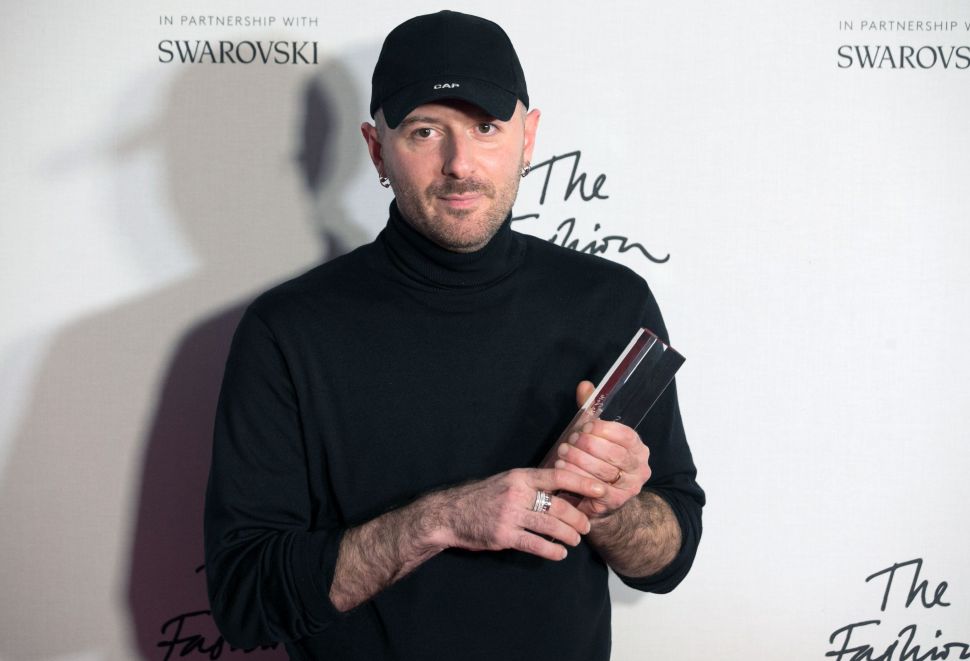 They say that in the world of fashion, nothing is ever really new. But no one embraces this concept quite like Demna Gvasalia, the creative director of luxury fashion house Balenciaga. Notorious for sublimating kitsch culture, Gvasalia has slapped the Balenciaga name on almost identical iterations of Ikea bags and Croc shoes, setting price points in the thousands.
But Gvasalia's meme-inducing reinterpretations go beyond mere parody. Many see his work as a disruption of the high culture/low culture binary that exists within the fashion industry. By bringing "the everyday" into light, he is subverting the very notion of taste, allowing Croc-wearers to enter the conversation.
Some even view Gvasalia's art of hijacking as a reverse "knock-off"—a commentary on the way in which fast-fashion retailers steal high fashion designs.
Whatever the case may be, his approach has won the favor of the fashionably conscious, and the proof lies in his successful rebirth of the once-detestable "dad shoe" (arguably still detestable).
Critics, however, see nothing but an exploitation of those who are at the receiving end of the appropriation. And the most recent victim, a N.Y. souvenir company, is taking legal action.
On Friday, July 27, City Merchandise, Inc. filed a copyright infringement lawsuit in the Southern District of New York against Balenciaga America, claiming that Balenciaga's "Multicoloured New York Shopper" tote, which retails for $1,950, copied the "total concept and feel" of their souvenir tote, which retails for approximately $19.99. The souvenir brand describes the designer tote as "virtually indistinguishable" from their own, and they are seeking injunctive relief, recovery of damages and Balenciaga's profits and/or statutory damages, as well as attorneys' fees.
The suit references previous instances in which Gvasalia has come under public scrutiny for noticeable similarities. Ikea, for example, responded to Balenciaga's replication of its FRAKTA bag in a tongue-in-cheek ad entitled "How to identify an original IKEA FRAKTA bag."
But City Merchandise, Inc. will be requesting a proper inspection of the $20 bag and its high-fashion counterpart. And there are many ways in which a suit like this can go down.
"This is one case that may be more complicated than it appears at first glance," explained Susan Scafidi, founder and director of the Fashion Law Institute at Fordham University. "The totes may have to do some heavy lifting before the court reaches a decision."
Generally speaking, fashion design does not have the same protection as other creative works like film or literature because apparel is classified as "functional." However, according to Douglas Hand, fashion lawyer at HBA LLP and fashion law professor at NYU and Cardozo School of Law, the exception here is the fact that the handbag features a print, which has been registered as "2-D artwork" entitled "New York Pink Collage With Purple Letters."
Perhaps the most crucial element is the print's depiction of the New York City skyline.
"Cityscapes, or any other non-fictional photographs, are entitled to a lesser degree of protection because they are not the result of the artist's creations," said Hand.
According to Scafidi, "Any copyright ownership in this case is limited to the selection and arrangement of the iconic images, plus any additional original artwork—a more complex claim than, for example, copyright in an original painting."  
"The image in question is not an actual cityscape, but rather an artistic rendering of many NYC landmarks jumbled together into an artificial cityscape," said Hand. "That arrangement is likely protectable and seems to have been copied, with minimal changes."
It is also possible that Gvasalia's famous Warholian aesthetic may be the very thing that wins the case.
"Balenciaga might argue that the creation of luxury bags resembling tourist souvenirs is protected parody, specifically a humorous commentary on high and low culture," said Scafidi.
"When the commentary inherent in the piece is not obvious, it's difficult to make such a claim," added Hand. "But Balenciaga might have a shot here since it has a history of selling expensive versions of cheap bags, like IKEA blue bags and 'THANK YOU' plastic shopping bags. They could argue that this is part of a theme."
One question to consider, even after the case closes, is whether or not this controversy will spike sales of the Balenciaga bag. It's possible that a "Streisand effect" might occur. An attempt to hide, censor or remove something can cause the unintended consequence of publicizing it even more.
"If true collectors see this story and think the item may be discounted or develop a cult following, they may go into covet mode and try to get their hands on the bag quickly," said Christiane Schuman Campbell, a partner at Duane Morris LLP. "The reverse effect could also unravel. Consumers might see a 'cheapening' of the Balenciaga bag given its alleged homage to the souvenir bag."
It is Gvasalia's mastermind persona that might receive the most damage.
While his previous stunts flirted with larger corporations, this adaptation deals with a smaller, lesser-known company. And as Elite Daily noted, Balenciaga is not just ripping off one New York souvenir store, but essentially all New York souvenir stores, since many share similar aesthetics and buy from the same wholesaler.
As Gvasalia's tricks continue to reach new levels of absurdity (see his "T-shirt shirt"), one might wonder if it's time for the designer to begin devising a new way to turn the industry inside-out.