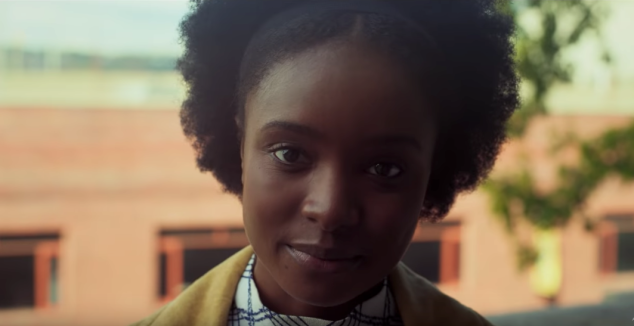 On August 2, what would have been James Baldwin's 94th birthday, Academy Award–winning filmmaker Barry Jenkins released the trailer for his latest film, If Beale Street Could Talk, an adaptation of Baldwin's acclaimed 1974 novel. The story transverses the love story between Tish and Alonzo, whose relationship is tested when Alonzo is falsely accused of rape and Tish sets out to prove his innocence.
The trailer opens with Tish (newcomer Kiki Layne) illuminated only by the soft yellow-orange glow of a tiny wall-mounted lamp. She looks distressed and calls out "Mama?" in a tiny voice. Her mother is played by Regina King, who responds with a gentle "Yes, baby?," making it sound like both a question and an answer. The trailer never gives Tish's response, instead cutting away to images of black life in Harlem during the early 1970s, with snippets of the events that lead up to and follow the incident at hand.
Among the scenes are shots of Alonzo (Stephan James) facing the camera with a smoldering gaze, then Tish looking directly at the camera, her eyes full of love. We see them again, walking down an avenue filled with brownstones, in bed illuminated by the orange glow of a street lamp and then, later, separated by a thick partition of glass in a fluorescent-lit jail.
We also see Alonzo rushing down the steps of a subway station as he tries to catch a train but is halted by a gate blocking him from the exit. He screams, but the sound of the rushing train drowns him out.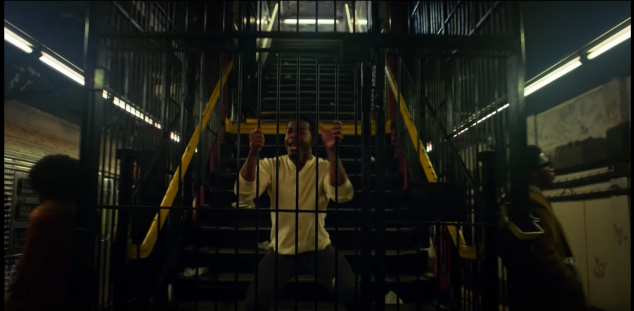 In each frame, one can spot parallels between the images and the works of the acclaimed photographer Roy DeCarava, who passed away in 2009, and Jonathan Demme, the award-winning filmmaker who died in 2017. DeCarava was the first black photographer to receive a Guggenheim Fellowship; he dedicated his life to bringing dignity to black people in his hometown of Harlem, where If Beale Street Could Talk is set.
DeCarava's black-and-white images of Harlem are moody, shadowy and lyrical, often lit only by available light, teasing out the nuances of different tonalities of brown skin. He captured quiet, tender moments, rather than bombastic in-your-face images. He told Terry Gross during an interview for Fresh Air in 2006, "When I photograph, I accept the lighting conditions, whatever they are. And I try not to say you can't photograph that because it's too dark or there's not enough light. I believe if I can see it, I can photograph it. And I accept the outcome."
Jenkins, who directed the Academy Award–winning film Moonlight—about a black man's struggle with his identity as he comes of age in Miami's Liberty City—takes a similar approach with his films, which also include the underrated Medicine for Melancholy and the short Tall Enough. Jenkins often gravitates toward subdued moments that speak volumes, favoring intimacy and subtlety above all else.
In Demme's work, which includes Married to the Mob, Philadelphia, The Silence of the Lambs, Beloved and the 2004 remake of The Manchurian Candidate, the characters are placed in the center of the shot and hold the camera's gaze, not exactly breaking the fourth wall but inviting the audience into their world. They become observers, not just the ones being observed.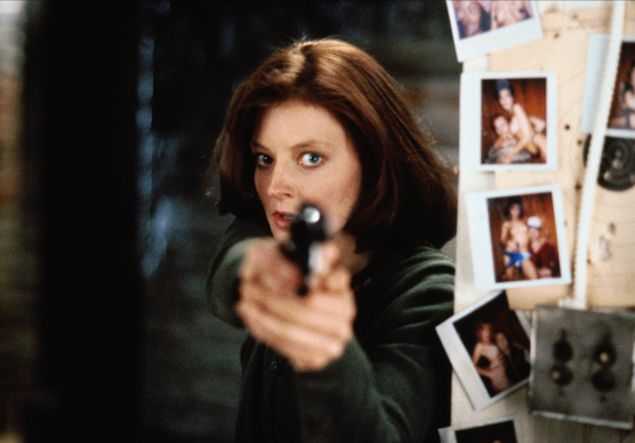 This creates not only an incredible sense of intimacy and connection with the characters, but also gives them agency. They are not there simply to be acted upon—they are, at times, engaging directly with the audience. Of course, Demme is not the first filmmaker to do this (Alfred Hitchcock was a big fan of the technique), but he has used it to greater effect than most. Demme explained his approach in a 2009 interview with David Bianculli:
"You are, for that moment, putting the audience in the shoes of the character. You're showing the audience and making the audience share exactly what it's like to see what the character sees. We [he and longtime collaborator, cinematographer Tak Fujimoto] just started using subjective camera for every dialogue scene, trying to pull the audience deeply, as deeply as you possibly could, into the scene. So it was really an aggressive way to pursue intense audience involvement."
Given the often fraught history of black people as subject and object in photography and cinema, it is thrilling to see filmmakers like Jenkins apply these techniques in their own work. By centering these characters in the frame and having them hold the camera's gaze, he seems to be asking the viewer: "What do you see when you look at me? What observations are you making that you could also apply to yourself?"