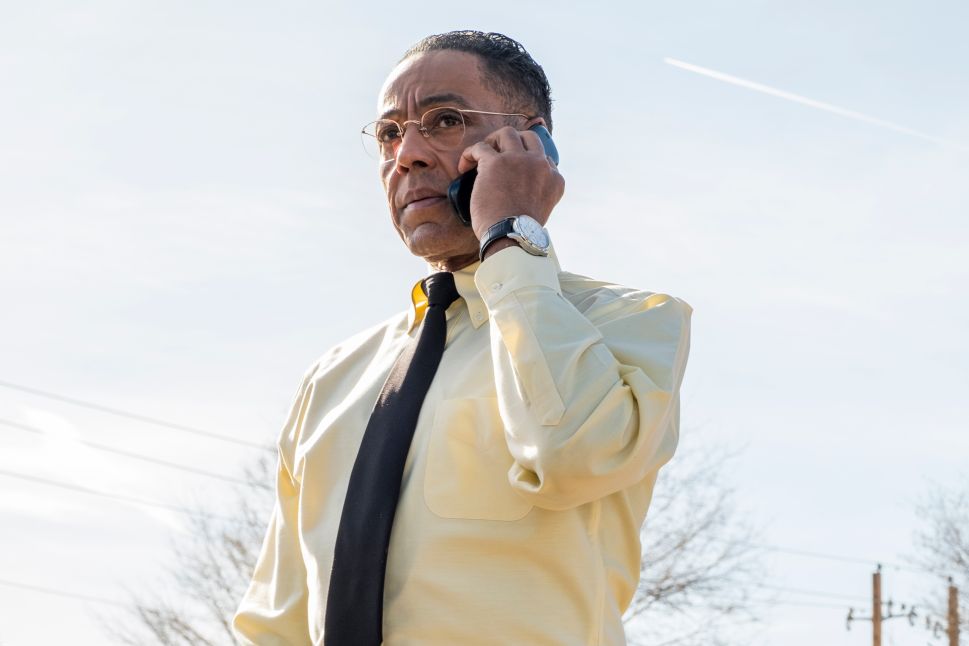 AMC's Better Call Saul returned for a fourth season Monday night, reminding television viewers what quality storytelling looks like during the relatively empty doldrums of summer. There was subtle humor—Muhammad Ali vs. Bruce Lee—and touching drama, with each character painting a greater tapestry in the Breaking Bad universe. But because this belongs to the Breaking Bad universe, fans and even the showrunners can't seem to help themselves from speculating on when audiences might catch a glimpse of Walter White or Jesse Pinkman.
This never-ending expectation of a meeting between the two series has become an exhausting exercise in self-serving fandom, like it's very own small screen ouroboros.
Viewers have already been treated to cameos both big and small—from Tuco Salamanca, his uncle Don Hector, co-star Mike Ehrmantraut and the always entertaining Gustavo Fring. And yet, it seems inevitable that Walt and/or Jesse will eventually pop up in some sort of role, whether large or small, in the near-ish future. But that might actually be more of a detriment to the narrative as Better Call Saul doesn't need any more help from Breaking Bad to be great. It already is.
Monday night's season four premiere, "Smoke," gave audiences all they could handle to start off the new run. The flash-forward to Gene, Jimmy/Saul's lowly and sad future alter-ego, keeling over and risking exposure at the hospital gives us a taste of danger in the the post-Breaking Bad timeline. In the "present," the fallout from Chuck's death and the ways in which Jimmy chooses to handle it speaks volumes about where he's headed. Then, there's the Mike Show, in which the resourceful fixer continues to entertain in understated ways. We're also clued in on Don Hector's stroke—ding! ding!—and what that means for Gustavo Fring and Nacho.
All of these plots were built out of carefully laid track from the three prior seasons and beyond. The simple existence of Gene is the result of Jimmy's tragic life choices. Chuck's death was the culmination of a lifetime of compounding character flaws between the two brothers. Mike's storyline brings us closer into the criminal underworld, while Gus was always a natural target for expansion following his Hall of Fame turn on Breaking Bad.
All of this pools together perfectly to form one of the very best shows on television; a series that doesn't need to lean on the looming legacy of Heisenberg.
Breaking Bad creator and Better Call Saul co-creator Vince Gilligan, who largely stepped away from season four to focus on other projects, was asked about the potential involvement of Saul's future employers in a recent interview with Rolling Stone.
"Maybe. I mean, it would be satisfying to see Walt. Not to see him shoehorned in—that would not satisfy me. But to see the character properly arrive at a nexus point with Better Call Saul," Gilligan said. "That'd be wonderful… [though] it's very possible it won't happen if it doesn't feel properly arrived at. And yes, I believe that Better Call Saul is so much its own creation now, its own thing. It absolutely stands on its own."
"Putting a hat on a hat" is an old comedy term that refers to trying to do too much with a joke, adding on inessential bits and pieces that ultimately choke the final punchline. That's my fear with Better Call Saul drawing closer and closer to the meth-fueled world that perfected the formula The Sopranos fist scribbled nearly 20 years ago. The life and times of Jimmy McGill already nimbly balances two worlds while paying homage to what came before and also effectively paving its own path. The degree of difficulty in keeping all of this compelling when we all know exactly where that path leads is monumental, but the show pulls it off.
Gilligan and co-creator Peter Gould have more than earned the benefit of the doubt when it comes to crafting a special narrative. But there's a danger in getting too bogged down in the weight of the Breaking Bad universe (though I would absolutely watch a spinoff about Skinny Pete's path to sobriety and his quest to become a concert pianist).
Plot-wise, where would Walter and Jesse even fit into the story? Saul Goodman wasn't introduced until the second season of the original, where he is already an established criminal lawyer. With Jimmy just beginning his one-year legal suspension, it's safe to say we're still a few years away from that point. So what organic plot construction could realistically bring together a down-on-his-luck lawyer, a high school chemistry teacher and a deadbeat drug dealer? There seems to be a lot of logical gymnastics involved in getting at least two out of these three into the same room.
Breaking Bad is great and there's definitely a part of me that would be thrilled to see Jesse and Walt once again. But there's a bigger part of me that has become so enamored with Jimmy, Kim Wexler and Mike that any additional legacy additions would leave me feeling overstuffed.
Don't put a hat on a hat, at least not yet. Better Call Saul can and has stood on its own two feet; like Jimmy, it doesn't need any more help from its big brother.