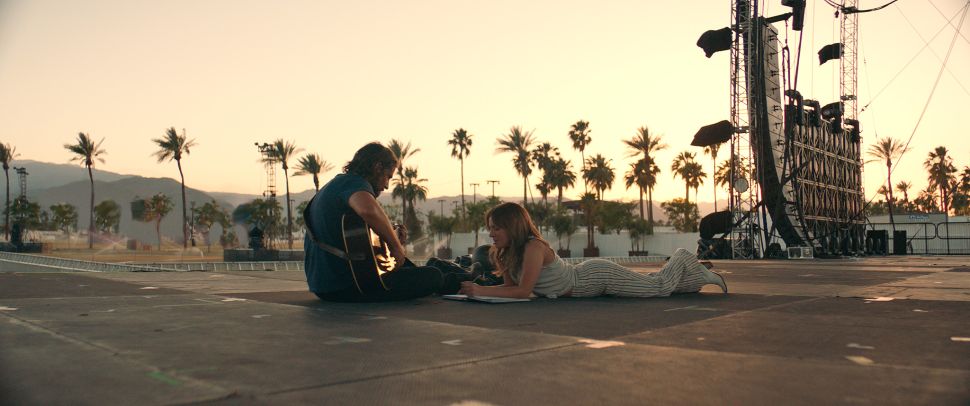 There's something inherently exciting about a directorial debut, especially when it comes from someone who cut their teeth in other realms of Hollywood. There's a risk factor involved that casts the project in a different kind of light—can they pull this off? What happens if it's terrible? What happens if it's great? It's a fun guessing game that provides a new lens with which to view a Hollywood talent.
In the latter half of 2018 and beyond, we'll see the directorial debuts of several popular actors which bring opportunities for reinvention. A Quiet Place may have been John Krasinski's second feature, but it altered the perception of him among audiences and industry insiders. Will the same transformation be gifted to his peers?
Here are a few directorial debuts from some well-known stars that we're particularly looking forward to.
Bradley Cooper—A Star Is Born (October 5)
Our excitement for Bradley Cooper's A Star Is Born—the fourth version of this property with all three previous films garnering various Oscar nominations—is well known at this point. But for those who may not be familiar with the property, A Star Is Born is a new take on the tragic love story that has become a Hollywood staple. Cooper, a four-time Oscar nominee, plays music legend Jackson Maine, who discovers—and falls in love with—struggling artist Ally, played by Lady Gaga in her feature acting debut. She has just about given up on her dream to make it big as a singer until Jack coaxes her into the spotlight. But even as Ally's career takes off, the personal side of their relationship is breaking down, as Jack fights an ongoing battle with his own internal demons.
A Star Is Born set the internet ablaze with its dazzling trailer back in June and has remained atop many Must Watch lists since. But more importantly, industry chatter suggests the movie more than lives up to the hype, with exhibitors who caught a screening reportedly raving about the film, particularly the live singing of Cooper and Gaga. If the movie really is as powerful as the whispers hint, it's reasonable to expect a Best Director nomination for Cooper after fellow actors-turned-filmmakers Jordan Peele (Get Out) and Greta Gerwig (Lady Bird) both scored nods for their behind-the-camera debuts last year. We've already pegged it as an awards contender in multiple categories.
We're probably being a tad irresponsible by heaping so much praise and expectation on a movie we haven't seen yet, but as soon as Gaga starts belting those notes in the trailer, our heart rate spikes. You can't discount a good old fashioned gut reaction.
Jonah Hill—Mid90s (October 19)
At this point, we'll see just about anything A24 produces, especially after they've practically cornered the market on emotionally gripping and authentic coming-of-age stories. Since the start of 2017, they've treated movie fans to some of the most spectacular small-scale fare, including A Ghost Story, Good Time, The Florida Project, Lady Bird, The Disaster Artist, Hereditary and Eighth Grade. The studio just puts out quality movies with shocking frequency.
Now it's up to Jonah Hill to continue that trend with his love letter to skater culture in what feels like a mashup between Lady Bird and Kids. This isn't completely out of left field for Hill, who has been dabbling behind the scenes with writer/producer credits for hits such as the 21 Jump Street movies and Sausage Party. But Mid90s is a big step forward for him as he takes on writing and directing duties for a more personal drama.
Mid90s follows Stevie, a 13-year-old kid in '90s-era Los Angeles who spends his summer navigating between his troubled home life and a group of new friends that he meets at a Motor Avenue skate shop.
Amy Poehler—Wine Country
Poehler is best known for Saturday Night Live and Parks & Recreation (where she directed several episodes), but her feature debut behind the camera sounds like an interesting opportunity to break out of the delightful mold she's crafted for herself.
Wine Country follows a group of longtime friends as they road trip to Napa to celebrate a 50th birthday and will re-team Poehler with frequent collaborator/bestie Tina Fey. Maya Rudolph, Jason Schwartzman and Rachel Dratch also star. Liz Cackowski and Emily Spivey (The Last Man On Earth, Saturday Night Live) are writing the screenplay, which bodes well.
Poehler has a long track record of producing credits that date back to 2005 and a writing background that stretches back to 1996. She directed three episodes of Parks and Rec, one of Broad City and the TV movie Dumb Prince. This is the logical next step for her and could open up new career opportunities.
Wine Country doesn't yet have a release date, but it sounds like Sideways meets Girls Trip, and that's appealing to us.
Michael B. Jordan—The Stars Beneath Our Feet
It can be largely rewarding to watch a special career blossom, and that's what we're witnessing with Michael B. Jordan. The talented actor first got on the public's radar with roles in The Wire, Parenthood and Friday Night Lights, but those weren't mainstream explosions. However, his steady climb from Fruitvale Station and Creed to Black Panther has put him firmly on the path to real stardom.
But that isn't the only type of success Jordan seeks. In addition to producing a new off-beat and unique superhero drama for Netflix, he's also made plans to make his directorial debut.
Jordan will helm an adaptation of David Barclay Moore's novel The Stars Beneath Our Feet. He'll also produce as Moore adapts his own novel for the screenplay. The book follows a young African American boy who uses his imagination and colorful toys to escape the harsh realities of his brother's death and living life in the Harlem projects.
"Directing has been an area I've wanted to explore for some time now," Jordan said earlier this year. "The Stars Beneath Our Feet tells a story that really spoke to me, and I'm looking forward to jumping behind the camera. I've had the opportunity to work with some very smart and talented directors, and it inspired me to take on this new challenge."
We're looking forward to it as well, Jordan. Hopefully this is the start of a new career path.