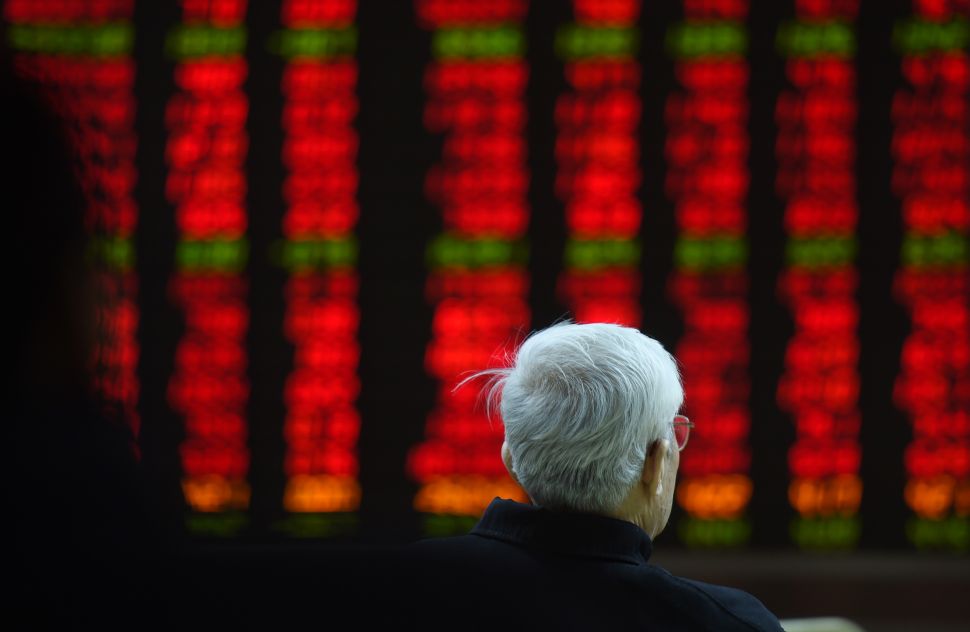 Since January of this year, the total equities in China's stock market have tumbled by over $2 trillion, and most of the loss is due to the intensifying trade and tariff disputes with the U.S. started by President Donald Trump.
As of this morning, China's total equity value ($6.09 trillion) has fallen behind that of Japan ($6.16 trillion), losing its status as the world's second largest financial market (after the U.S. at $31 trillion), a title China had kept for just months shy of four years, Bloomberg data shows.
Evidently, the shuffling of stock market ranks didn't have much to do with Japan's rise but with China's fall. This year so far, China's CSI 300 index, representing major stocks listed on the country's two exchanges (Shanghai and Shenzhen), has fallen by more than 17 percent, while Tokyo's Topix index is down just four percent.
China's stock market size surpassed Japan's for the first time in 2014. At its peak in June 2015, total Chinese equities reached $10 trillion. Since then, the stock market has been cooling down as the country's economic growth has slowed and the interest in Chinese assets among foreign investors has weakened. But nothing hit as hard and quickly as the rapidly escalating trade war with the U.S.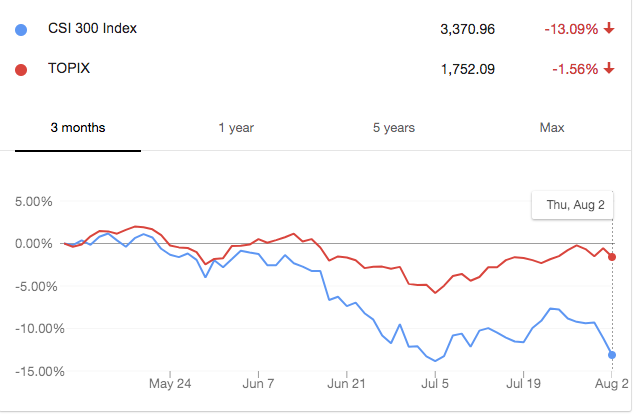 Here's a brief timeline of the key events related to the trade war in 2018 so far:
March 15: President Trump signed an executive order to impose a 25 percent tariff on steel and a 10 percent tariff on aluminum imports from China and several other countries.
April 2: China imposed tariffs between 15 percent and 25 percent on 128 U.S. products worth a total of $3 billion.
April 9: China filed a complaint to the World Trade Organization (WTO) against Trump's metal tariffs.
June 17: Trump announced he was imposing a 25 percent tariff on $50 billion worth of goods from China.
June 18: China said it would retaliate with equivalent tariffs on American products.
June 19: Trump threatened to put 10 percent tariffs on an additional $200 billion of Chinese goods.
July 6: Tariffs promised on June 17 and June 18 took effect in both directions. 
July 16: China filed another complaint to the WTO over Trump's $200 billion tariff plan.
August 1: Trump ordered his trade representative to consider raising the planned tariff of $200 billion worth of Chinese products from 10 percent to 25 percent. 
August 3: China announced plans to slap a 25 percent tariff on $60 billion worth of U.S goods.