There aren't many celebrities—or even mere mortals—who own empty, graffiti-covered homes in Washington state. But if there were ever someone who would, it'd be that shining exemplar of peak '90s fashion and grunge icon Courtney Love. (Honestly, that entire aesthetic has made a serious comeback, and Love deserves all the credit.)
But back to the house. The actress and Hole singer purchased the 6.78-acre plot for $447,000 in 1995, one year after her husband, former Nirvana frontman Kurt Cobain, committed suicide.
She listed it for $319,900 on August 3, as first noted by Variety. Her willingness to take a loss at least shows she's aware of the current state of the place, which contains three bedrooms and two bathrooms and is in utter disrepair (that might be putting it lightly). But that didn't stop interested buyers, as the home seems to have received an offer, as of August 10.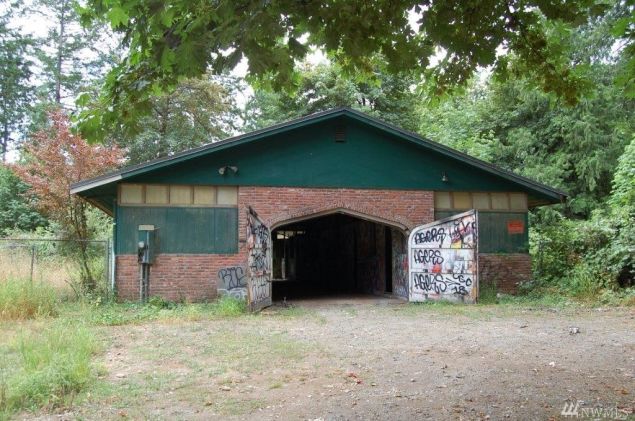 Even the listing, held by Virgil Adams Real Estate, declares the Olympia house a "major fixer" and admits it needs a "ton of work," bluntly stating that this actually means "everything."
And it's not just the 2,302-square-foot main house that will require a serious overhaul. The guest house has fire damage (the listing doesn't bother with more details on that).
Also included: a barn with eight stalls and holding pens that is covered in even more graffiti than the rest of the buildings on the estate.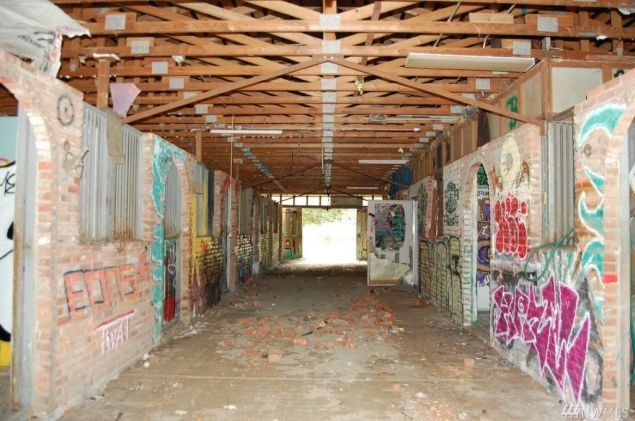 This isn't the first time Love has tried to part with the Washington dwelling—she offered it for $340,000 in 2011, then promptly lowered the price to $320,000 and then $300,000 before the end of the year. She accepted an offer on the home in May 2012, but it seems the deal fell through and it was removed from the market the following year.
Love is no stranger to fire damage. She was evicted from her West Village townhouse rental (which cost $27,000 a month) in 2011, after a candle set her curtains ablaze.
It's not clear where Love currently resides, but her daughter, Frances Bean Cobain, is also making adjustments to her home portfolio. She listed her Hollywood Hills pad for $2.7 million in June. While it's in much better condition than her mother's Washington property, it is still lingering on the market.