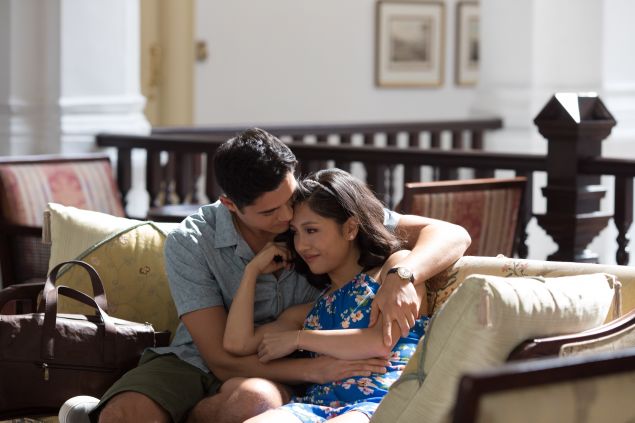 In the months leading up to the release of Warner Bros.' Crazy Rich Asians, social media has been abuzz speculating what the film could do for Asian visibility in Hollywood. After all, this is the first major studio movie since 1993's The Joy Luck Club to feature a predominately Asian cast.
Asian techies, influencers, financiers and their supporters have already bought out theaters in hopes of giving Crazy Rich Asians a #GoldOpen. If it can win over the box office and smash the assumption that, in America, only audiences of Asian descent would be interested in an Asian-themed movie remains to be seen. But the film certainly tries hard to upend stereotypes.
An adaptation of the first installment of Kevin Kwan's bestselling trilogy, Crazy Rich Asians is a clever play on an East Asian soap opera trope: a prince charming disguises himself as a nobody while harboring an unwavering infatuation with his Cinderella. NYU history professor Nicholas Young (deftly played by newcomer Henry Golding, despite controversy over his English-Malaysian heritage) is the scion to the Young and Shang family fortunes, but his worldview couldn't be more out of step with his snotty, status-obsessed extended clan. He has invited his live-in girlfriend Rachel Chu (Constance Wu, of ABC's Fresh Off the Boat), an NYU economics professor who was brought up by a single mom, to attend his best friend's wedding in Singapore.
Unbeknownst to Rachel, the nuptials are being heralded as the event of the year, and she has only packed an off-the-rack "red envelope" dress for the occasion. Meanwhile, a clutch of tongue-wagging Asian society girls and Nick's relatives have already texted one another in a frenzy to find out whether Rachel is a Chu from the Taipei Plastics fortune (she's not).
The first inkling that Nick might not be what he seems—an easygoing guy you'd likely find folding laundry on a Sunday afternoon in his unassuming West Village pad—comes when Rachel finds herself sitting first class on Singapore Airlines. But Nick shrugs off any suggestion that his family is rich, saying only that they are "comfortable." Upon reaching their destination, Rachel soon discovers through a parade of opinionated relatives and glitterati the cardinal sin she's committed by not being "one of our own." Nick's mother, Eleanor (Michelle Yeoh), quickly gives Rachel her verdict: "You will never be good enough!"
Alternating between scenes of screaming new-money chichi and hush-hush old-money elegance, Crazy Rich Asians seems tailor-made for audiences drawn to the over-the-top spectacle of the Hollywood blockbuster. But something may be amiss with its depiction of ostentatious consumerism—namely, the nuanced detail that made the novel so rewarding and compelling.
In the novel, Rachel's discovery of who Nick really is turns into a discovery of who she really is. However, the movie skips the elaborate story of how Nick's mother goes to great lengths, with the help of a private investigator, to unearth that Rachel's father was an incarcerated criminal in Mainland China and that her mother "abducted" Rachel and brought her to America when she was a few months old. Additionally, when Rachel returns to her hotel suite during the bachelorette getaway to find a mutilated fish bleeding profusely in her bed—along with a very clear sign that it was delivered to her for the crime of gold-digging—the film omits a scene from the book in which Rachel describes her beau to her travel companions as a "good catch."
But some of the movie's detours from its source material serve a greater purpose. Crazy Rich Asians debunks stereotypes that Asians are timid, reserved or naive, and it also renders its female characters bolder and more assertive than they are in the novel. While its heroine spends the better part of the book swallowing the vicious bullying and trying to make sense of the animosity around her, this Rachel is forthright and feisty. In Kwan's version, she chooses to conceal her traumatizing encounter with the fish from Nick, but in the film she discusses it with him right after the trip. Rather than bottle up her frustrations and horror only to explode later (another stereotype about Asian women), she firmly articulates what she wants. Later, when Rachel arrives at the wedding wearing a low-plunging, ice-blue chiffon Marchesa gown, she descends on the paparazzi-thronged church not as a newly transformed Cinderella, but as a confident, formidable woman. After Eleanor denies her a seat at the family pew, Rachel walks up to introduce herself to the Malay princess Intan, who holds her own court at the very front row, and ends up sitting next to the dignitary. Their icebreaker? Princess Intan's published article in the Asian Economic Review.
The movie pokes fun at dated Western impressions of the East: when Rachel gets her first taste of a nouveau-riche extravaganza at the gilded mansion of college pal Goh Peik Lin (played by Awkwafina, who cracks a slew of Whoopi Goldberg-style jokes), Peik Lin's father, a real estate developer, deadpans, "Eat more…Don't you know there are children starving in America?" Yet Rachel's perceived "Americanness" turns out to be a strength rather than weakness. Nick's grandmother, Shang Su Yi (Lisa Lu), and Eleanor orchestrate a come-to-Jesus moment at the wedding, confronting Rachel with details of her "dark" family history and telling her outright that she will never be accepted as Nick's partner. But instead packing up and fleeing, as she does in the book, Rachel engineers a showdown with Nick's mother by challenging her to a match at the local mahjong parlor. And when Rachel does decide to leave and Eleanor declares that as an American-grown girl, Rachel knows nothing about the Chinese way of "building something that lasts long," Rachel explains that, in fact, she's going so that Nick will not be torn between his family and her.
This reinterpretation of the character may read like a calculated response to a call for better, more complex portrayals of women in movies, but regardless of its intentions, Crazy Rich Asians effectively subverts the stereotype of the submissive Asian woman, and Wu delivers a convincing performance as Chu, a West Village intellectual with a glamorous sparkle. And Rachel isn't the outlier. In one scene, Nick's favorite cousin, Astrid Leong (played by Gemma Chan, Southeast Asia's leading fashion icon), walks out on her cheating husband rather than desperately clinging to the union as she does in the book.
Still, for all the strides it makes in fleshing out its characters, the film does reinforce one stereotype about Asia. Yes, it has recently emerged as the home to more billionaires than North America, according to Wealth-X's Billionaire Census 2018, but that number is 784 (versus North America's 727). What about Asian characters who are neither disgustingly rich nor "fresh off the boat"? Much like the ABC sitcom titled exactly that, Crazy Rich Asians pushes the conversation forward while also leaning on some of the clichés that have long plagued depictions of Asians in film and TV. Yet the fact that we have mainstream projects like these to even consider—that we can dissect both their virtues and their flaws—is already a step in the right direction.
Regardless of whether they get here by boats or by jets, Asians have arrived.