Anyone who spends time at art fairs and museums has seen their fair share of art by Felix Gonzalez-Torres, such as his elegant piles of candy, paired clocks or light bulb strings. A new retrospective of the artist David Wojnarowicz at the Whitney Museum (running through September 30) makes one realize not only the lineage these two share—both are gifted gay artists who created a kind of visual poetry to talk about politics, identity and death; both died of AIDS-related complications in the 1990s—but how much less we've seen Wojnarowicz's work over the years.
So, why does Gonzalez-Torres dominate the spotlight? The short answer is that much of his work is way easier to digest than Wojnarowicz's work (ants crawling all over a crucifix, a portrait of his mouth sewn shut). Pieces by Gonzalez-Torres are implicitly forward-looking, and imbued with hope. An expiring light bulb or a slowly dispersed pile of candy not only serves as a poignant reminder of loss, but of regeneration. With Wojnarowicz, we're asked to look back at long histories of abuse and injustice, and are offered no evidence of change.
It's not exactly an uplifting message, but two years into the never-ending abuse of the Trump administration, I'm finding Wojnarowicz's aggression and study of the past an increasingly important touchstone. For that reason this new retrospective, titled "History Keeps Me Awake at Night," feels both timely and long overdue. Centering around the very values we're currently fighting to preserve—open borders, inclusiveness, fair and equal treatment of all people—his anger, tears and disappointment with the state of affairs now resonate with a disillusioned majority.
That alone would have made the show worth visiting, but without Wojnarowicz's poetry I doubt it would have been memorable. You feel like you're walking through the Whitney with him—as if, with each piece, he's either there beside you, or speaking directly to you. It's an extraordinary experience, like none other I've had in a museum.
The exhibition tracks chronologically, and the show's curators, David Kiehl and David Breslin, take a hands-off approach. Wall labels give background, but the art tells the story. (An audio guide offers commentary by several contemporary artists who discuss his influence on their work.)
The show's beginnings detail the political climate of the nation at the time. Just as America hasn't always been a cesspool of spite and fear, Wojnarowicz didn't arrive on the New York scene in the same tortured state in which he left. He was, however, always defiant, as his 1978-79 series Arthur Rimbaud in New York demonstrates. For these photographs, he posed wearing a paper mask of the 19th-century poet and counterculture hero in various locations in the city he'd visited with collaborator and onetime lover Peter Hujar—we see him in subway trains, diners and parks. The gesture was meant to draw parallels between the two poets; both grew up in violent homes, escaped to large cities and were ostracized for embracing their homosexuality. The mask has the eerie effect of looking both out-of-place and integrated into the photographs, mirroring Wojnarowicz's relationship with New York. The result is uncanny—as a viewer it sometimes feels like looking at 1890 and 1980 at the same time.
Themes of otherness, homosexuality and violence course through the show. In one gallery, plaster heads wrapped in maps, money and cloth sit on pedestals, referencing the masks and bodies of Mexican wrestlers. (This iconography appears in a lot of his pre-AIDS work—most famously, the unfinished film Fire in My Belly.) The Whitney's display of this work falters, failing to impart the brutality Wojnarowicz intended. In his original presentation, the artist had arranged the heads on a shelf as if in a firing line, and placed them against a wall with a painted bullseye. The piece was supposed to reference the loss of civil rights across the Americas, particularly in Argentina, Salvador and Nicaragua. In this show the bullseye is reproduced only in a wall label, and the heads are arranged scattershot throughout the room. Not only is the original message lost, but the heads are placed under vitrines, thus effectively neutering the palpable violence integral to Wojnarowicz's work.
But this is the only disruption in an otherwise well-executed affair. Following this display, the painting for which the show is named, History Keeps Me Awake at Night (For Rilo Chmielorz) (1986) hangs in a room full of brightly colored paintings examining the violent legacy of capitalism. It predicts a bleak future, illustrating the structural fault lines that prevent progress through a dense collage of information. Painted over a map, the outline of a man depicts a figure in a dream state. Above the figure are the contours of his dream in the shape of America; layers of money paper the background, and in the forefront the artist has placed flags, maps and icons symbolizing the industrial revolution, colonialism, fallen institutions, crime and violence.
It's unclear if the figure in bed is a reference to the AIDS crisis, but by the time we get to the part of his life in which his art and life are consumed by the disease, the narrative of this earlier work feels like something of a Rosetta Stone. These images of systematic crimes against humanity, and the broken governments and lack of public discourse that accompanies them, have clear analogies in the mass murder by negligence of those suffering from AIDS.
I feel a little guilty having to write this because I wish Wojnarowicz had an easier life, but the artist's greatest tragedy was also his most powerful muse. Before entering a room of framed art works tackling AIDS, an audio recording of Wojnarowicz reading from his book at New York City's Drawing Center primes the viewer. As I entered, he was speaking about first hearing of his diagnosis. "I felt this abstract sensation, something like pulling off your skin, turning it inside out and then rearranging it so that when you pull it back on, it feels like what it felt like before, only it isn't and only you know it."
The description sounds a bit like wearing a dirty sock inside out, only a whole lot more painful. And by the end, you're dead.
A few minutes later, Wojnarowicz is yelling as loudly as he can, recalling religious protestors shouting to the men and women in the gay parade, "You won't be here next year! You'll get AIDS and die, ha ha!"
There's no breaking through the kind of disconnect that causes a person to rejoice in the suffering and death of others, a fact that's long enabled politicized bullying, during and after Wojnarowicz's death. In a 1989 documentary video shown on a TV monitor, Wojnarowicz discusses the NEA's decision to bow to pressure from the right and withdraw a $10,000 grant to an exhibition at Artist's Space. At issue was an essay he wrote for the show's catalogue, which was critical of positions right-wing politicians had taken on the AIDS epidemic. A little more than 20 years later, in 2010, Wojnarowicz's film Fire in My Belly, also in this show, was removed from the traveling exhibition "Hide/Seek: Difference and Desire in American Portraiture" at the National Gallery due to complaints and threats to funding. Amongst other divisive imagery, it contained those shots of ants crawling over a crucifix and footage of Wojnarowicz sewing his mouth shut.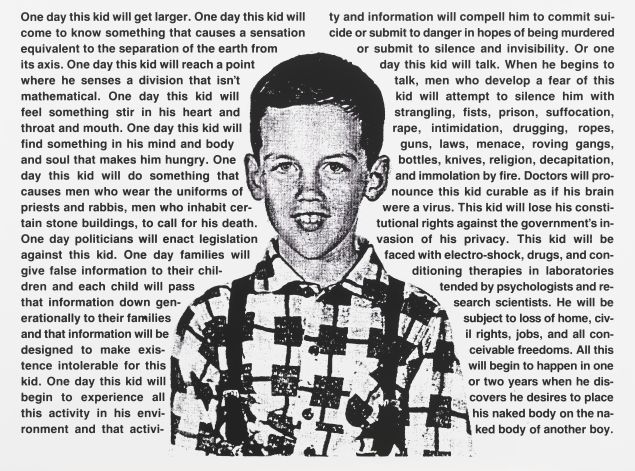 It's not exactly easy viewing, but the show makes clear how Wojnarowicz got there. "America seems to understand and accept murder as a self-defense against those who would murder other people," he said of the government's response to AIDS in another passage of his Drawing Center reading. "And it's been murder on a daily basis for eight, nine, 10, 11—count them—10 long years, and we're expected to quietly and politely pay taxes to support this public and social murder."
The final rooms contain his most iconic pieces on the subject: an image of buffalo falling off a cliff, a photograph of the artist buried alive and a print of a bull's-eye made to fit inside an outline of the United States. Their effect is devastating, but a print of bandaged hands with red text overlaid caught me off guard. Like so many other times in the show, reading his words felt like hearing his words. It was as if he was there, reliving his death all over again.
"I'm fucking empty. The person I was just one year ago no longer exists, drifts spinning slowly into the ether somewhere way back there. I'm a Xerox of my former self. I can't abstract my own dying anymore…I am waving. I am waving my hands. I am disappearing. I am disappearing but not fast enough."
I instinctively reached out to comfort Wojnarowicz, then pulled my hand back, realizing I was offering comfort to a print. Perhaps it was the weight of all the work in the room, but suddenly, I couldn't stomach the thought of another Gonzalez-Torres candy pile. Those piles' message has been fully co-opted by fairs and collectors, and whatever hope they offered feels false. The history of oppression and the raw suffering Wojnarowicz expresses doesn't feel good. But in today's climate, it does feel honest.