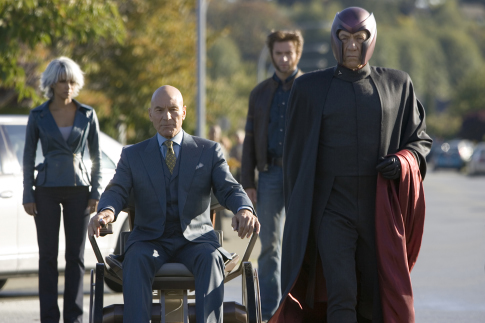 With Disney's purchase of Fox expected to become official in early 2019, fans have been wondering just how exactly the Marvel Cinematic Universe (MCU) will introduce the likes of the X-Men and Fantastic Four. After 10 years and 20 films, audiences have a pretty good idea of all the different fantastical threads that exist within the MCU thus far. That's not to say the interconnected web of stories won't change and evolve moving forward, but to this point, there's obviously been zero mention of mutants and the like due to character rights restrictions.
In terms of the X-Men, a new theory making the rounds from the popular YouTube channel Comics Explained, expanded upon with impressive legwork from Omega Underground, may hold the answer.
The video puts forth the theory that alien lifeforms—which could easily be the Kree, Skrulls or Celestials—visited Earth hundreds of thousands of years ago and conducted genetic experiments with early man's DNA. This resulted in the development of the Eternals (god-like humans), Deviants (troll-like creatures) and regular old fashioned humans with latent mutant genes embedded deep within their DNA.
There are other theories floating around that pertain to folding in the X-Men, such as the Negative Zone and Quantum Realm predictions, but this latest seems to make the most sense, especially with a film centered around The Eternals reportedly in the works. Adding Omega Underground's additional evidence to the argument, you can see a viable path forward for the MCU's X-Men introduction.
Bob Iger has already said that any future Deadpool movies under Disney would remain R-rated, suggesting that the Deadpool character could be given his own little corner of the MCU with which to play. As the outlet notes, the first Deadpool centers around a criminal organization that experiments on humans in order to unlock their latent mutant abilities through creative torture and gene therapy. If this becomes official canon, it opens up all sorts of interesting possibilities.
Doesn't Deadpool's origin story sound awfully similar to Wolverine's origin in the Weapon X program, in which a government agency experimented on Logan to create the ultimate killing machine? Given Wolverine's age (he was nearly 200 when he died in Logan), Marvel Studios head Kevin Feige could easily say that a SHILED splinter group spearheaded the Weapon X program shortly after World War II, tying mutants in nicely with Captain America's super soldier division. It would be two sides of the same coin.
This would actually be consistent with the existing rules of the MCU as well.
In Avengers: Age of Ultron, HYDRA uses Loki's staff, which is powered by the Tesseract AKA Power Stone, to create Scarlet Witch and Quicksilver. Historically, those two characters have always been mutants (usually Magneto's children), but were rejiggered due to Marvel Studios' legal blockade of all things X-Men. In Ant-Man and the Wasp, Janet van Dyne gains supernatural abilities thanks to her extended stay in the Quantum Realm, suggesting another molecular change that would tie back to the origin of mutants long go. In Iron Man 3, Aldrich Killian creates an explosive form of super soldier through Extremis, an unstable genetic manipulator.
Again, Feige could easily explain all of this as a continuation of similar experiments we've seen that all result in mutants emerging throughout the MCU.
There's a precedent in place for the introduction of Mutant kind, a backdoor that has been hiding in plain sight the entire time. It just makes too much sense for Feige and Marvel Studios not to take advantage of it. Unfortunately, we likely won't find out until 2021 at the earliest, and possibly even longer, as we wait for the first MCU-branded X-Men film to hit theaters.