Have you seen a photo of Justin Bieber lately? It's been a minute since the hyper-religious pop idol last released an album, but in the absence of sonic innovation he's found a different creative outlet: dressing like a greaseball skater boy who dropped out of McGill to hitchhike through the Ozarks.
He's far from the only guy embracing the sleaze—this very specific aesthetic is a full blown thing, one that's been a foregone conclusion ever since "normcore" exploded into our collective consciousness more than four years ago and redefined the notion of individualistic self-expression. "Everyone's so unique that it's not unique anymore," fashion designer Kristine Guico told writer Fiona Duncan in 2014, and thus pre-financial-collapse regalia was traded in for ironic uniformity. 
https://www.instagram.com/p/BmivMudDA1S/?utm_source=ig_web_copy_link
As normcore sank in, permeating everything, athleisure and the "dust fit" followed suit, perpetuating the late-capitalist idea that simplifying your wardrobe is a key component of optimizing your time and energy in service of being more productive. Dressing simply also just happens to look really cool, if done carefully. Menswear enthusiasts are so obsessed with Shia LaBeouf's signature mix of thrift-store T-shirts and baggy shorts, they've erected entire Instagram accounts in his honor.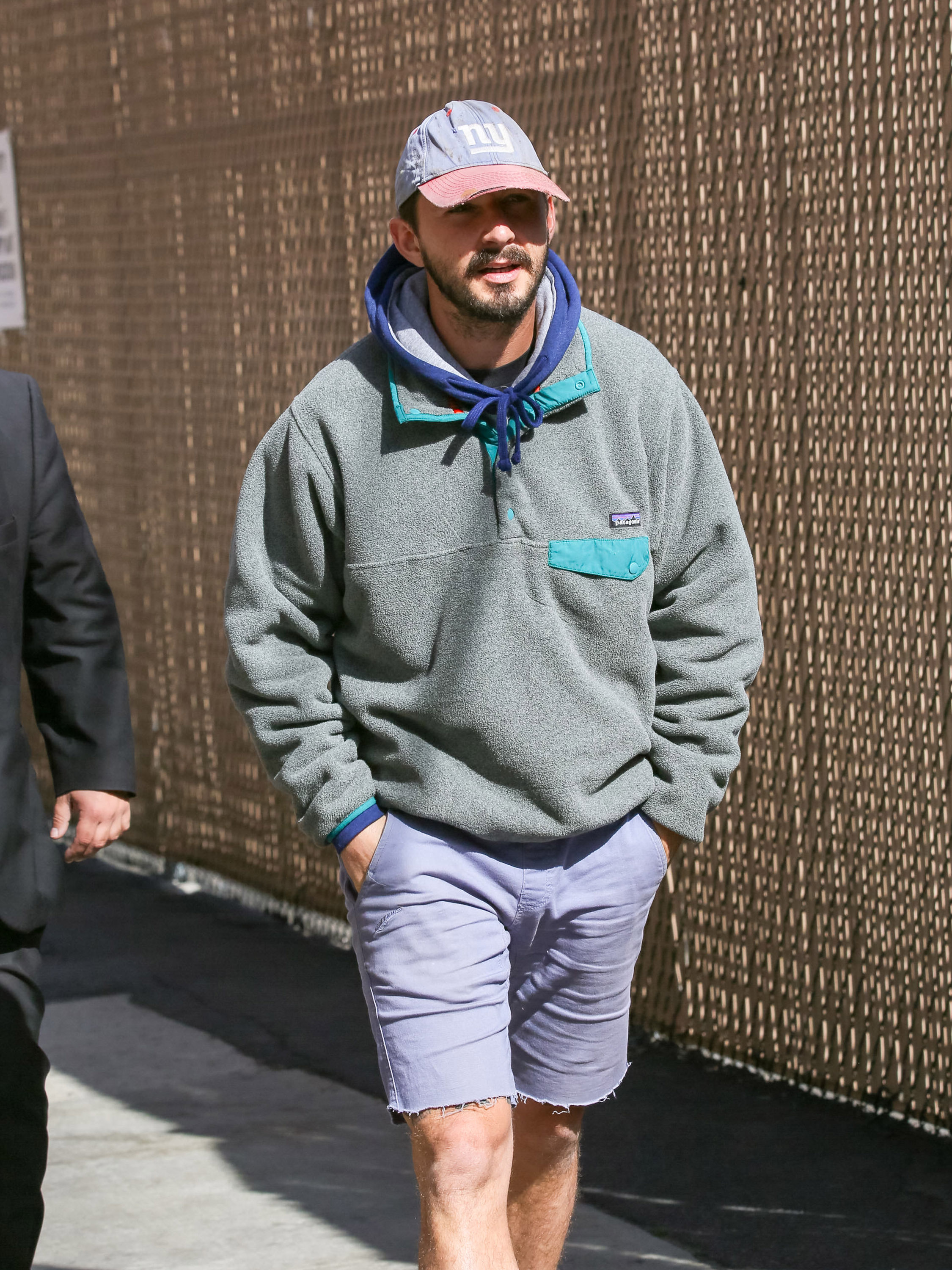 On Wednesday, Esquire published a piece by Jonathan Evans that identifies the Bieber strain of this fashion virus as "scumbag;" every slightly modified iteration of the core outfit—bright colors, baggy fabrics—therefore falls under the umbrella of what Evans calls the "Summer of Sleaze." It's a peculiar look, somewhere between Hypebeast-caliber streetwear worship and the sheer neglect of personal hygiene common in pubescent boys. Bieber's color palette is wildly unpredictable, but usually more than one neon hue can be found on any of his recent outfits.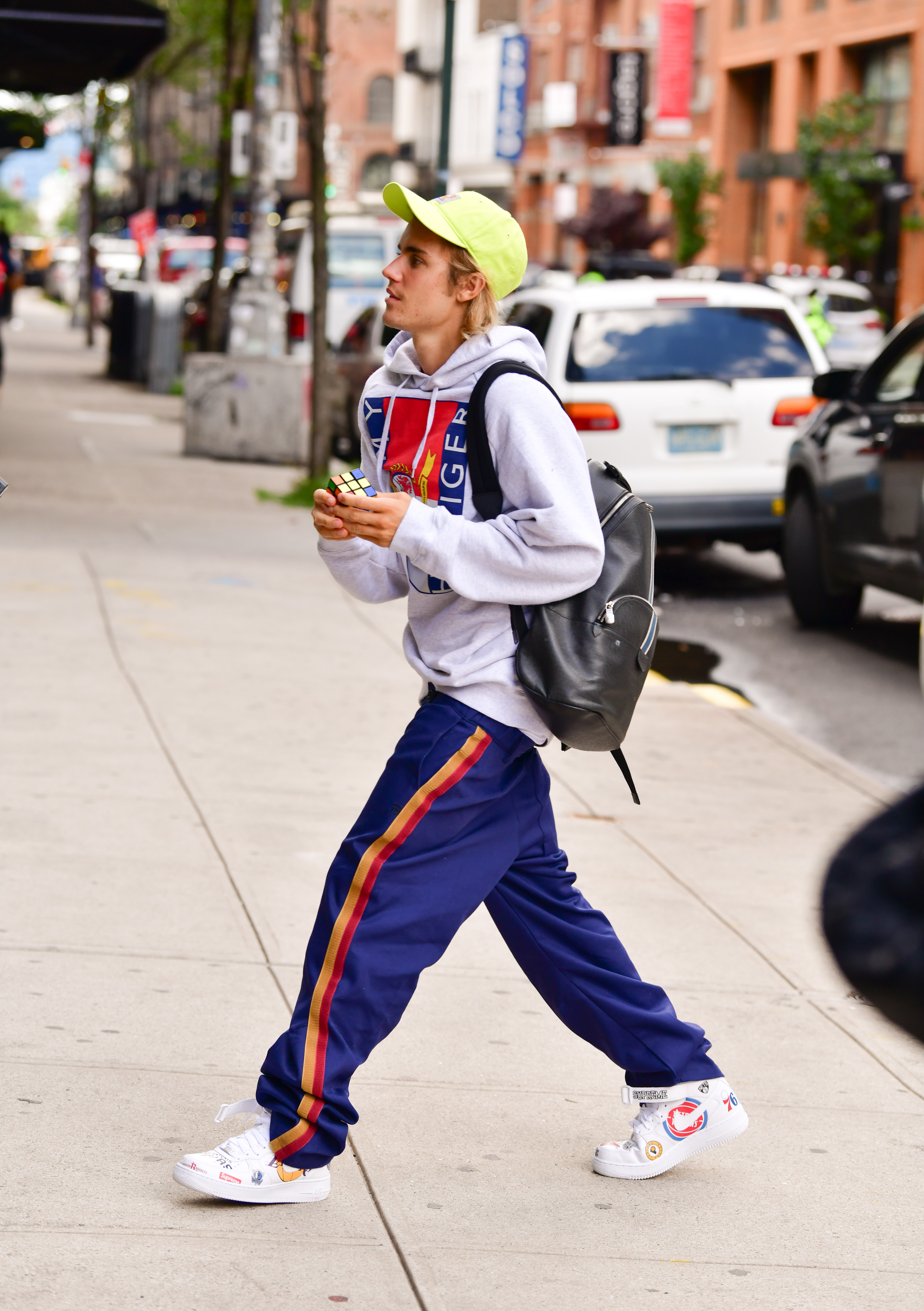 Evans' piece cleverly hits on the specific items of clothing that are integral to the scumbag formula, and he lists some stars who have taken up the mantle: Jonah Hill favors bowling shirts; Wiz Khalifa prefers rumpled designer sweatpants. But while he does point out that female celebs have adopted the "Summer of Sleaze" look, he fails to mention that queer women have been dressing like the world's coolest pot dealers since time immemorial, long before normcore, athleisure and the dust fit were a twinkle in Post Malone's eye.
That doesn't mean, however, that the scumbag look is definitively queer. "Dirtbag style is not expressly gay, but for me a big part of the appeal is that it is a knowingly doomed attempt to look regular or unmarked or neutral as a woman," said Jamie Lauren Keiles, a freelance journalist based in Queens, N.Y. "When I get dressed in the morning, my inspirations are Rocky, my Philadelphia heritage, the Village People, guys who itch their balls in basketball shorts, guys with chest hair who wear Jewish stars on gold chains, guys who went to Andover and play lacrosse but sell weed for no reason, weekend dads who drive Camaros, metal guys with stringy hair and Hormel brand chili." 
The Brooklyn neighborhood of Bushwick is essentially a scumbag fashion feast, and it's women who are figuring out how to turn the look into an art form, rocking backwards flat-brim hats with greasy hair, baggy sweatshirts paired with baggy pants and cropped jeans layered over tall socks and Converse. But famous women have the formula nailed too. Take a look at Shane on The L Word, Syd from The Internet, or Cara Delevigne recently walking down the street in West Hollywood if you want a more comprehensive idea of how the scumbag aesthetic is elevated and lent an air of sophistication when worn by women. 
Delevigne, for example, was recently photographed wearing an oversized track jacket, athletic shorts and flame-patterned socks pulled almost to her knees on an outing with her girlfriend, Ashley Benson. The Guy Fieri–style hot rod tongues of fire on Delevigne's socks are pure dirtbag, but the relative neutrality of the rest of her outfit makes the whole look click. Post Malone would make those socks look cheesy, but Delevigne turns them into a statement accessory. Also, it helps that she's literally a model.
Calling out Bieber for pairing a shapeless T-shirt with exposed underwear, skinny jeans and Vans is all well and good, but Kristen Stewart wore this type of look better (if not first). In fact, Stewart might as well be the patron saint of the dirtbag aesthetic. As an A-list actress, she is obligated to wear gowns and architecturally daring makeup to premieres, but in her personal life she tends to select effortlessly cool ensembles that simultaneously indicate her nonchalance and a studied awareness of the appeal of her tall, thin body. In other words, she dresses like a scumbag while still "dressing like a girl."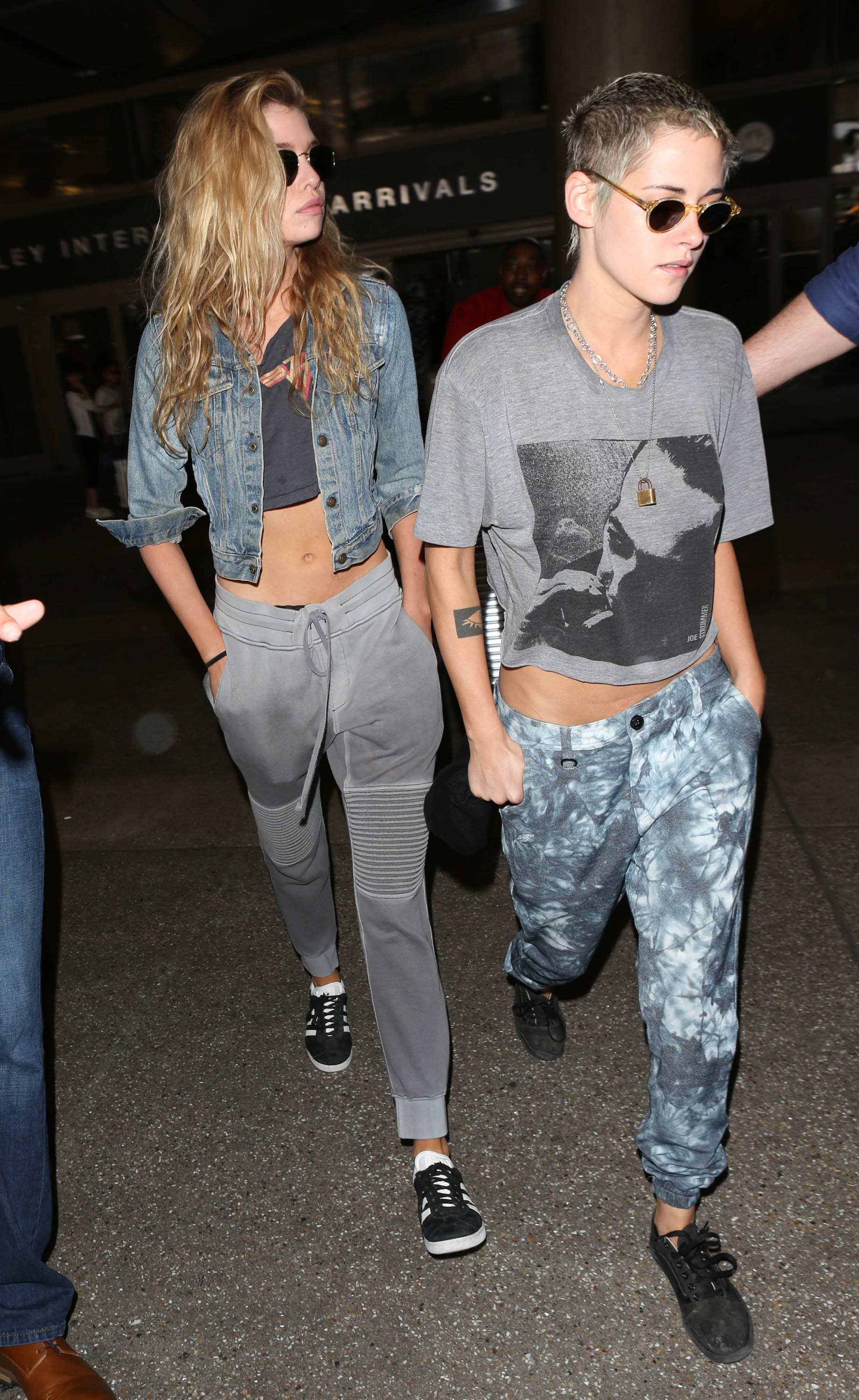 I'll admit my bias. I've long maintained that Kristen Stewart is the best-dressed person on the planet. She's been wearing sneakers with designer dresses since her Twilight days, but it isn't her grunge instincts that set her apart.
Stewart's devil-may-care scumbag outfits are on another plane of sartorial enlightenment that's hard to identify, because at first glance she appears to be doing so little, but the razor-sharp proportions of her clothing often prove otherwise. There's cogitation happening here. The disarray is deliberate—it is its own genre.
Pete Davidson, also featured in Evans' piece, actually dresses quite similarly to Stewart; whether he knows it or not, the two have common themes in mind. Just check out his ensemble in the Esquire article: a shocking pink Thrasher tee with yellow lettering, camouflage-pattern basketball shorts that feature nearly every color of the rainbow, and tall black socks with all-black Nike Huaraches.
The relaxed fit and soft fabrics of Davidson's outfit suggest he doesn't put much thought into his clothes, but the luminously bright color combination, reminiscent of Hieronymus Bosch's monumental triptych The Garden of Earthly Delights, reveals the secret of scumbag dressing: it's the avant-garde incognito. Stewart, of course, figured this out years ago, which is why even her simplest looks are endlessly referential in seeming futuristic, like an operating system in the midst of a software update.
If normcore standardized blandness, the rise of scumbag style indicates that the tide seems to be turning. Basic silhouettes are simply too easy and convenient to abandon, so those who test the limits of fashion's possibilities (Stewart, Davidson, and, yes, Bieber) are subtly injecting a freaky, riotous maximalism back into the mainstream under the guise of trend-approved streetwear.
Just wait until someone wears orange track pants to the Oscars.