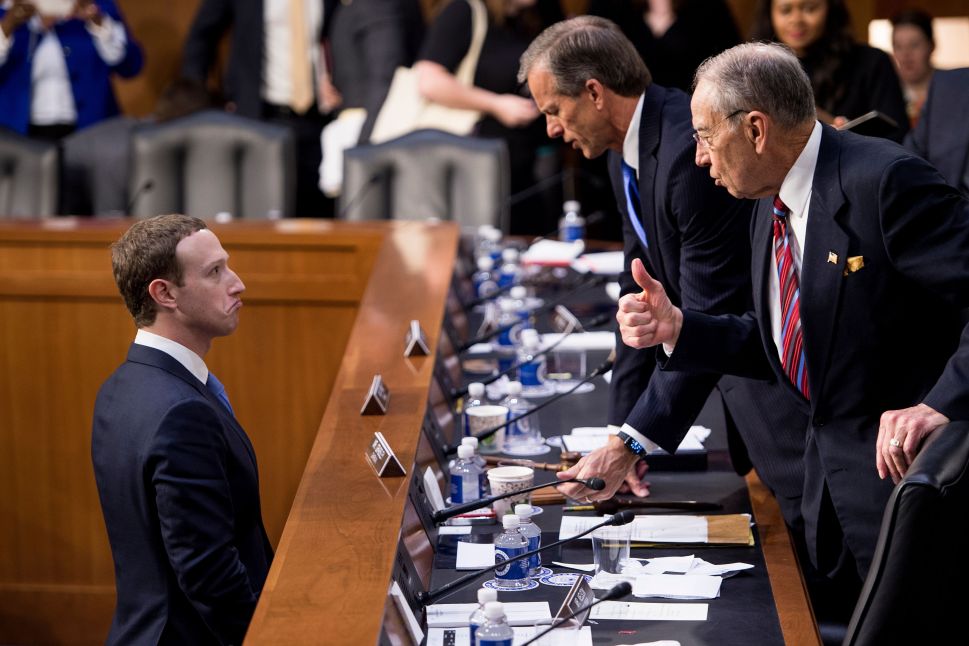 All children learn that if you don't have anything nice to say, don't say anything at all. But that hasn't stopped congressmen from talking about Facebook and Google.
According to a new study from analytics firm Quorum, members of the legislative branch have mentioned major tech companies more than any other type of business enterprise in the last decade.
Between June 2008 and June 2018, congressmen referenced Facebook over 14,000 times in floor statements, press releases and social media posts. Google was a distant second with almost 6,000 mentions, while Apple was invoked over 2,200 times.
Each of these Silicon Valley firms was mentioned more than Fannie Mae and Freddie Mac (the architects of the 2008 financial crisis) or Wells Fargo (which charged customers for millions of fake accounts).
In fact, Congress has mentioned technology almost twice as many times as it's mentioned financial services.
Not surprisingly, most mentions of these companies were negative. They revolved around issues like data privacy, national security and election integrity.
Vermont Senator Bernie Sanders is the most vocal critic of Fortune 100 companies. He's mentioned them over 1,500 times in the past decade, nearly double anyone else on the list.
Facebook has been a particular source of consternation thanks to the Cambridge Analytica revelations. In fact, since the scandal broke 94 percent of congressmen have mentioned Facebook in official communications.
The only companies which had comparable spikes were Wells Fargo in September 2016 and AIG in March 2009.
Of course, this obsession has its limits. Many congressmen are over 80, and will never be tech experts no matter how much their younger aides prep them.
There's also the issue of experience. Only 16 members of Congress have a background in software or engineering, according to the Congressional Research Service.
That means many lawmakers embarrass themselves when they try to appear tough in front of tech executives,
One of the most viral moments of Mark Zuckerberg's congressional testimony came when 84-year-old Orrin Hatch (who chairs the Senate Republican High-Tech Task Force) asked the Facebook CEO how his company can sustain a business model when it's free.
"Senator, we run ads," Zuckerberg responded simply.
It's no secret that Facebook needs some regulatory supervision so companies like Cambridge Analytica and people like Alex Jones can't spread false information.
But it's more than a little frustrating that the wannabe sheriffs of this online world (who also mention it more than almost anyone else) have no idea how it works.