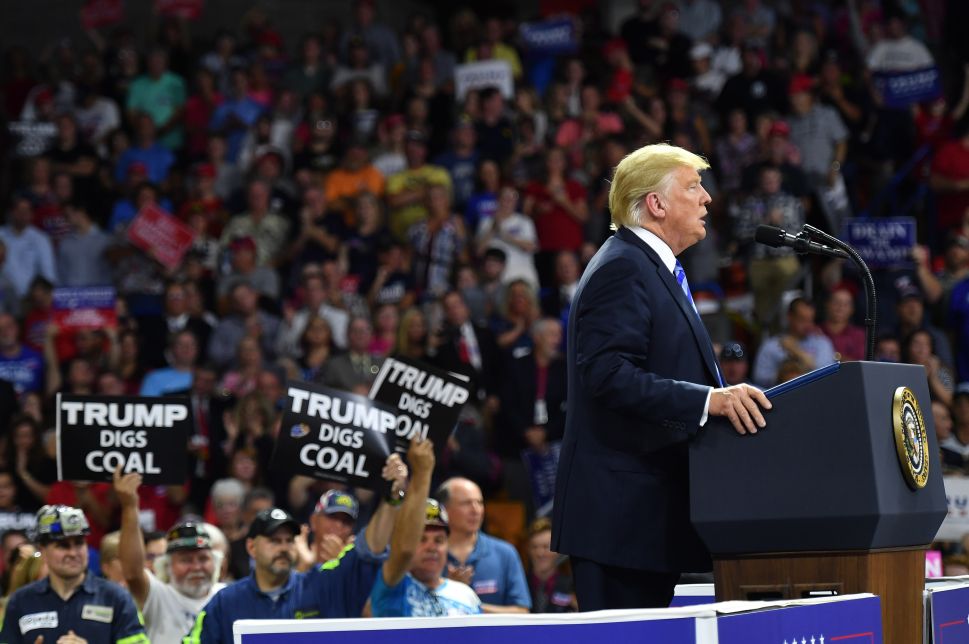 His longtime attorney Michael Cohen had just pleaded guilty to eight criminal counts. His former campaign chairman Paul Manafort had just been convicted by a federal jury. But on Tuesday evening, President Donald Trump stood before a packed stadium in West Virginia.
Delivering his greatest hits—from leading "Lock her up!" chants to castigating Special Counsel Robert Mueller's investigation as a "Russian witch hunt"—Trump brought in his full campaign spectacle to endorse Republican senate candidate Patrick Morrisey.
Despite mounting legal exposure in the Russia investigation, the White House confirmed on Tuesday that the president will spend 40 days campaigning for Republican candidates. However, within hours of the Cohen-Manafort fallout, halfway across the country, the Trump-endorsed gubernatorial candidate Foster Friess was defeated in a Wyoming primary, raising questions over the limits of Trumpism in this year's midterm elections.
"If you can't get the Trump touch in a Wyoming primary to push you over the edge, where can you?" asked Republican strategist Rick Wilson.
"[Trump's] base is shrinking," reiterated political consultant Cheri Jacobus. "And you can't win with just a base, let alone a shrinking one."
Friess entered a crowded Wyoming primary late in the season, and Trump's endorsement came on the same day as the election. Still, the loss shakes any populist illusions that the president alone possesses enough political capital to shape elections as he sees fit.
"Trump can't turn a turd into a pumpkin," Wilson told Observer. "[Friess] got beat by someone who knew the state better. The idea that just the Trump touch is sufficient, especially in a state that is deep red like that, it does call into question some of Donald Trump's political value."
Friess' loss to Wyoming's state treasurer Mark Gordon seemed to mirror last fall's messy election in Alabama: Trump's preferred candidate Luther Strange was beaten out by the Steve Bannon-aligned Roy Moore. Even after Trump endorsed Moore in the general election, the candidate lost following accusations of sexual misconduct—handing a longtime GOP stronghold to Democrats.
Not all Republican operatives see Tuesday's race as a loss for Trumpism, and many have been quick to note Trump's success in getting West Virginia voters to reject the fringe candidate Don Blankenship.
"Primaries are different than general election. Trump has a lot more sway in a GOP primary, but this is a race where Mark Gordon was going to win anyway," political analyst Ford O'Connell, a veteran of John McCain's 2008 presidential campaign, told Observer. "You can't win them all, but he's had a pretty good track record after the flop in Alabama in terms of helping sway who the primary voters pick."
"In the Senate races, Donald Trump is wanted because, essentially, he's going to drive those races in terms of pickup," added the campaign veteran.
Wielding influence within state primaries is one matter—but transforming it into Republican hegemony will be harder.
"In split decision states, in close states, in purple states, in the general, Trump is a two-edged sword," added Wilson. "Unfortunately, once you become bonded to Trump, you rise and fall with his political fortunes."
Citing Congressman Ron DeSantis (R-Fla.), Wilson explained that the endorsed gubernatorial candidate will likely win his GOP primary from a Trumpist platform, only to have to revise his campaign for the general election.
"You're talking about a state with 20 million people, and 15 million voters. Those people are from a very diverse set of backgrounds, ideologies, regions and economic situations," said the operative. "It becomes harder to run statewide as a pure Trumpist [Republican]. DeSantis, if he's in the nominee, will be locked into whatever crazy tweet Trump does, regardless of what he wants the message of the day to be."
O'Connell, however, thinks it's unwise for Republicans to distance themselves from the president's populist messaging and does not anticipate further disruptions from the Russia investigation.
"Some suburban Republicans, or Republicans in larger purple states may choose to keep Donald Trump at arms length, but running away from President Trump by anyone is a fool's errand," said Ford. "I also think you're probably going to see the Special Counsel go dark until after the midterms because I think it was probably in their mindset to get these headlines wrapped up before labor day. It would be a little bit odd if the guy investigating election interference himself interfered with an election."