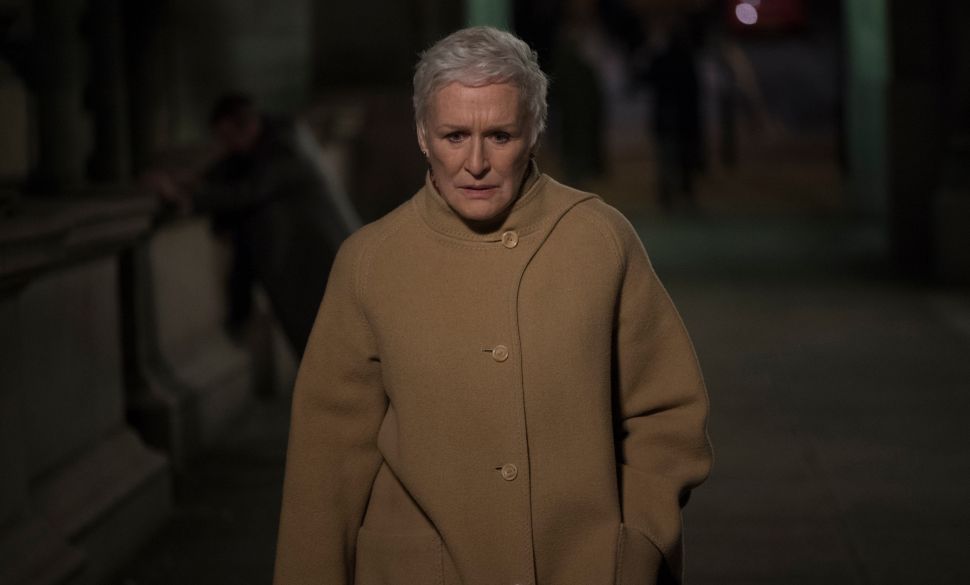 Unimaginative direction by Swedish filmmaker Bjorn Runge without riveting cinematic flourishes or clever camera angles, The Wife nevertheless soars above the ordinary with a timely narrative and a magnetic performance by Glenn Close that is nothing short of miraculous. We've been down the road of the under-appreciated little woman behind a public legend before, but she brings profound appeal and fresh insight to the role.
On the surface, the lives of Joseph and Joan Castleman seem idyllic. Joe's (Jonathan Pryce) talent as a famous, idolized novelist has been rewarded with financial security, a country house in Connecticut, a happy 40-year marriage and walls of bestselling books. Now he has been nominated for a Nobel Prize in literature. If he doesn't win, he wants to rent a cabin in Maine and escape the condolences. But when they are awakened at 4 a.m. by a call from Sweden to tell him he's won, it is all too clear that Joe will become a living legend overnight and Joan (Glenn Close) will be the Wife of the Year.
The impact also changes the lives of their pregnant, married daughter Susannah (Alex Wilton Regan) and grown son David (Max Irons), also a writer, who has been unhappily craving his father's approval for years. David accompanies his parents to Stockholm for this once-in-a-lifetime chance to see the honorable profession of writing honored royally, but among the popping champagne corks and press attention, what should be an occasion for rejoicing also turns into a time of reflection as the film flashes back to how it all began.
Smith College, 1958. Joan (Annie Starke) was a student with a passion for writing and Joe (Harry Lloyd) was a miserable junior professor trapped in a loveless marriage who hired her as a babysitter, seduced her, and left his first wife and baby for his new protégé. During their week of Nobel festivities, the differences in their personalities that developed through the years also emerge. He was a neurotic with good ideas but a clumsy way with words and wooden dialogue. She saved him, editing, proofreading and rewriting his first novel until it was published with resounding success—a process that was repeated endlessly through the years while he got all the credit. She sacrificed her own ambitions as a writer to create his reputation and support his career.
---

THE WIFE  ★★★ 
(3.5/4 stars)
Directed by: Bjorn Runge
Written by: Jane Anderson, Meg Wolitzer
Starring: Glenn Close, Jonathan Pryce, Alex Wilton Regan, Max Irons, Annie Starke, Harry Lloyd, Christian Slater
Running time: 100 mins.

---
Nurturing and caring, she has spent her life taking care of his needs, worrying about his health, massaging his ego, living in the shadow of his celebrity. Gradually we begin to see how her elegance, reserve and impeccable manners are a contrast to his rudeness and social indifference. She's been loyal when Joe has been deceitful and unfaithful. She's been the real deal when he's been the phony. Now, as he takes the bows and she's expected to go shopping and get her hair done, a lot of character analysis is revealed through Joan's unexpected meeting with a journalist named Nathaniel Bone (played to perfection by wonderful, charming, and naturalistic Christian Slater) who is writing an unauthorized biography of her husband.
It is Nathaniel whose research has uncovered the early short stories that prove Joan's suppressed but unmistakable talent. In her guarded candor over drinks in the hotel bar, a portrait surfaces of a woman who has played second fiddle to a man who rose to power and adulation for all the wrong reasons. Now, she faces the ultimate dilemma: Is it too late to embrace the woman she's never allowed herself to be? Can she be her true self at last? At what price? And does she have enough strength left to pay it?
What her son discovers is the biggest secret of all: His mom turns out to be not only the woman behind the man, but the real voice behind his body of work. At a time when women are discovering their power more than ever before, The Wife is astonishingly relevant without trying. The performances are first rate, the screenplay adapted by Jane Anderson from the novel by Meg Wolitzer is intelligent, and although it's a resonant narrative without much excitement, the film provides Glenn Close with the kind of rich and meaty role she deserves. Her calculated restraint as a cover-up for the years of resentment boiling inside the woman she plays makes it impossible for the mind to wander. The ending is sad, but when she at last rejects the humiliation she has endured for years and stands her ground, the actress does some of her finest screen acting. Sympathetic without being either a victim or a Wonder Woman on a pedestal, she puts The Wife in lockdown and throws away the key.