It's no secret that President Donald Trump has dominated the news cycle since he came into office. But which stories about him have stuck, and which have (for better or worse) faded away?
Thanks to Google News Lab, we now have raw data to answer that question. The tech giant's journalism team cataloged search interest in 30 of the biggest Trump stories from the first half of 2018. Axios' Lazaro Gamio then turned the data into an infographic.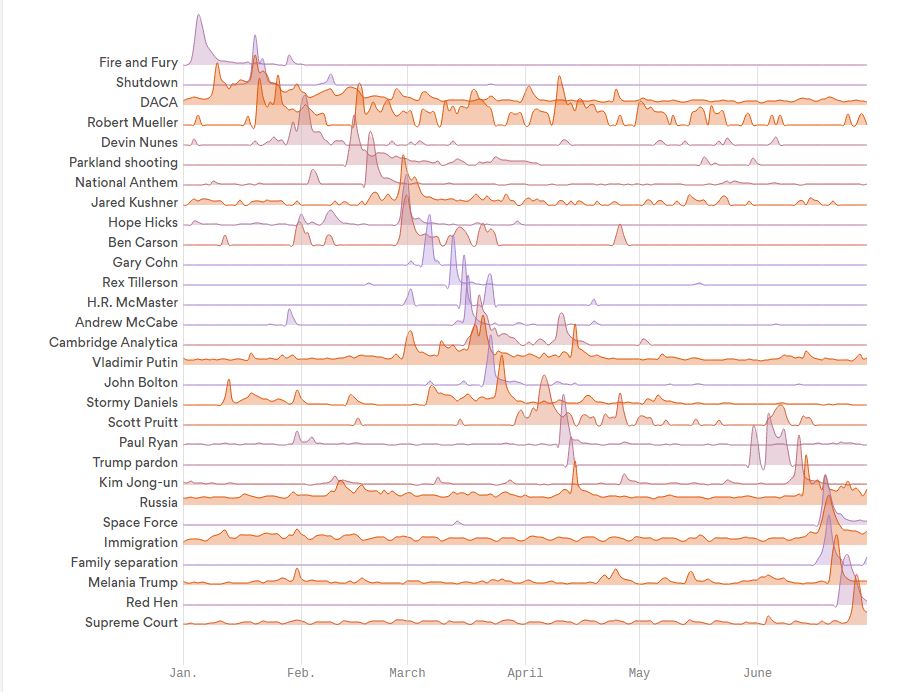 It's likely that a lot of news consumers forgot some of these stories and people existed—let's once again bid a fond farewell to Rex Tillerson and Scott Pruitt.
Other stories had a brief surge of interest that quickly petered out, such as the government shutdown and the national anthem controversy (which will likely heat up again once football season starts).
And a select few stories held consumers' interest for the entire six months: the Robert Mueller investigation, the continuing fight over immigration and concerns about Russia and Vladimir Putin.
Arguably the graph's biggest asset, however, is that it shows which problems faded from the national discourse without being solved. These issues quickly retreated from memory after being viral in the moment—but they should still be front of mind.
One example of this is the Parkland shooting. As the graph shows, the story went viral immediately as the world mourned for those slain and cheered the survivors' activism.
But in the aftermath of the March for Our Lives, interest in the story decreased dramatically—even though Parkland students embarked on a national bus tour to raise awareness about gun violence this summer.
The same is true of the larger issue of gun control, which isn't covered in Google's data. While many people searched for these regulations after Parkland, interest lately has been minimal.
So most Google users aren't paying attention to Parkland or its aftermath. That's dangerous, because the issues raised by the shooting aren't going away anytime soon.
Another important topic that grabbed the nation's interest briefly before fading away is Cambridge Analytica. The political consulting firm was at the center of conversations about Russian election hacking.
Searches for the company surged in April, when Facebook CEO Mark Zuckerberg testified before Congress about the Cambridge Analytica hack that exposed the data of 87 million Facebook users. The social network also allowed fake news and ads to proliferate during the 2016 election cycle.
But since Zuckerberg went to Washington, search traffic for all of the issues he discussed has plummeted. The terms "privacy" and "fake news" enjoy brief surges on occasion, but have mainly plateaued. Issues like "Russian interference" and "election hacking" have also stagnated in the last year.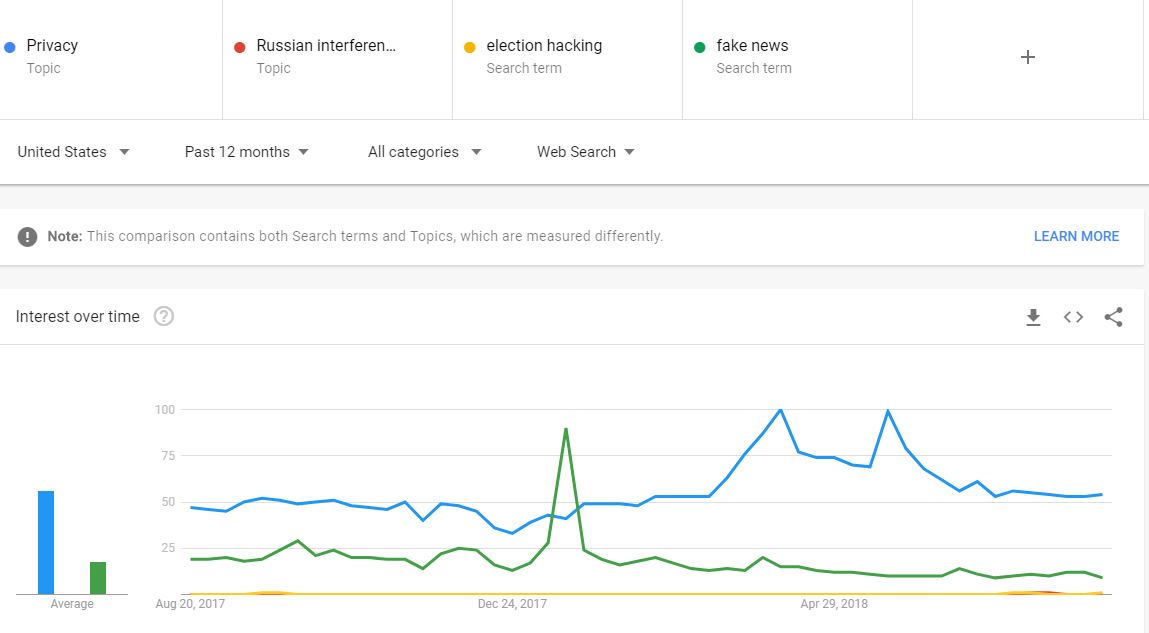 News flash: There are midterm elections coming up, and Russians have already attempted to hack U.S. senators during this election cycle. This issue isn't going away in reality, and it shouldn't on Google either.
With so much Trump news, it's undoubtedly difficult to know what to focus on. This week the spotlight has been on Omarosa and John Brennan; next week, it'll be something or somebody else.
But issues like gun control and national security are more important than Oval Office gossip, and they can't fall by the wayside.
Stories that are untold or under-told are a journalist's bread and butter. Reporters and consumers shouldn't let the fluff get in the way.