Random Acts of Flyness, HBO's new series created by indie filmmaker Terence Nance, is wonderfully difficult to categorize. It's part variety show, part comedy, part real-life horror, part history lesson and fully, wholly, deeply rooted in blackness. Each episode is filled to the brim with fantastical, inventive, interconnected vignettes that use song and dance numbers, animation, cable access aesthetics and even horror movie tropes to explore what it means to be black in the past, the present and what it could mean in the future.
It's perhaps most reminiscent of 1994's Cosmic Slop, the fantastical science-fiction anthology series also by HBO starring Parliament lead singer George Clinton, who serves as a guide for viewers across three different stories that examine race, class and politics through a science-fiction lens.
What makes Random Acts even more unique is Nance's centering of black women. Several of the writer-directors of his show are women, including Frances Bodomo, the award-winning filmmaker behind Afronauts and Boneshaker; Mariama Diallo, the director of the Sundance-award winning short Hair Wolf; and Naima Ramos-Chapman, the multidisciplinary artist, actress and filmmaker whose 2016 short film And Nothing Happened was a Vimeo Staff Pick.
Nance walks the walk and actually hires women for behind-the-scenes roles, which is especially important in an industry where it still could be called a rarity for women to be hired to direct and write—even more so for black women. Nance, who directed the 2012 film An Oversimplification Of Her Beauty, which blurred the lines between narrative and documentary film, seems to be very community oriented and intentional about who he collaborates with. The guest actors on the show include Whoopi Goldberg, Jon Hamm, Lakeith Stanfield, Natalie Paul (Crown Heights), Adepero Oduye (Pariah, 12 Years A Slave) and Broadway actress Tonya Pinkins. And Nance's brother Nelson contributes original music to the score.
And make no mistake, the influence of these women behind-the-scenes can be felt. Some of the most striking segments from the show so far have been the stories with women front and center, but yet playing roles where they were not necessarily deployed for the fact of being women. Everybody Dies, for example, is supposed to be a 1970s-style cable access show in which the grim reaper, aka Ripa The Reaper, played by Tonya Pinkins, escorts black children to their deaths while promising cookies and carefree lives to the white children who wander onto her set. It's a deeply troubling and compelling look at how black lives are valued (or not) in America.
Another one is Bad Hair, in which an anthropomorphic afro is sent to prison for being bad. Charges include breaking a plastic comb and getting leaves stuck in the top (at which any black woman with this type of hair will laugh knowingly). The afro is radicalized in prison by Sister Baines (Nedra McClyde) who gets the hair to embrace her natural state. It's every bit as trippy as it sounds, in the best way possible, as it confronts the generations-old, pernicious concept of what constitutes "good hair" (straight or wavy) and "bad hair" (hair that is kinky and coiled, that grows up and out, not down) in black American, Afro-Caribbean and Afro-Latinx communities.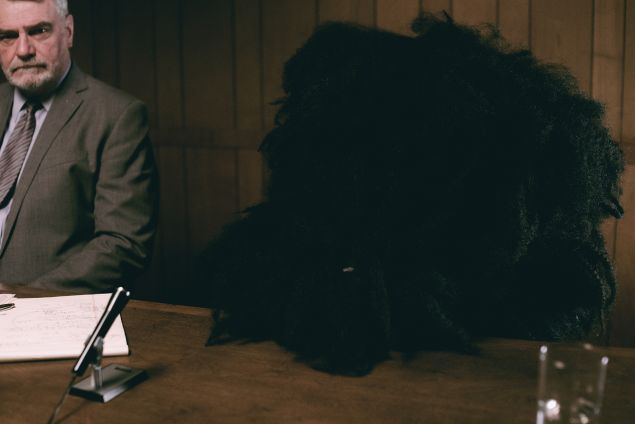 Yet another is a video game that shows a black woman navigating through the world, dodging insults about her looks, questions about when she will have kids and street harassment.
In the segment "Nuncaland," which is an inventive musical take on the Peter Pan mythology, an Afro-Latino boy named Pan wants to "stay soft and sweet" in a world that has rigid ideas of masculinity and often tries to make boys grow up too fast.
And then there's "The Apology," where viewers are taken on an episode-long journey exploring sexual abuse, consent and what the half-life of an assault feels like for a survivor, executed in a way that is both compassionate and provocative. It's difficult to imagine that these segments would feel as fresh, unique and female-centered as they do if the crew was predominately male.
Hollywood needs to take a cue from people like Terence Nance, rather than simply talking about the importance of diversity. He does the job of hiring the best people for his projects, while ensuring that the writers and directors he works with actually reflect the communities he is telling stories about.