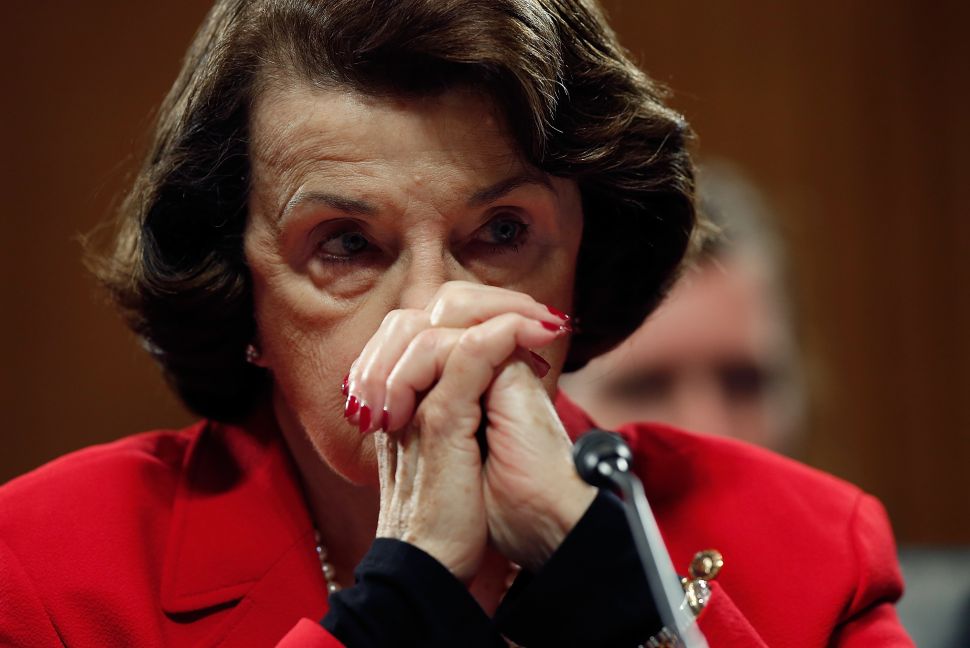 With 26 years in Congress under her belt, many from the Democratic Party saw Dianne Feinstein's reelection as a given. But the establishment candidate was dealt a wholly unexpected blow when the California Democratic Convention endorsed up-and-coming progressive Kevin de Leon instead.
After Feinstein won the June primary, with polling data showing her up a strong 26 points, her campaign was completely self-assured of an eventual victory. A practiced hand at campaign fundraising, Feinstein had also raised $7 million to De Leon's measly $700,000. When it came to appealing to the state convention, the senator was by no means skimping on effort.
Feinstein's campaign routinely called and emailed the delegates. And the last campaign email entered the delegates' inboxes just two minutes before the vote was held. The weekend before the vote, she hosted a "party unity" themed breakfast. Feinstein proposed that the party not endorse a candidate, and instead embrace a strategy of unification in anticipation of upcoming 2020 elections. De Leon invited delegates the day before to his own event, the "Abolish Ice Cream Social."
Three days later, de Leon would take home the votes of 217 out of the 333 delegates, giving him a 65 percent majority.
He said of his victory: "Earning the endorsement of so many leaders and activists of the California Democratic Party isn't just an honor and a privilege; today's vote is a clear-eyed rejection of politics as usual in Washington, D.C. Through years of hard-won progress, we have proven to the world that California can forge a path for the rest of the nation."
When Alexandria Ocasio-Cortez, the 28-year-old democratic socialist from the Bronx, stole the New York congressional primary race from Joe Crowley, a symbol of the Democratic establishment, the new progressive wave that had been long scoffed at suddenly seemed to be knocking at Washington's doors. Having pulled off the largest upset of the primary season, Ocasio-Cortez has firmly cemented herself as a household name. And while De Leon has not yet dropped the socialism bomb like Ocasio-Cortez, he is running on much the same political platform as Ocasio-Cortez: universal healthcare and education, a greener economy, decriminalizing marijuana and getting rid of ICE.
In late July, Ocasio-Cortez and Bernie Sanders travelled together to Kansas to campaign for local candidates James Thompson and Brent Welder. From there, Ocasio-Cortez then moved on to Michigan to support Abdul El-Sayed, a 33-year-old who could become America's first Muslim American state representative.
Once upon a time, democrats, let alone self-avowed democratic socialists like Sanders and Ocasio-Cortez, would have considered a trip to white, working-class pockets of the Midwest to be a fool's errand. But appealing to the same voters that won Trump his 2016 victory is an intentional strategy.
Sanders told Time of the trip, "It is beyond comprehension, the degree to which the Democratic party nationally has essentially abdicated half of the states in this country to right-wing Republicans, including some of the poorest states in America, those in the South. The reason I go to Kansas and many so-called red states is that I will do everything that I can to bring new people into the political process in states which are today conservative. I do not know how you turn those states around unless you go there and get people excited."
El-Sayed is a member of Justice Democrats, a new Democratic group with the goal of popularly electing anti-establishment, politically inexperienced Democratic candidates into the House. Its rationale is that large groups of everyday Americans unconsciously hold economically-left, pro-labor ideas, and once they are presented with a populist left candidate, they will naturally flock to them. The central pledge of the group is not to take "corporate PAC or corporate lobbyist" money. The group's official policy takes a hard-line stance: "Super PACs should be banned, private donations to politicians and campaigns should be banned, and a clean public financing system should be implemented to end the takeover of our government by corporations and billionaires."
The policy platform of the new lefter-left has been around since long before Obama's "change" campaign, but it took off rolling with Bernie Sanders' primary run.
The central dogma is a melding of New Deal era economics and the angry disenfranchisement of the Midwestern white Trump voter. To the "Berniecrats," the "lesser of two evils" argument won't cut it as a strategy to push the country into the promised post-Trump blue wave. Instead, groups such as Justice Democrats, Our Revolution, and Brand New Congress think a complete cleanse of leadership is the only way forward.
The path of the progressive revolution is still rocky.
While candidates endorsed by Our Revolution won 52 races so far this season, they have lost 64. Declining to take big donations puts candidates at a large disadvantage to their opponents. And well known establishment Democrats still have name recognition on their side.
Still, the push from the left is bringing a new dimension to the political spectrum, not just to the Democratic party, but to the entirety of Washington and beyond. From the flustered reactions of Joe Crowley and Nancy Pelosi to the dawn of Ocasio-Cortez' victory, it has become apparent that ignoring shifting opinions on the left is no longer an option. It is impossible to predict where the sudden rise of democratic socialism and hardline progressivism will take us, but some form of change is guaranteed.